Who Doesn't Want To Get Better At Their Game?
Whether you've just started out in the field of photography or you've been doing this for some time, you probably want to up your studio portrait photography game.
There are some qualities of good photography that come naturally and can't be taught. A good eye. A creative vision. A drive to succeed. There are other elements to the job which you have to learn.
Most photographers learn the process as they go. This can result in many years of trial and error, as they experiment with the tools and techniques that work best for them.
It can be helpful to take a class or watch a tutorial to fine-tune your methods. After all, many photographers have walked this path before, and there is plenty of wisdom to be shared.
But how do you know whether or not the source of this knowledge is credible? Thanks to the Internet, guides and tutorials are a dime a dozen. To sort out the useful information from the noise is a full-time job all on its own.
And even if you do find a good guidebook or website, the information is not always presented clearly. It may be riddled with technical jargon or vague directions that make the process of creating studio portraits as clear as mud.
What you need is a guide from an expert who breaks down the whole process step by step.
And now, at last, that guide is here.
The Best Guide On The Market For Studio Portraits
In Anatomy of a Studio Portrait, veteran photographer John Cornicello presents every step of his process.
Here are the topics covered:
Aspect Ratio. Working with Image Sensor Sizes and Image Resolution.
Backgrounds. Seamless Paper; Muslin; Canvas; Foam-Core; Portable and Pop-Up Backdrops; Permanent Solutions; Distance Matters.
Depth of Field. The difference between depth of field and depth of focus; Keeping Track.
Depth of Light. Inverse Square Law; Specular Highlights; Photographing Groups.
Quality and Character of Light. Light Quality; Diffusion Confusion; A Simple Setup; Jargon and Terminology.
Shape of the Light. Accessories for your softbox; Catchlights.
Height of the Light. The sun and moon.
Direction of the Light. Feathering; Lighting Patterns; Rim or Edge Light; Broad vs. Short Light; Which is my better side?; Eyeglasses; Fill Light; Placing the Light; Problem Areas; Pupil Size.
Color of the Light.
Perspective. Effect of Camera Distance; Height of the Camera; Tilt of the Camera; Stretching at the Edges; The Amazing Shrinking Space Needle.
Focal Length. Focal length for portraits; zoom with your feet?
Exposure. Using Light Meters; Spot Metering.
Connection. Posing Guidelines.
Odds and Ends. Flash Or Continuous Light?; Speedlights or Studio Lights?; Monolights vs. a Pack and Head System?; What Studio Flash Should I Buy? Softbox Vs. Umbrella, etc.
Getting Creative. Modulating the Light; Using Projections and Patterns; Color Gels; Kicker Or Accent Lights; Multiple Light Setups; Textures; Spotlights and Projectors; The White Seamless Look.
Post Processing. Flyaway Hair; Skin Softening; Textured Backgrounds.
Studio Accessories
Light Modifiers. Variety; Which Modifier Should I Buy?
Glossary.

The newly updated book is available both in print form and as a Kindle Ebook.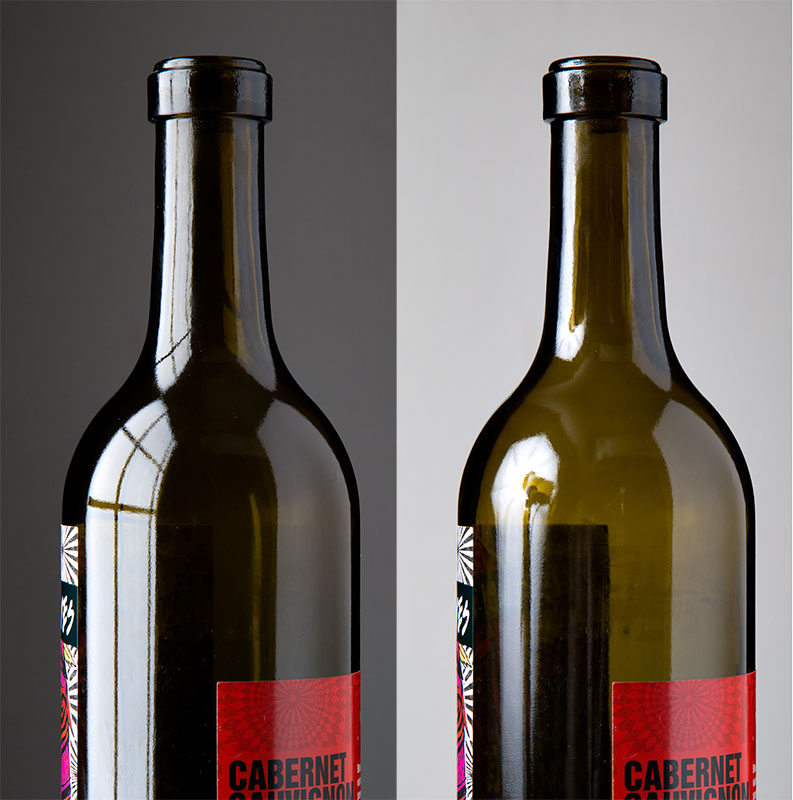 Here's A Sneak Peek Into The Book!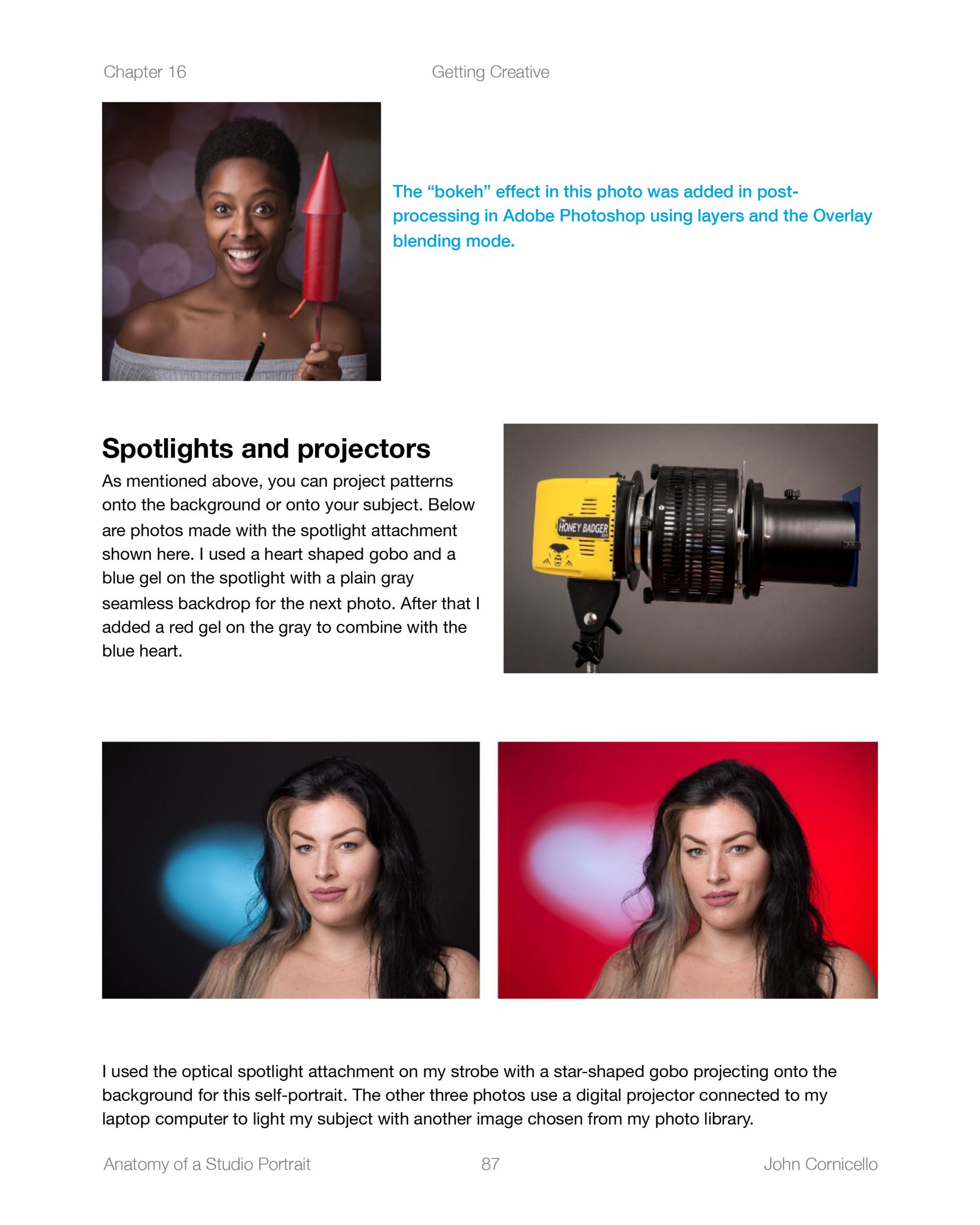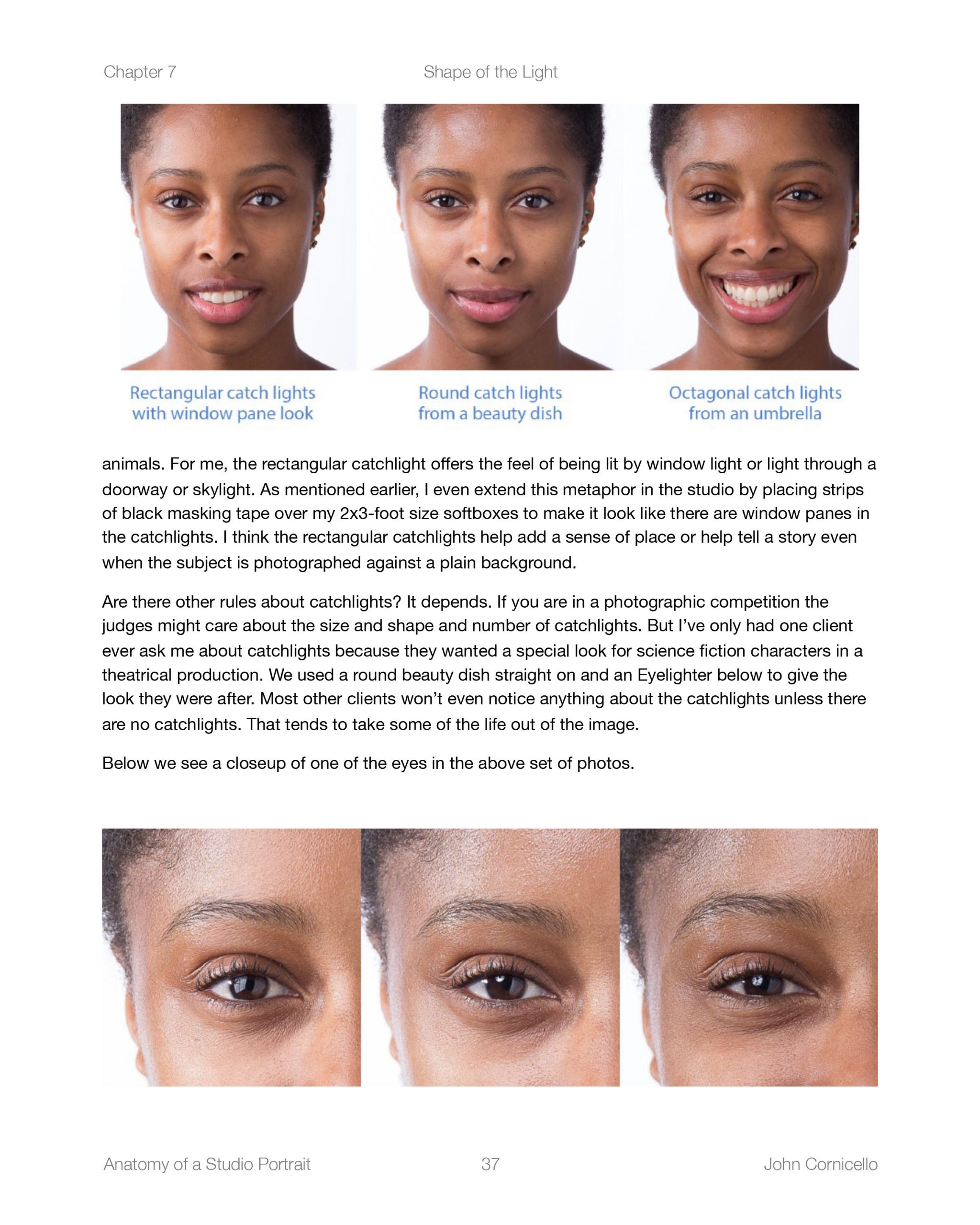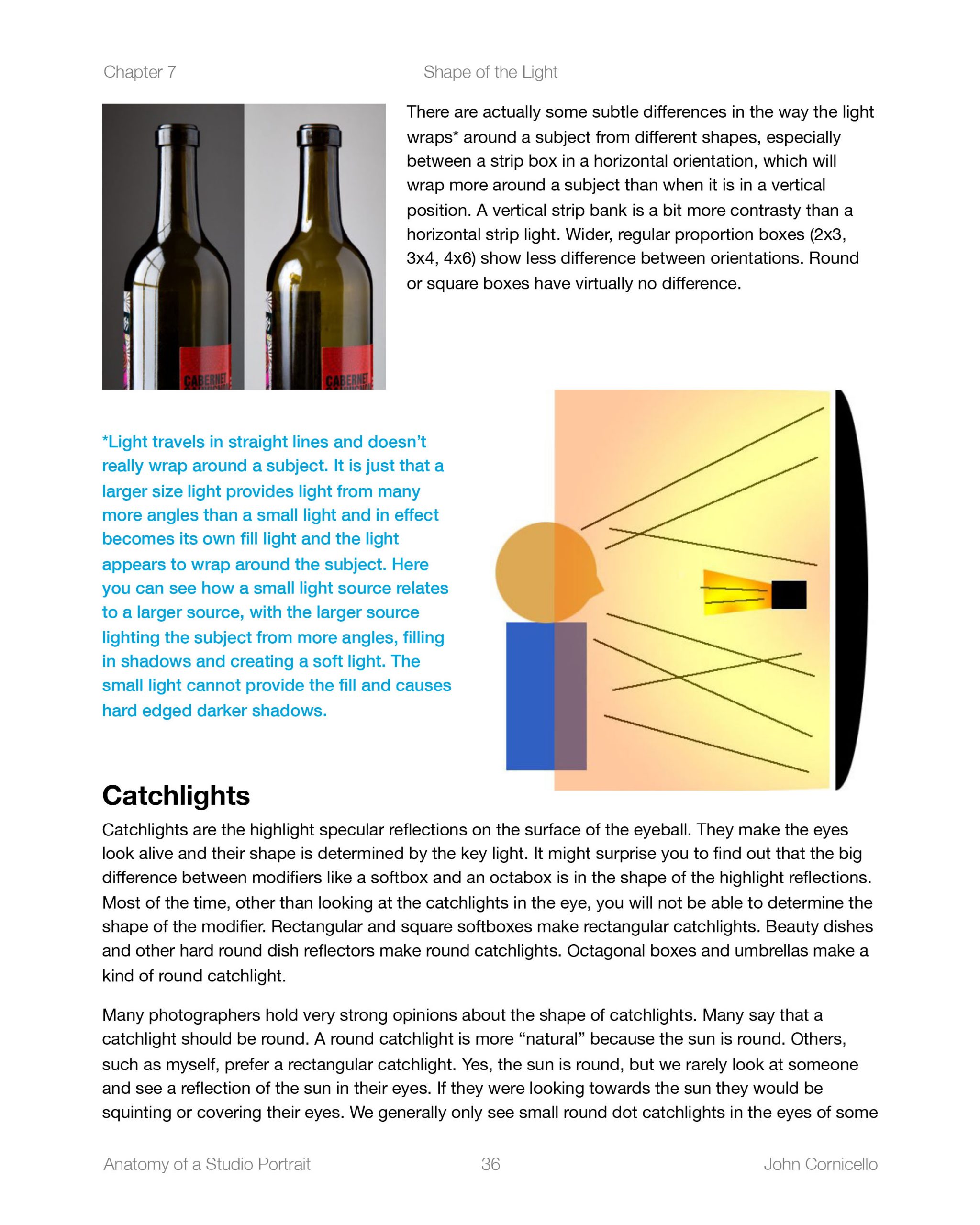 ⭐️ Read The Reviews From The Buyers

⭐️
"Not only are there amazing photographs in this book but it is also a great teaching tool for beginners to professionals in understanding and mastering techniques to create outstanding images. John explains in detail and graphs the most important components of photography and how to capture what is most important to you. This book is interesting and as mentioned, a great learning tool for all photographers. Thank you John!"   –  Douglas McArthur
"This book is amazing. I love it. Lots of information, very detailed and easy to read. It has a very useful glossary at the end. Thank you John!"   –  Simon Diez-TIpa
"I consider this one of the best books out there on lighting, and I have a bunch of them.
John did an amazing job of condensing a vast amount of information into an understandable and entertaining tool you'll refer to over and over."   –  Jim M.
"I already had the physical edition of this book but I wanted to have a version I could access easily. It's full of really essential knowledge. John's descriptions of concepts relating to specular highlights, light size, and the Inverse Square Law are really well explained.
I would recommend this to anyone who wants a firm foundation in the principles of lighting, no matter whether they use natural light or flash/strobe."
–
Mr. M
"I read the entire printed version #1. It was well worth it. Version #2 adds a little more. I want to have this handy on my phone when I'm not at home with the printed version. It's easy to read and reminded me of many things I thought I had learned but actually hadn't internalized."   –  Joe Tymczyszyn
"I wish more photography books did a thorough job like 'Anatomy of a Studio Portrait', a lot of the information that John shares in his book are missing from most other studio photography books."   –  Arthur L Seekee
The Definitive Resource For Studio Photography
This is unlike any other guide for studio portraits.
Seasoned photographer John Cornicello takes you step by step through his entire process, breaking down the art of studio portraits into clear, simple terms that are easy to understand.
He starts with the ideas and thought processes that go into preparing and ends with post-production. A full chapter for each stage of the process lays out the steps clearly. The glossary at the end gives you a repertoire of industry-related vocabulary to help you communicate like a pro.
With this as a handy reference, your studio portraits will soon be in high demand.
In fact, this revised and updated edition of Anatomy of a Studio Portrait will quickly become your best friend and your most valuable investment, especially at the current selling price.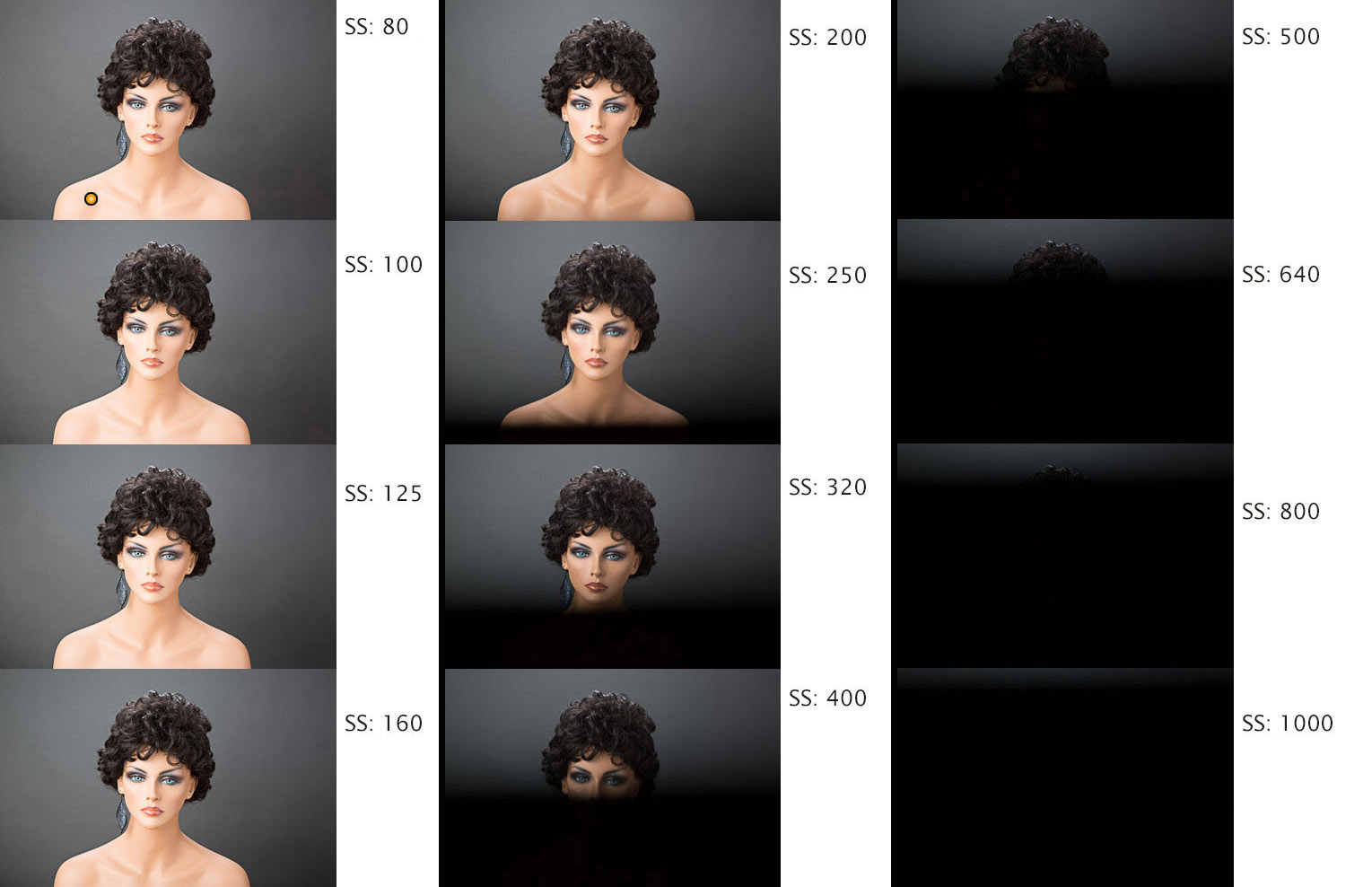 Don't miss out on the definite guide to studio portraits that you've been waiting for!