Boudoir Lingerie is the best and the worst thing to happen to boudoir photography.
The boudoir lingerie guide offers so much possibility. A boost here, some flattening and shaping there. It can help even the most body-conscious model overcome her inhibitions and feel beautiful in front of your camera.
But boudoir lingerie can also be intimidating…as anyone knows who has ever struggled to lace a corset or to hold a pose while worrying that a stray body part might fall out.
To the experienced boudoir photographer, lingerie can be a saving grace. But it takes a trained eye to know when to use a bustier or when to use a corset…or even what the difference is.
Boudoir Lingerie, a topic in vogue is one of the most popular genres. Unravel the secrets of hitting the sweet spot between Lingerie and Boudoir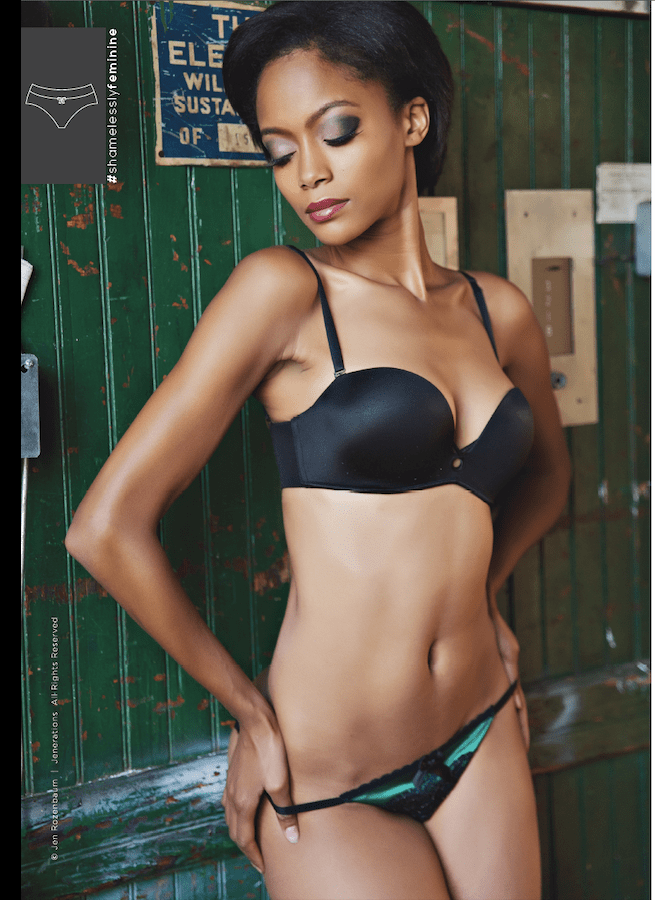 Then there are styles and clothing items that you may never even have heard of. Balconettes. Hybrids. If you don't even know what they are, how can you use them effectively in your boudoir photography?
A good boudoir photographer not only knows what these are; he or she also knows how to help models feel more comfortable wearing them.
You're probably thinking you need a whole book just about boudoir lingerie to help you understand all this. Well, we can help with that.
Sneak Peak Into The World Of The Boudoir Lingerie Guide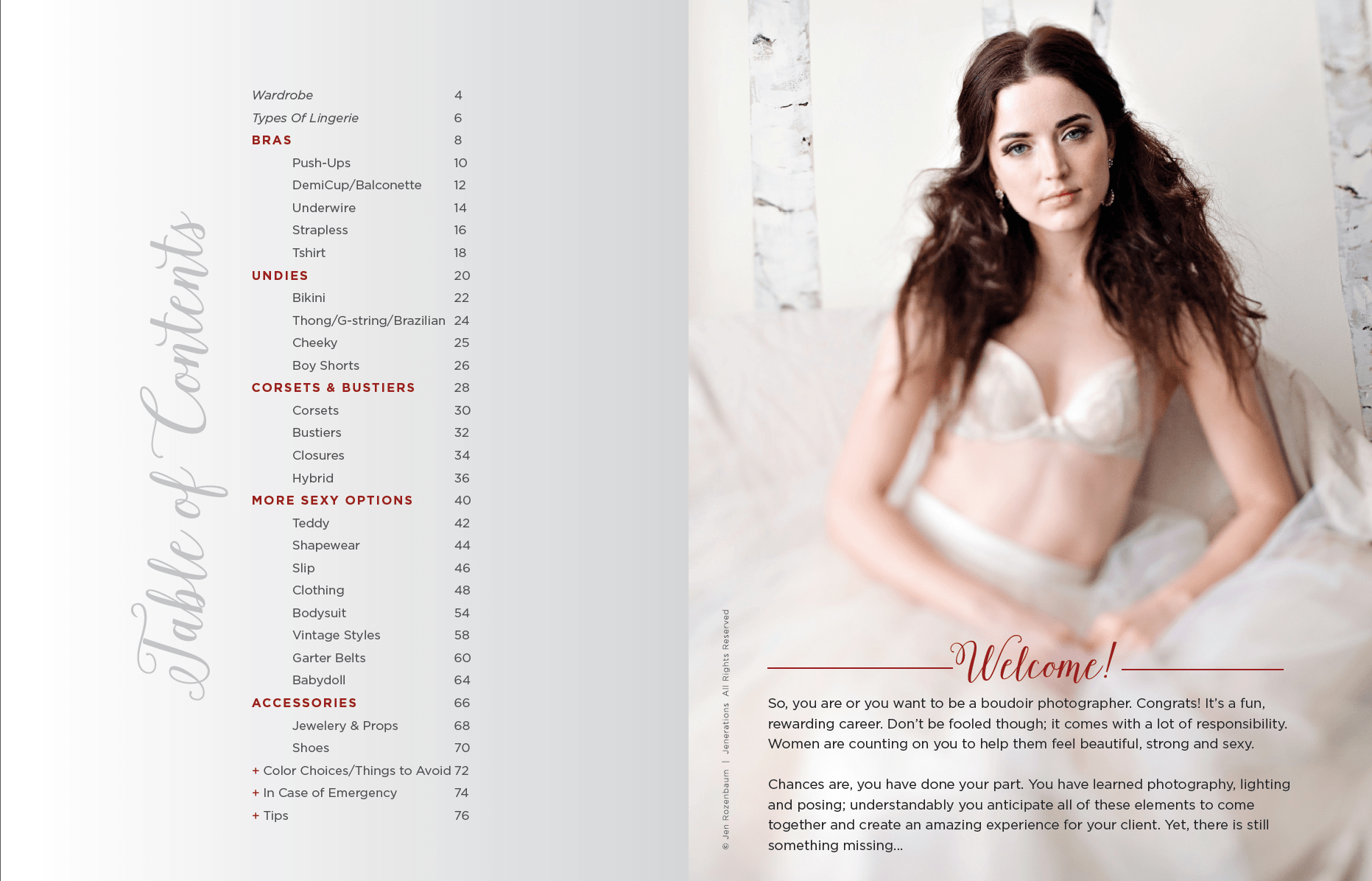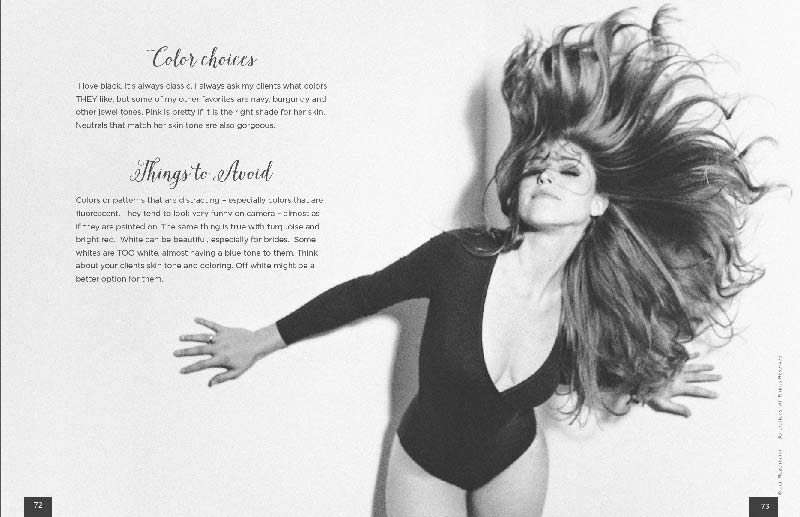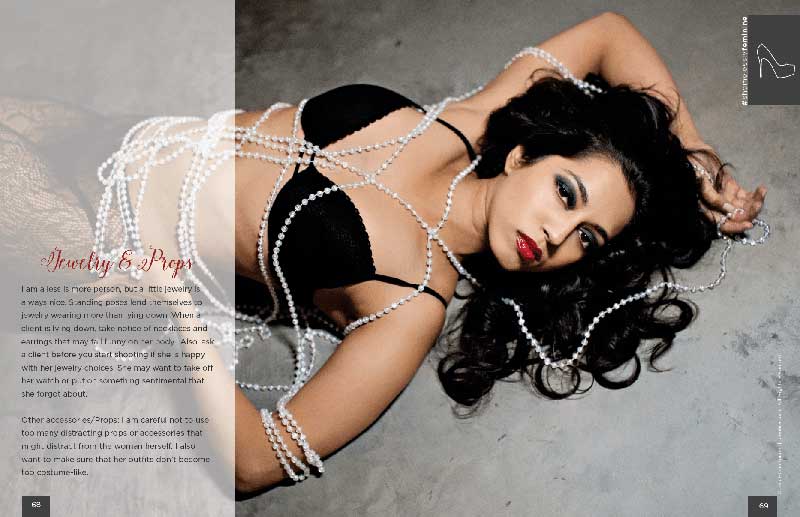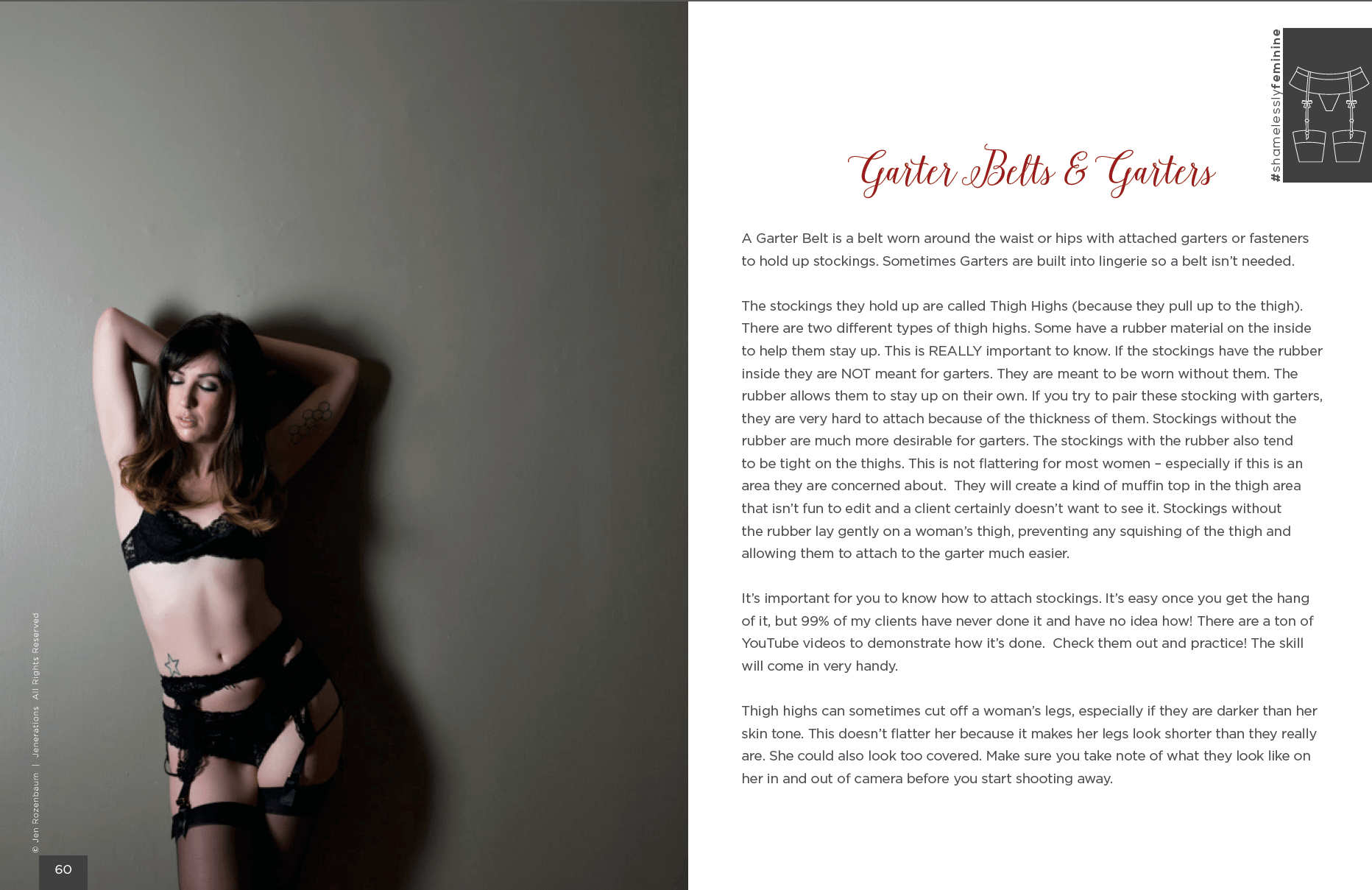 Everything You Need to Know About Boudoir Lingerie
Celebrated boudoir photographer Jen Rozenbaum brings you her knowledge about boudoir lingerie in this comprehensive guide.
Here are all the topics included in this downloadable PDF Ebook.
Wardrobe tips. An overview of the different clothing options available and how they work in different situations with different models.
Bras. Wondering if a push-up bra is a good choice for a model? Pondering the pros and cons of underwire and strapless bras? What about balconettes, demi-cups and T-shirt bras? It's all right here.
Undies. What's the best way to pose a model in bikini undies? How about thongs or G-strings? You get a rundown on all of these, in addition to cheeky panties and boy shorts.
Corsets & Bustiers. What's the difference between a corset and bustier? And how do you manage those tricky laces and hook-and-eye closures anyway? You'll find all the practical considerations needed for these popular boudoir photography choices.
Other Options. The clothing options for a boudoir photographer can seem endless. Here you'll find the ins and outs of photographing your models in teddies, shapewear, slips, clothing, bodysuits, vintage styles, garter belts and babydoll dresses.
Accessories. When is a long necklace flattering, and when does it become merely a distraction? How can you use props without making your models look like they're wearing a costume? You'll find all the practical advice right here.
Color Choices. The ideal colors to use in boudoir photography, as well as colors to 

avoid.

Emergencies. How to handle those awkward emergencies that every boudoir photographer faces.
Tips.More insider information on lingerie in boudoir photography.
The guide also comes with a handy "cheat sheet" you can share with your clients, along with easy instructions for downloading them. Included is a detailed description of all the looks you might use in your boudoir photography session.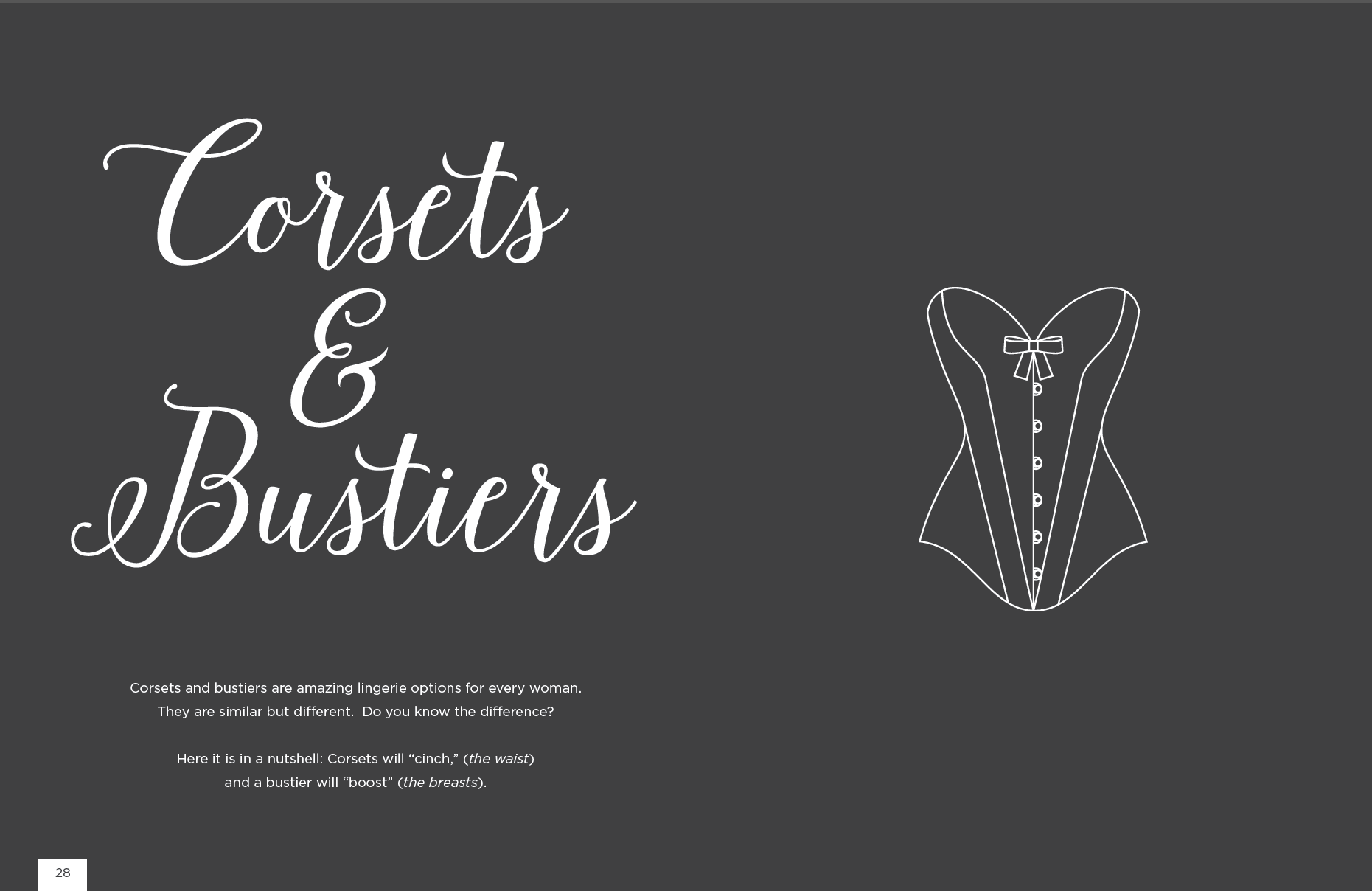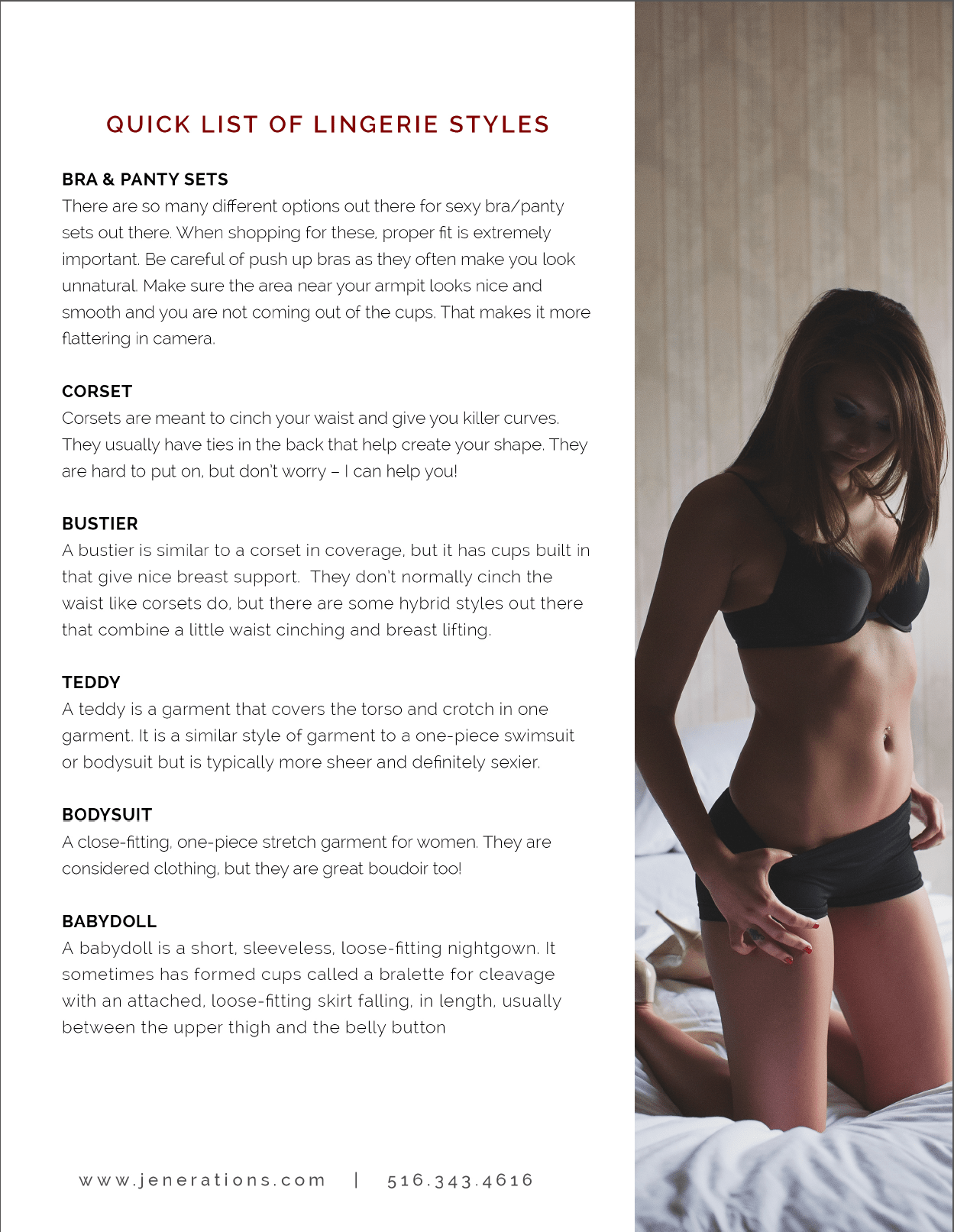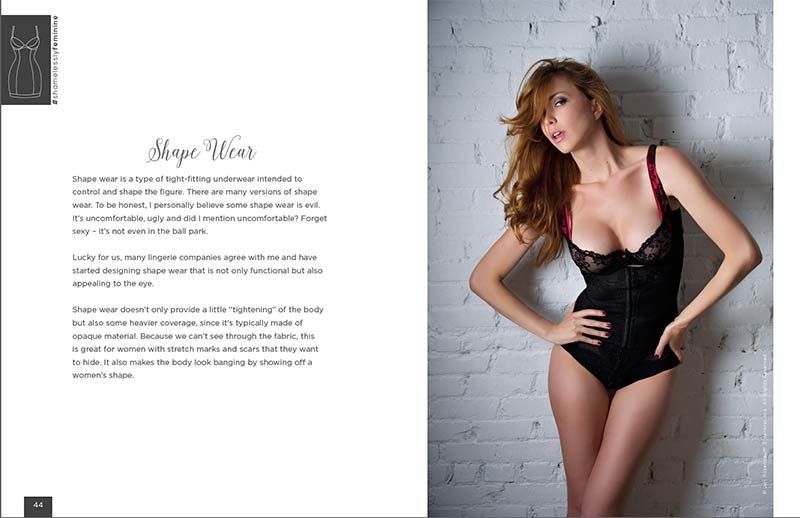 This boudoir lingerie guide will immediately take all the awkwardness and guesswork out of your next boudoir session.
You will have all the tools and knowledge at your disposal to instantly make your models feel comfortable and look beautiful.
No more fussing with clothing. No more unflattering shots.
Your models will love the way they look in their photos…and you'll love it, too.
With so many gorgeous boudoir images you'll create, you'll have no trouble attracting the best models and clients.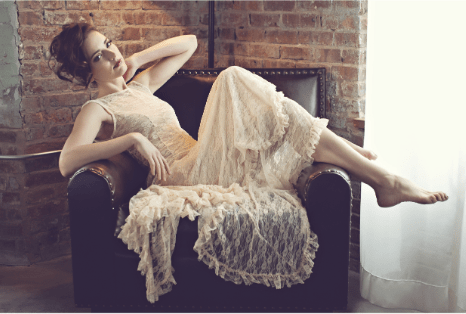 The insider tips in this boudoir lingerie guide are offered by one of the most successful boudoir photographers in the business. Jen Rozenbaum's daring and intimate boudoir images have earned her recognition from Good Morning America and Entrepreneur Magazine.
And now she shares her hard-won knowledge with you.
Get The Definitive Boudoir Lingerie Guide For Your Photography Business Today.