Trey's complete library. Total education.
Photography thinking, shooting, and editing.
7 ebooks filled with lessons, essays, and tips on good photography.
More goes into a photo than just pressing a shutter. Shoot photography long enough and you'll find yourself dreaming, thinking, and talking photo non-stop. If that sounds like you, then you probably already know about Trey Ratcliff and his site, Stuck in Customs.
It's one of the most popular photography sites on the web. And it has been for a while. With that site and his huge social media following, Trey has become a pioneering voice for moving photography forward creatively and technologically.
So you better bet he has some pretty decent advice to share about all things photo. Photography Framework is a bundle of all his most popular ebooks and insights. But you could consider it a written-out, page-by-page layout of his photographic mind.
In it, you'll find ebooks on Photoshop, composition, HDR, and even conceptual, inner-working ideas behind good photography. Just to show you the tip of the iceberg: there's an essay on ambiguity and how it relates to art. Plus a treatise on photographic beauty!
But that's just the heavy stuff. On the more practical side, you'll get lessons on organizing your photos in Lightroom, working with Photoshop, and compositing with true intention. If you've ever wanted to learn with Trey, this bundle is the framework to his life's work.
---
                                          What People Are Saying
"Okay, I've read about composition and studied examples before, but this was outstanding. Reading the book, I was immediately able to identify some past mistakes with photos that didn't quite feel right, and returned to them and recrop them into far improved compositions. I wasn't bad at composition previously, but my successes were all often done by feel and 'rule of thirds', and all too often, RoT just wasn't feeling right for pictures – in the future, I'll be using your far superior points to make sure I get the shots I want."–- Kain
What's included? Why should I buy this?
You're going to get 7 ebooks. All 7 ebooks are BONUS editions. This means they're the latest updates and include more information and bonus sections. You'll also get a HD video that goes along with the Organize Your Photos ebook.
1. Introduction to HDR
This HDR Tutorial is perfect for new photographers that want to get started making beautiful photos straight away and aren't afraid to learn! It's also great for intermediate and advanced photographers looking to add new techniques to their existing skillset.
2. 10 Principles of Beautiful Photography
15 Pages of beautiful images and text. 10 practical tips and explanations to improve your photography. Encouraging must read bonus section: Hope For Us All, The Decade Of The Artist.
4. Composing the Photo
Want to learn some of the secrets of how to compose great photos time and time again? In this book, Trey shows you his method for setting up your shot for great composition as well as using the crop tool in post processing to make your current and future images even more interesting and beautiful to the viewer.
4. The Beauty of Ambiguity
A collection of Trey's most popular personal stories and essays. Each one has been updated in today's context. It begins with a new essay, "The Beauty of Ambiguity", to help you to better understand your own concepts of beauty and how it can be explored through your photography.
5. Top 10 HDR Mistakes
Trying to improve your HDR photography and avoid common mistakes, issues and frustrations? This is the book for you! With fifty pages of examples, descriptions and tips, your HDR may even improve in just one sitting.
6. 10 Essential Photoshop Skills Everyone Should Know
If you're like most people, you probably find Photoshop to be unnecessarily complex to learn and use. This eBook will help you to push past the initial learning curve. You'll discover the power of Photoshop and begin to enjoy fine-tuning your photos for personal or commercial use. Trey takes the complex and breaks it down into simple, easy to understand, instructions with helpful before and after views at some of his most amazing photos.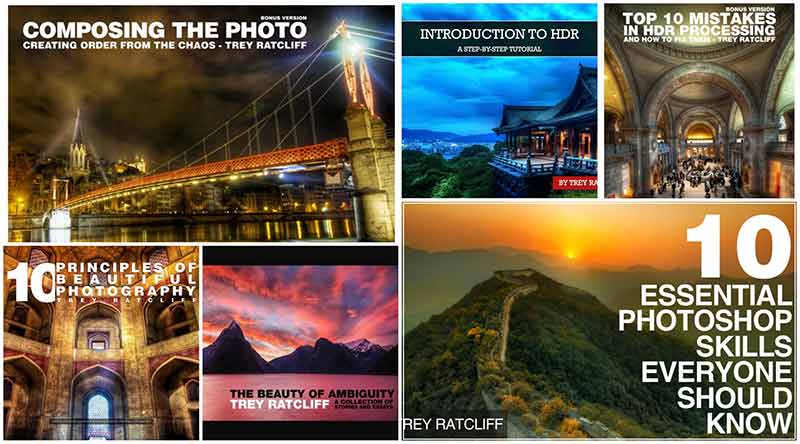 7. Organize Your Photos
Looking to organize your photos? Then this eBook will help you get your digital life organized! It's designed for three kinds of organization and workflow:
Relaxed: for those people that are very busy with "real life" and just need to get their photos basically organized.
Moderate: a thorough system to get everything organized that will bring you mental solitude.
Obsessive: the most extreme organizational and workflow methodology, which is the same method that Trey uses!
It also comes with a HD video that complements the ebook.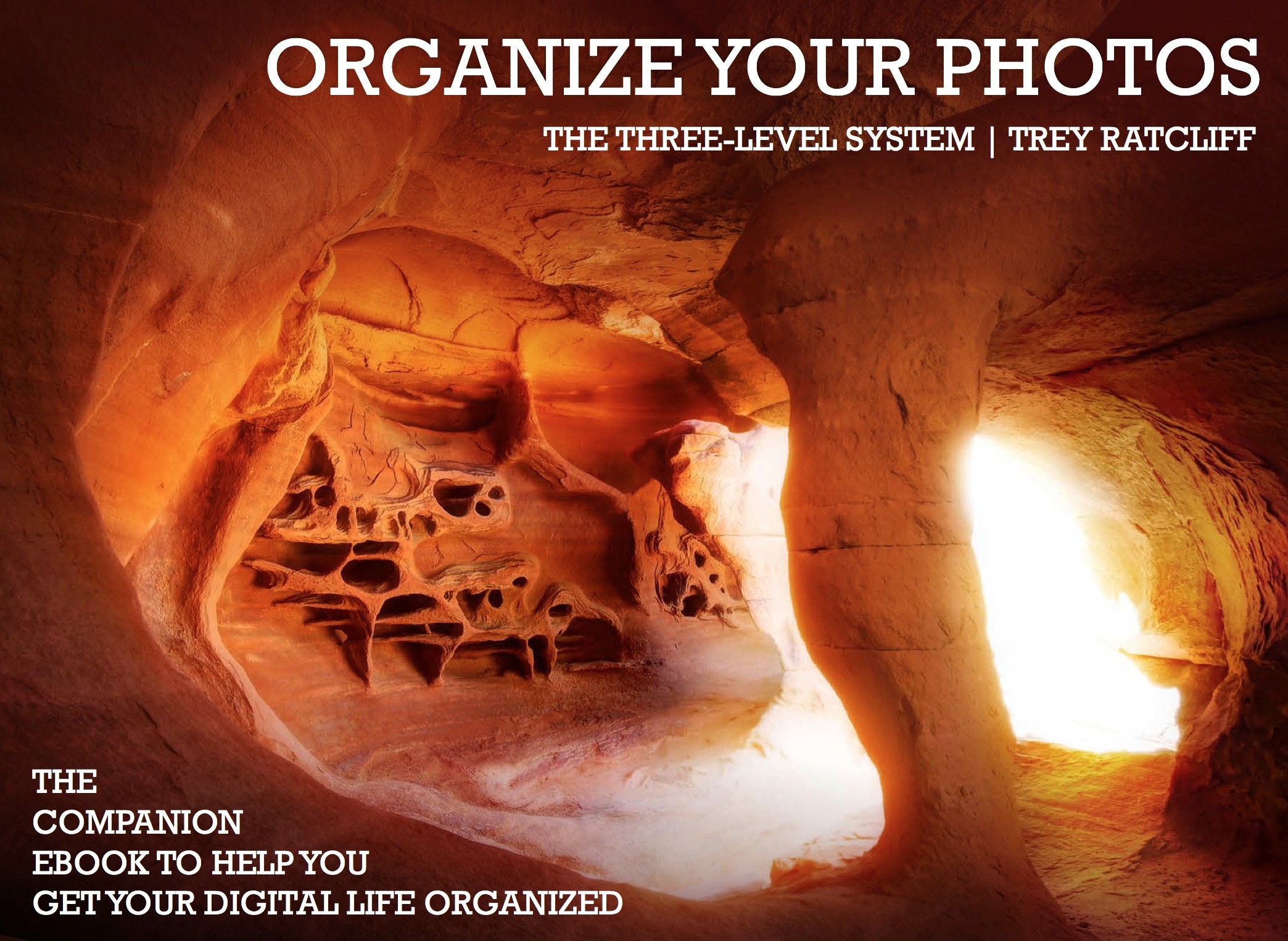 Trey Ratcliff bundled all his popular ebooks for serious education.
He didn't leave anything out. Learn from one of the top photographers in the industry.