There are no secrets to using social media
It's all strategy. Planning. Know how.
So what does it take to become a social media success story?
First, let me be brutally honest. If you plan to get anywhere as a photographer today, you're going to have to use social media like somebody who actually cares about it. Somebody who's able to take it seriously.
Yeah, I'm not happy about that too. Most of the time when I use social media, it seems like a lot of energy for little payoff. When it's not working for me as it should, it's a huge time sucker. So why should you use it for your photography? Why invest constant effort?
The reason is simple. Social media is an essential tool for photographers. It allows you to attract people to your portfolio in a way that's fully under your control. Because you control which photos you want to share. How you want to brand them. And when you want to post them.
There is no secret formula. You need to know how to set up your profiles for Facebook, Instagram, Twitter, Linkedin, and so on. Then, create compelling human interaction. Then, learn all the tools social media editors use to analyze, quantify, and strategize. This ebook goes over all that.
One small advice that I found crucially important is the 5-3-2 rule. It's a strategy used to humanize your brand. What it requires is that 5 posts of every day should be content from others. 3 posts should come directly from you, not sales. And 2 should be unrelated to photography.
This one small tidbit of knowledge is about automating your posting schedule. But there is so much more in this ebook that I can't wait for you to read it. After reading it, I spent a couple of hours tweaking my profiles, optimizing them for a properly tuned social media strategy.
You'll probably do the same. After reading it, you'll learn how to boost your online presence, find tons of people like you, and increase your sells through the power of interacting on the internet. It's crazy, I know. But it works. Now it's your turn to jump on the social media bandwagon.
BONUS: Also included are 6 more ebooks: Social Media Checklist, Facebook Targeting List, Facebook Ads Guide, Top Fan Pages on Facebook, Social Media Resources Checklist, Top 30 Social Media Tools!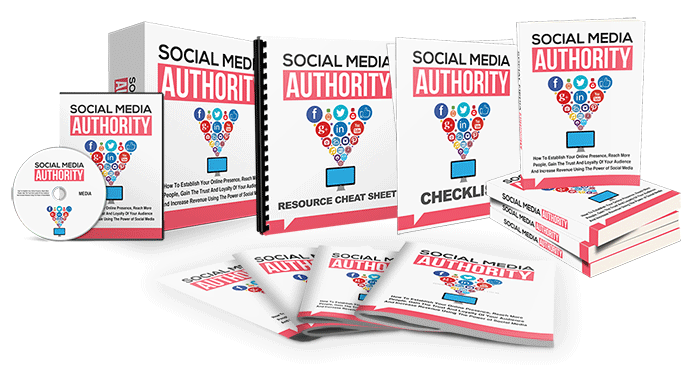 Already know what you want to share? Find the best way to share it
Social Media Authority is a 70-page ebook about optimizing and strategizing your social media brand. If you're a photographer who already has a website, a niche, a portfolio to share, then this ebook will help you ramp up how you use social media to boost your online presence.
The goal is to get you away from thinking that social media is just about posting here and there and hoping something sticks. Away from treating it like an off-shoot of your photography. After reading the ebook, you'll see that what you wish to share is what you hope to create: influence, credibility, and connection. So if you're ready to harness the power of social media, then you've got the perfect bundle.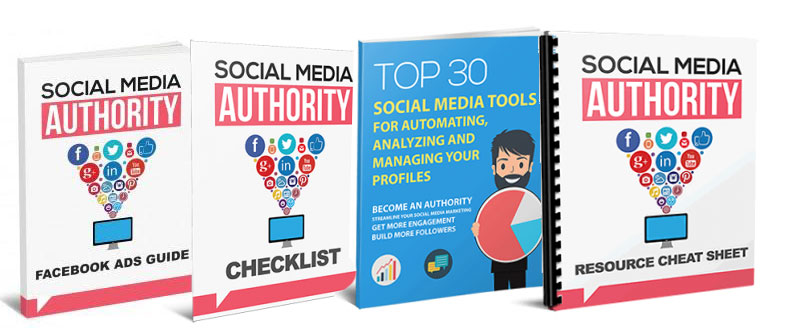 Bonus eBooks:
Social Media Checklist: A summary of the entire Social Media Authority ebook and an actionable, bite-sized guide to all the points necessary to successfully getting through the course
Facebook Ads Guide: A guide that goes over the details and methods people have used to make money on Facebook Ads
Facebook Targeting List: An extremely useful Facebook keyword list tweaked to help you target niche groups that you might have overlooked
Top Fan Pages on Facebook: A huge list of the top 500 Facebook fan pages in various categories
Top 30 Social Media Analysis Tools: The 30 best social media analysis tools for managing all your profiles, creating and finding shareable content, and automating your posting schedule
Social Media Resources Checklist: A professional rolodex of the top sites, blogs, forums, tools, apps and services to help you get you even further with social media
Here's some of what Social Media Authority ebook includes:
How to setup your profiles on the top social media platforms
How to figure out exactly what to post so that you'll get actual engagement that includes likes, comments, and shares
How to establish yourself as an authority and become known as an expert in your field
How to create compelling content based on metrics and statistics of your social profile, while using analytics to find out what gets the most engagement and works for your readers
How to automate your social media profiles using automation tools
So much more that it would be ridiculous to list it (but there's more info here)
What's the fastest way to grow your online presence?
You already have the content. Use social media to share it with the world.