You have captured life in your photographs. Now it's time to show them to the world.
Build your unique portfolio website today
We'll create a photography portfolio website that respects your work with a minimalist & clean design
Is it fair to judge a photographer's skill by the look of their website? Whether you like it or not, today you can't go far with a bad website. But what makes one bad for photographers? Have you put much thought into it?
How do you avoid shooting yourself in the foot?
Over the past three years, we've interviewed over a hundred photographers and seen just as many websites. We've seen ones that catch the eye. And ones that could hurt your chances. You want a website that brings people in and gets you clicks.
More than anything, you'll want the features used by all the best photography portfolios that we've run across. For example, just off the top of my head, here are three:
They are minimal. The less clicking, the better. You shouldn't have to jump through hoops to get to your projects.
They have easy-to-find "About Me" and "Contact" buttons that go to needed info.
They look like they were designed in the last two years! (No java plug-ins, ABSOLUTELY NO SHOCKWAVE!)
Sounds simple enough, right? But when you get started it's easy to forget this. And hard to pull off because your strength isn't web design. As a photographer, your job is to capture views of the world that nobody else can see, nobody else can imagine.
Building a website shouldn't weigh you down or make you nervous. That's why we want to do it for you. After collecting a pool of websites that showcase work without getting in the way, we want to build you one that works just as cleanly.
Companies like Squarespace will charge you a monthly fee for as long as you keep your website up. Over time you'll spend so much more than you bargained for. You won't even own the website. You'll just be borrowing it.
With us, you'll pay a flat fee for a custom built website that's completely yours. You'll have final say on how it looks. You'll be able to choose the colors, the logo, and all the content. Then, we'll build it. The website will reflect you but also stay away from any no-no's that we've seen.
After dealing with enough photography websites for over three years, we know what works. If you don't want to worry too much about designing a website and just want one right now, you can get a minimalist, clean, and personalized one from us.
If this is starting to sound like a plan to you, look below to see what we have in store for you.
Can my website be as unique as me?
Absolutely, but you also don't want a website that's clunky and hard to navigate. Remember your Myspace page? Remember how you thought it reflected who you were. But now looks nothing like you. Would you use it as a business page? Of course not!
That's why we're going to start with a minimalist template that suits your work. One that gives clients, photo editors, and press easy access to your contact info and portfolio. No frills. Nothing cute. Just a design that the majority of photographers we've interviewed use.
What will I get with this deal?
Your own custom portfolio website

20 photos edited and uploaded (you can upload unlimited more)
Full control over the website
3 layout variations to choose from

1 month technical support
Handholding for domain name and hosting with our preferred partners Bluehost.com
All you have to do is let us know what you want. Click below to get started.
Check out some Photography Portfolio Websites created by us.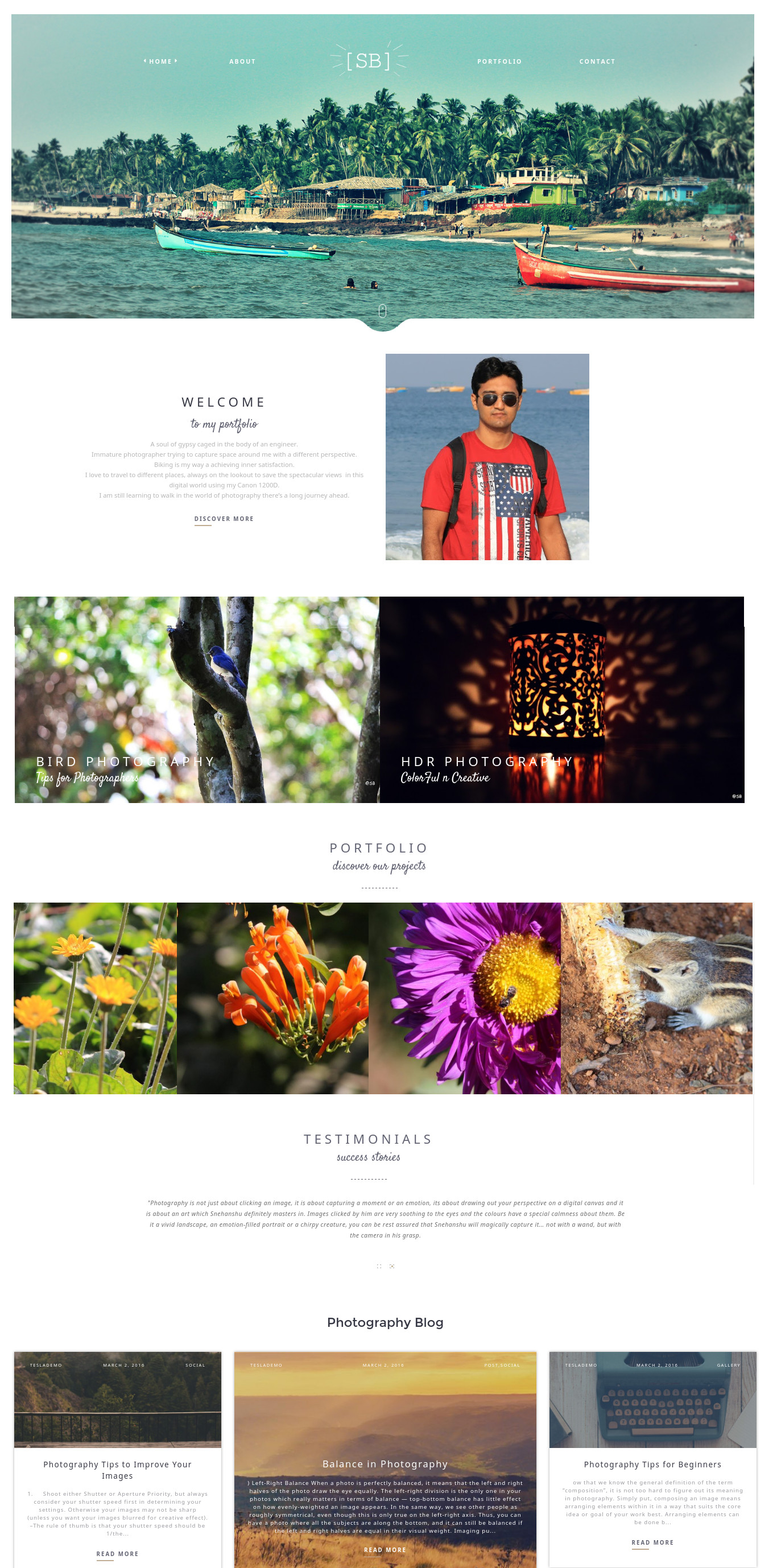 Frequently asked questions:
Do I have to pay separately for hosting and domain?
Yes, you'll have to pay for hosting and domain name. We can help you get both at a discounted price with our preferred partners Bluehost.com.
What if I have a domain name and hosting already?
We can point the new portfolio website to your domain name and hosting.
Will PhotoWhoa help me with technical support?
Yes! We want to keep your website running smoothly. 1 month of technical support is included free.
What happens if I want to add new photos to the site, do I have to go through you?
No, after the first 20, you'll be able to upload your photos through an easy-to-use Admin panel. It won't take long.
What happens if PhotoWhoa goes out of business? Will I lose my website?
No, the website will be hosted on a separate platform like Bluehost.com. After the portfolio website is ready, you'll buy a hosting package from them and your website is yours forever.
Will you offer a trial period?
No, unfortunately, since every website is hand built. The demos provided above give a good sense of what you'll start off with.
Will I have any creative choices?
Yes, you can choose the color scheme, the logo, and all content. You can also change the layout or template up to three times.
Will it be mobile friendly?
Yes, fully responsive. Mobile and tablet friendly.
What makes this offer better than one from companies like Squarespace?
Most companies like Squarespace tie their service to their platform and charge you a monthly fee that adds up to more than our flat fee. With us, you'll own your website and have your own private server. That means your website will be faster and less likely to get attacked.
What advantages do I get with PhotoWhoa?
You'll own the website and the code. You'll be able to select who's hosting as well as your own developers in the future. You'll get a custom built website that can be made to fit any special requirements you have.
Want a custom built website that showcases your work beautifully?
Tell us what you want. And we'll build it for you. Get started today!