Learn how to create the next viral photo
Use Josh Rossi's compositing techniques to create unique works of art.
Create your next viral hit, and master high-end post-processing FX.
Josh Rossi went viral in 2016 for his epic photo of his young daughter in full Wonder Woman attire.
It's easy to see why millions of people and dozens of publications shared his creation. The photos are stunning, realistic, and cute at the same time.
So how did he achieve such brilliant results?
For the first time, Josh Rossi reveals the exact methods he used to transform his 3-year-old daughter into Wonder Woman.
And even if you don't care about the fame and popularity, these skills will allow you to work in high budget productions. If you ever wanted to do photo work for TV and the movies, this tutorial is a great start.
Armed with this Photoshop Compositing Tutorial, are YOU ready to create the next viral hit?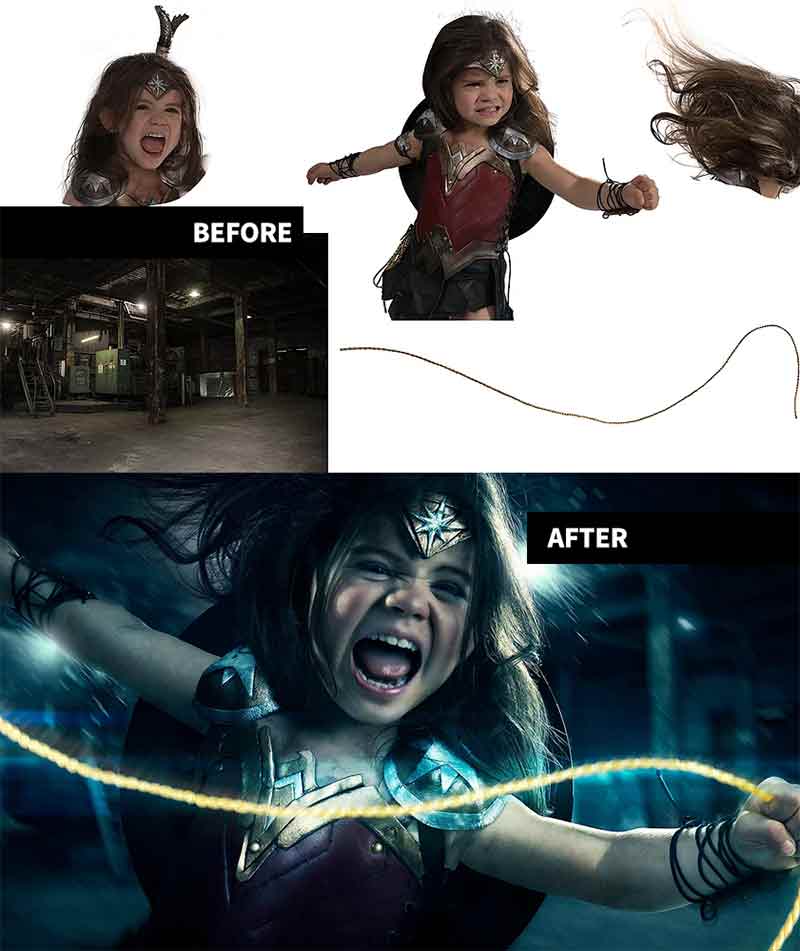 Next-level Photoshop compositing in only 3 hours.
The hard part about creating a photo like Wonder Woman is making it look realistic.
You can't just stitch random photos together. You MUST also shoot with post-production in mind.
Rossi's tutorial splits the picture into 3 separate parts to make it easier for you to learn the techniques. The first section discusses the stitching, then dodging and burning, and then into the coloring.
By combining all 3 skills, you can create special effects worthy of a movie.
After watching this Photoshop compositing tutorial, you'll know exactly how Josh Rossi creates these create stunning effects used in high-budget commercials and movie posters.
What exactly is inside Wonder Woman?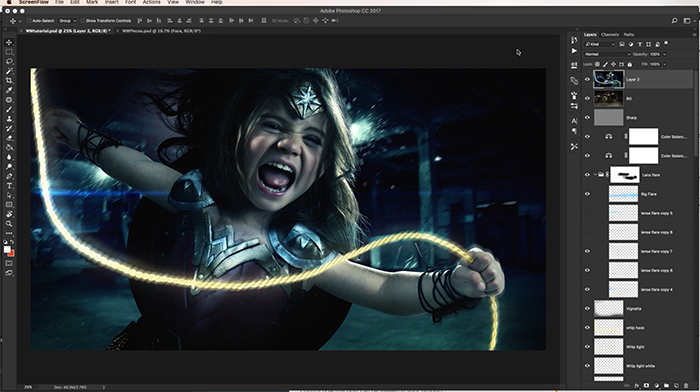 You will learn the following and more:
BTS Lighting setup

Advanced coloring and lighting methods

Advanced dodging and burning

Sharpening, masking, and final effects
This tutorial requires Photoshop and some basic know-how with using Photoshop. It is recommended for intermediate to advanced users of Photoshop.
This photoshop compositing tutorial gives you 3 hours of detailed, step-by-step instructions.
[improve_connection text="Want to create cinematic magic?"]
Learn from one of the top photo retouchers, Josh Rossi, and learn how to create cinematic photos that will take your work to the next level.