How do you shoot a wedding without looking like a rookie?
Are you prepared to take the lead?
With this Wedding Photography Guide, you'll learn how to prepare for, photograph, and post-process it all.
As a second shooter, you know a wedding is much, much easier to photograph when you're only covering the groom. But you've had enough these gigs. You want to take the lead. Instead of following orders, you want to give them. So are you prepared to get every shot covered?
Not only are you responsible for the shots everybody thinks of when they imagine a wedding (the kiss, the entrance, the bouquet toss, etc.) you're also responsible for the ones only a pro knows how to prepare for and get. These shots are what set you apart from an amateur.
They're how you impress the bride. So what should you need keep your eye out for? And how should you shoot them? Most importantly, how do you direct your first wedding like it's your hundredth?
First-timers who skip out on studying will enter a wedding unprepared. And although there's nothing like experiencing it for yourself, a little bit of reading can make a huge difference. It's how give yourself the best chance of convincing the bride (and yourself) that you can do this.
So to keep you from stressing yourself out and to make sure you know as much as you can, we've found this info-packed starting guide written by Elizabeth van der Bij, whose photos on Instagram we really fell in love with. And that's why we're excited to share this Wedding Photography Guide with you!
Her approach to preparation, camera technique, posing, and post-processing is a step ahead of what's out there. With this Wedding Photography Guide, you're going to get into Elizabeth's mind and learn how she shoots weddings from beginning to end.
You'll be prepared to take the lead without any hiccups. From first talking to a couple to delivering the edited prints, you'll get techniques that show you're not a rookie. By the end, you'll know exactly what to shoot and how to shoot it.
And we're really excited to share this awesome ebook bundle with you, but it's a limited-time promotion. So it won't last long! If you're looking to make sure your first time isn't a disaster, you better hurry and buy this bundle now!
Sure! One of my favorite examples is an insight that I wouldn't have ever prepared myself for if I were asked to shoot a wedding. It's not big. It's a small detail. But it's a detail that shows so much. So what is it? Well, it's found where you set up your photobooth.
Most photographers are familiar enough with photobooths to know they need to be placed near people so that everybody enjoys it. But what Elizabeth learned is that if you place it near the bar (if there is one) most people will see it and want to get their photo taken there.
It's obvious enough. Most people will head to the bar at some point. So why not photograph them after they've had a few drinks? They'll be loose. And directions there couldn't be easy enough. It's this sort of professional advice that I really liked about Elizabeth's Wedding Photography Guide.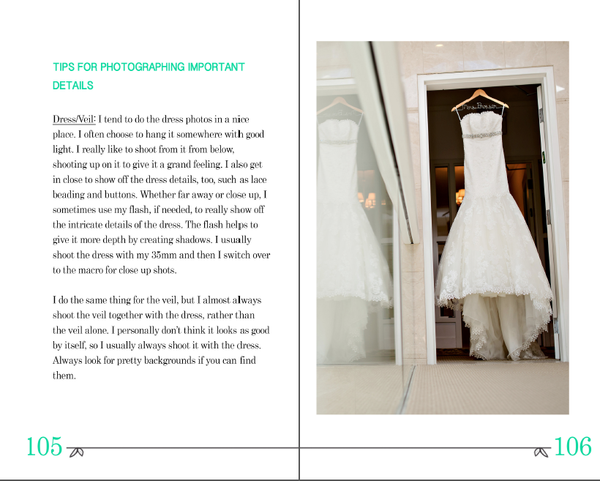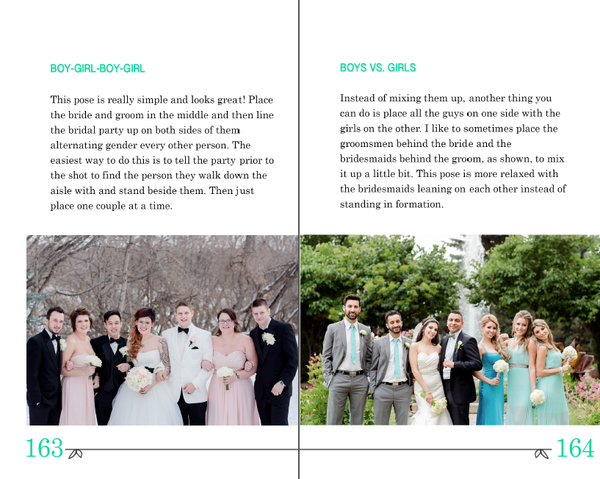 This Wedding Photography Guide is full of great insights that prepare you for the entire effort required to shoot a wedding. You'll learn how to find the details most beginners miss. You'll learn everything that you need to know to be successful.
If you're ready to book your first wedding, this 230+ page guide will help you get prepared!
BONUS: Posing Guide for Couples
Included in this bundle is a 200+ page posing guide for couples. You'll learn how to direct and pose couples in much greater depth. You'll also get poses to take with you to every wedding. Ones that you can trust every time.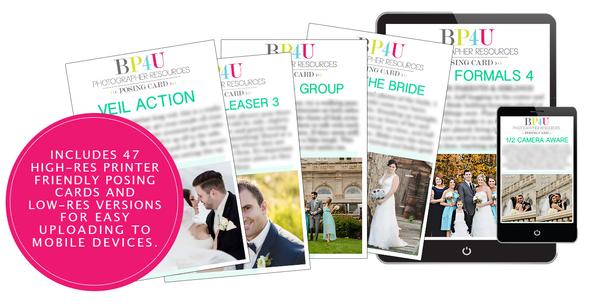 How will this wedding photography guide help me?
Learn how to prepare with a client before the wedding (pre-event consults, pricing, rules for religious ceremonies, etc.)
Learn what to expect during the ceremony (must-have ceremony shots, where to stand, etc.)
Learn essential posing techniques (just the bride and groom, just the bride, just the groom, family formals, etc.)
Learn how to set up a photobooth and tips for running one
BONUS: Posing Guide for Couples — learn how to pose the bride and groom in greater depth, including many poses to use in your own workflow
Want a winning strategy that eliminates rookie mistakes?
Learn how a pro shoots a wedding. Go to one fully prepared. Buy this ebook bundle today!
$

260