Want to respond without worrying about writing?
Photography business email templates to every situation, every question, every follow up.
Immediate answers to even the toughest emails…
Because if you've ever had to negotiate a refund through email, you know writing one takes more time than you'd like to give. Tell me, how exactly do you let a client know that you're unhappy with what you shot?
How do you ask for that all-important and necessary reshoot?
Never thought emails would be so important, did you? But what's worse is that one typo or one stupid sentence can bring everything to a halt… Kill a potential deal.
So how do you write a good email?
Guarantee that it's clearly understood. If you want an immediate answer—one that's professional and exact—for every single question you'll face, these 75+ templates will get the job done, and then some. (We've included a BONUS graphics package).
The photography business email templates are written in a style that help you close the deal. While never sounding pushy. You'll use just the right amount of informality to keep the client interested. Sound like you're writing to a friend: short, fun, and to the point.
They even cover the hardest emails you'll ever have to write. Emails that go over contracts, refunds, cancellations, client concerns, reshoots, and any other icky, hard-to-stomach issues.
They're perfect resources for photographers who hate writing. Or just hate emails altogether.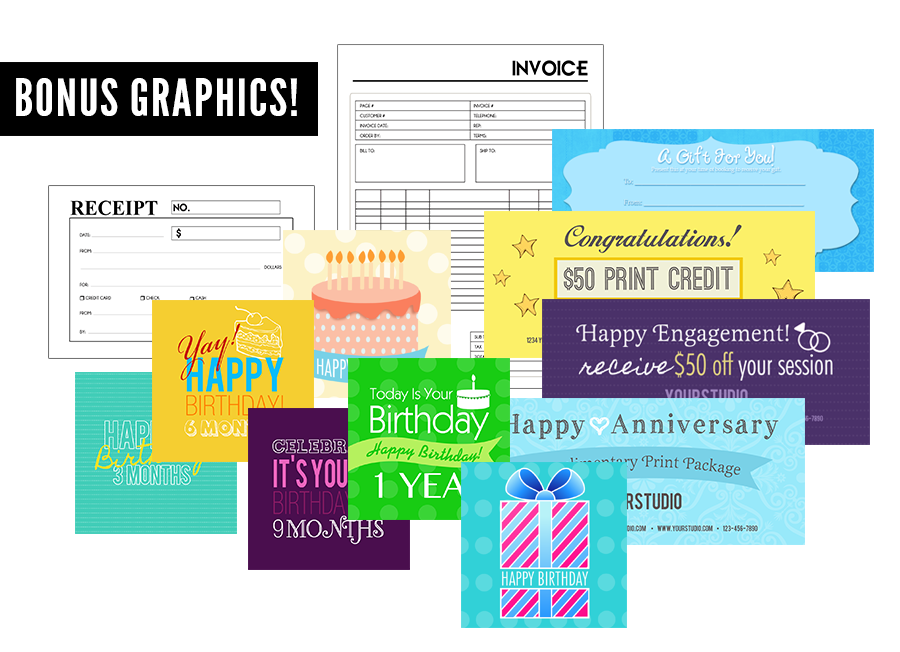 Now you can respond to questions without worrying about how you sound. Save time by having an immediate answer that you know is professional. And already written..
With 75+, you'll have an answer to every situation you could possibly face in your day-to-day business.
Sounds interesting, what else?
These 75+ photography business email templates are just that. Templates. They're already written responses to the most common questions, complaints, problems most photographers face when running a studio. They're editable, but they're not encyclopedic. You're going to get the meal, not see how it's made.
They're perfect for photographers who want quick and easy solution to emailing. When all you need to do is plug in specific dates, names, and figures and get an email that sounds thoughtful and professional.
What exactly is inside this deal?
You're going to get 70+ email templates, including:
How to reply to a client who isn't happy with your photos/product
How to reply to a client whose wedding was cancelled
How to sell yourself to clients on a cold email
How to tell a client you've accidently deleted their photos
How to close a contract with a new client
If the idea of spending less time racking your brain for the perfect email sounds like heaven to you, then you have nothing to lose clicking below. You'll get 75+ for nearly every possible situation you may face. From the very tough questions to the ordinary follow-ups you put off till Friday.
Want an immediate answer to every email you get?
Download these photography business email templates. And then copy and paste. Thank us later!