Have you convinced yourself that shooting at night is too difficult?
Do you think you need more equipment, more lights?
With this course, you'll learn how to use what you got to get the best out of the night
Shooting at night is one of those things that you either love or hate. If you love it, you know some of the most breathtaking photos are revealed only then. There's the city skyline. The colors of neon. Portraits by candle light. If you hate it, you probably hate it because it's amazingly hard.
It's so easy to make a mistake. Autofocusing is crap because it's dark. Blurry photos are frequent because your shutter speed is so low, and if you're compensating with high ISOs, then you're also getting an ugly amount of noise.
Because of all this, some photographers just pack their camera away after the sun goes down. What's the point, they think. They avoid it at all cost. And don't get me wrong, I agree it's difficult, but it's not something you can't overcome with the right techniques and approach.
That's why we're really excited to share Neil Creek's Night Photography Unlocked video course.
Neil's ebooks published by Digital Photography School have been amazing, and this 4-hour course is no different. We think it could become your go-to resource for shooting nighttime photography without any needless equipment.
It's an approach completely devoted to working with what you got. You won't be expected to buy floodlights (:P) or even off-camera flashes. You'll learn specific ways to get the most out of your smartphone and DSLR.
You'll get techniques that will make you more confident. You'll also begin to realize that it's easier than you think. Plus, you'll get over the idea that you need better equipment and more lights. By the end, you'll unlock the creative potential of night photography.
And we're really excited to share this awesome video course with you, but it's a limited-time promotion. So it won't last long! If you're looking to get better at night photography, you better hurry and buy this video course now!
What are you going to learn? What will you get?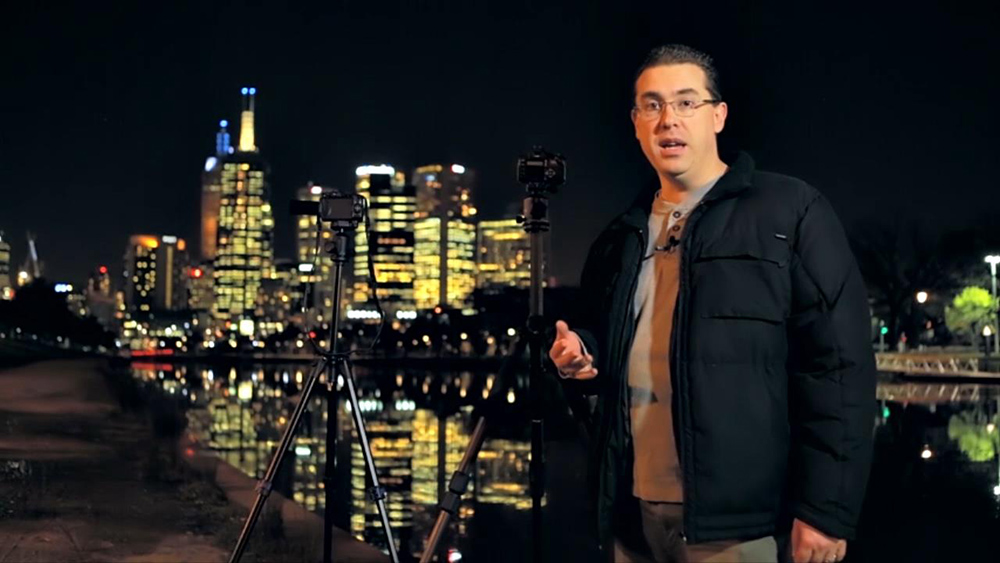 Right off the bat, you're going to learn a new way of thinking about night photography. It's not about learning how to shoot star trails or the big ol' milky way (even though those are great photos). You're going to learn how to shoot portraits and city scenes with as little gear as possible.
After that's out of the way, you're going to get 19 more lectures that go over the basic starting steps, the gear, and the on-the-field approach to shooting casual portraits, skylines, and dusk landscapes. You'll also learn the post-processing magic to get your photos looking their best.
So in total, you're going to get 22 lectures and around 4 hours of content. With this video, you'll stop taking blurry, out of focused nighttime photographs. If you want to get better, this is how you do it.
What am I going to learn, again?
You'll learn the most common problems encountered when taking photos at night

You'll learn the camera settings that lead to great night photos

You'll learn how different cameras perform at night

You'll learn how to get the most out of your camera

You'll learn how to process photos taken at night
Are you beginning to think nighttime shooting is impossible?
Rethink your approach. Learn how to get the most out of your camera. Buy this today!