Learn Landscape Photography and How to Best Glorify the Beauty All Around You In Photos.
Achieve amazing landscape photography with the help of Erik Stensland.
This e-book begins with a quote. Nothing too fancy. Simple. If you've ever tried taking landscape photographs, you'll understand the meaning of the quote. It'll hit home. It goes like this: "Beauty is a riddle."
You understand this because, if you're like me, you can become overwhelmed by the sheer amount of beauty when photographing the world around you. There's too much to see. There's too much to feel. Everything takes your attention.
Not only do you want to shoot a brook and the quiet around it. You want to capture the green life surrounding it. Oh, and that mountain over there, looming miles ahead. Let's get that in the shot too.
It seems like landscape photography requires a different language, a new vocabulary, a new way of seeing. It seems impossible to translate what you see into a great photograph. You're stuck knowing you have something to say, and not being able to say it.
Luckily, Getting Started in Landscape Photography will unlock the riddle of this genre.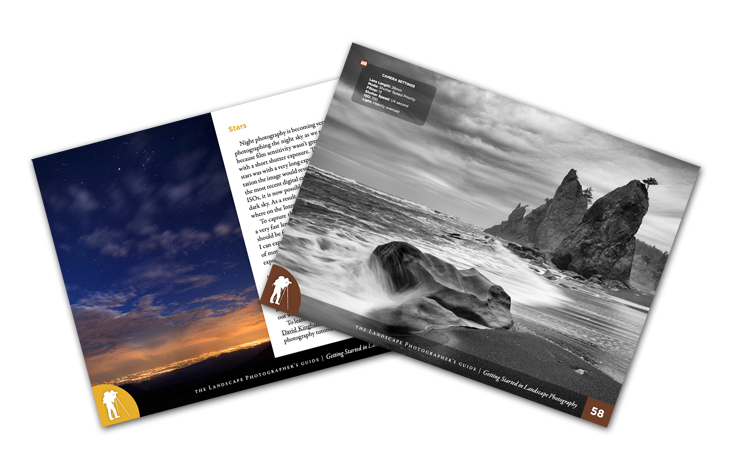 It'll be your guide to learning how to speak in the language of landscapes.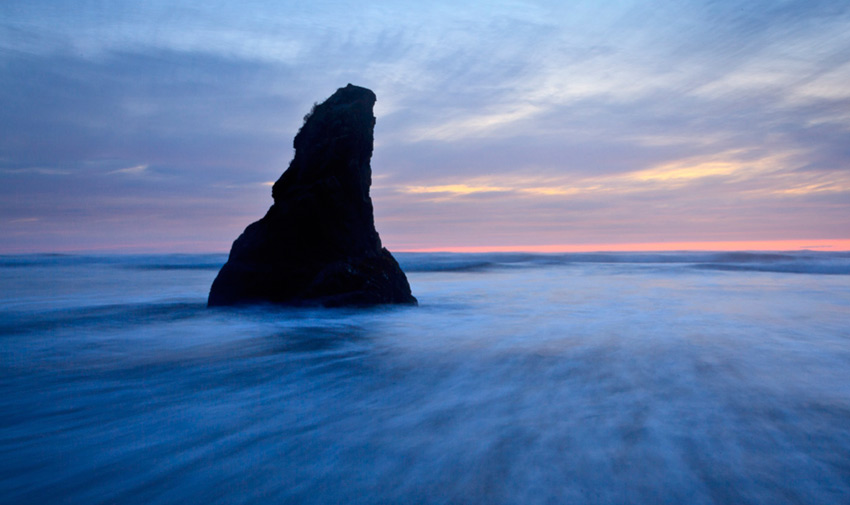 You'll learn the universal themes. You'll learn the gear. And you'll learn how to see and composite the sublime nature of what you need to express.
"To overcome the disparity between what we see and feel and what the camera will capture, we need to begin to see like a camera with all of its limitations. Then we can begin to discover how to convey the emotions we feel and the essence of what we see. This is a learning process which takes some time, but it is a journey well worth taking."
The tools of a great landscape photographer.
10 chapters of development.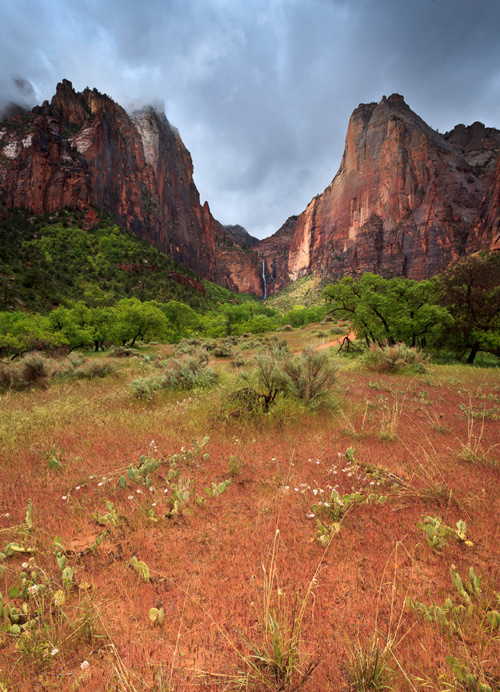 What matters can be simplified into two things: Light + Composition. Of course are many other properties that go into making a great landscape. But getting the best images is about simplifying.
With this ebook, you'll learn landscape photography and how to produce landscapes that'll sing. Learn how to make photographs that'll grab a viewer and say, "Listen to me!" All 10 Chapters in this ebook explore a different aspect of landscape photography you'll need to master.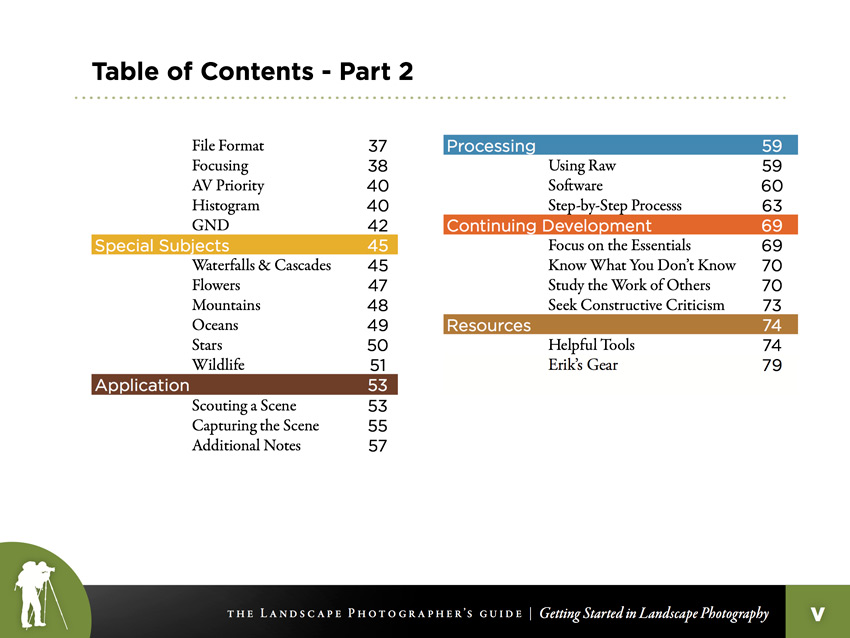 But I'll list four of the most important. Don't get me wrong. All 10 are must reads. It's just that these 4 are the ones I think you want to hear about. These are the essentials.
Chapter 1 :
A crucial part of landscape photography is the gear you carry. You'll learn what to buy, what you'll need, and learn that some accessories – like Spot Instant Messenger – are a must have if you're out in the wilderness alone. This chapter will include all the information you'll need about cameras, lenses, tripods, and accessories.
Chapter 2 :
We all know the most important lesson is Light. After reading this, you'll be able to see what Erik sees. You'll get insights that I've never read before. Lessons like predicting weather patterns or knowing how to judge different colors for various types of landscapes. Or even using ClearDarkSky.com for knowing when clouds will give you soft, diffusive light.
Chapter 3 :
What's a great landscape photography without great Composition? With this chapter, you'll learn how to use leading lines, recurring patterns, balance, and orientation to make your photograph clear and impactful. You'll learn how to position your tripod, learn how to free up your framing, and simplify what you see to organizable poetry.
Chapter 4 :
Now, that you got the tools, here's how to shoot Special Subjects. You'll learn how to overcome the special challenges unique to photographing Waterfalls, Flowers, Mountains, Oceans, Stars and Wildlife. Each scene is filled with Erik's own tips to getting the best photographs out of these fickle wonders.
So what is covered in this Landscape
Photography e-book?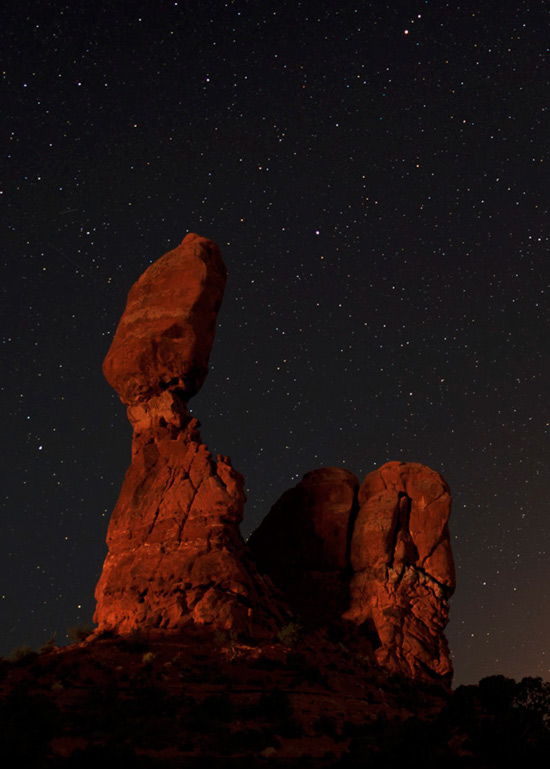 10 chapters covering 87 pages of beautifully designed information, inspired to get you started capturing great landscapes

Resources to help you continue learning including information on how to use websites like Luminous Landscape, The Photographer's Ephemeris, and Nature Photographers Network

Chapters on Post-Processing, Using your Camera, and Scouting a Scene

Full list of all of Erik's gear including links to where to get them

Education written clearly and passionately for perfecting landscape photography
Explore a different aspect of landscape  photography