Professional Free Photoshop Actions for Photographers
Photoshop actions are one of the handiest features of this program that allows improving photos and embellishing them with captivating effects in a matter of seconds. FixThePhoto specialists have bundled the best Photoshop actions in one pack, so you can download these filters and let your creativity run wild while creating designs, photo manipulation, etc.
Using such tools, you can effortlessly cope with common problems in photo processing without spending much time tweaking settings. They are absolutely user-friendly, so not only pros but also their beginning colleagues can take full advantage of this collection.
Using actions is very straightforward. You need to scan the collection, choose a suitable action and apply it to your photo. Simple like that. If you are pressed for time and want to make your workflow in Photoshop more efficient – make sure to download Photoshop actions described below. They can make images absolutely remarkable without violating the initial idea.
The bragging point of this collection is that you can apply it to different photos. For instance, if your shots are overexposed, just choose actions capable of fixing this defect. If your image contains too many blurry parts or a high level of noise, you can also find suitable actions to cope with such problems. It seems that this package contains tools for virtually any defect your photos can contain.
Benefits of These 10 Photoshop Actions
Free Photoshop actions created by the FixThePhoto team are meant to cater to all photographer's needs when working with photos. In other words, you can apply them to weddings, family, lifestyles, travel, landscape, fashion, event, and newborn photos. Besides, they can become go-to tools for both newbie and seasoned photographers.
Every Adobe Photoshop action described here turns photo manipulation into a streamlined process even if you have to improve hundreds of shots. Moreover, they are customizable to match your style.
These effects are well-thought-out to fix WB issues, make tones softer, and alter the overall mood of images in a realistic manner. They work great with dark images, making them lighter and brighter.
If you are a portrait photographer, you can use these actions to retouch the model's skin and make it smoother, which, in the long run, signifies your professionalism. Those who like modern artistic trends can make good use of these effects, complementing their photos with bright lines and objects, a watercolor effect, retro touches, and more. You can also use them to highlight the dynamics of your photos without going overboard.
List of Photoshop Actions Included in This Bundle
Smooth Skin Photoshop Action
Oil Photoshop Action
Retro Photoshop Action
Dark Photoshop Action
Matte Photoshop Action
Double Exposure Photoshop Action
Watercolor Photoshop Action
Black and White Photoshop Action
Pop Art Photoshop Action
HDR Photoshop Action
Smooth Skin Photoshop Action
Portrait photographers often have a hard time retouching model's skin and removing defects. Fortunately, this process can become less troublesome if you use this action. Most of the adjustments will be made automatically.
Besides, this action is developed with current airbrushing and smoothing techniques in mind, so it will show great results regardless of the type of skin you need to improve.
Achieving a true oil painting look in your images may be an arduous task. That's why, many creative photographers, who fancy such an effect, use this Photoshop action.
It turns ordinary photos into realistic paintings in several mouse clicks. Besides, it helps fix lighting defects and make colors soft and muted.
Give your photos a retro atmosphere using this Adobe Photoshop action. It imbues photos with a vintage feel, dragging colors to the brown & yellow spectrum.
This action is best suited for portrait shots taken in the open air, but you can also use it to create posters, flyers, album and book covers, etc.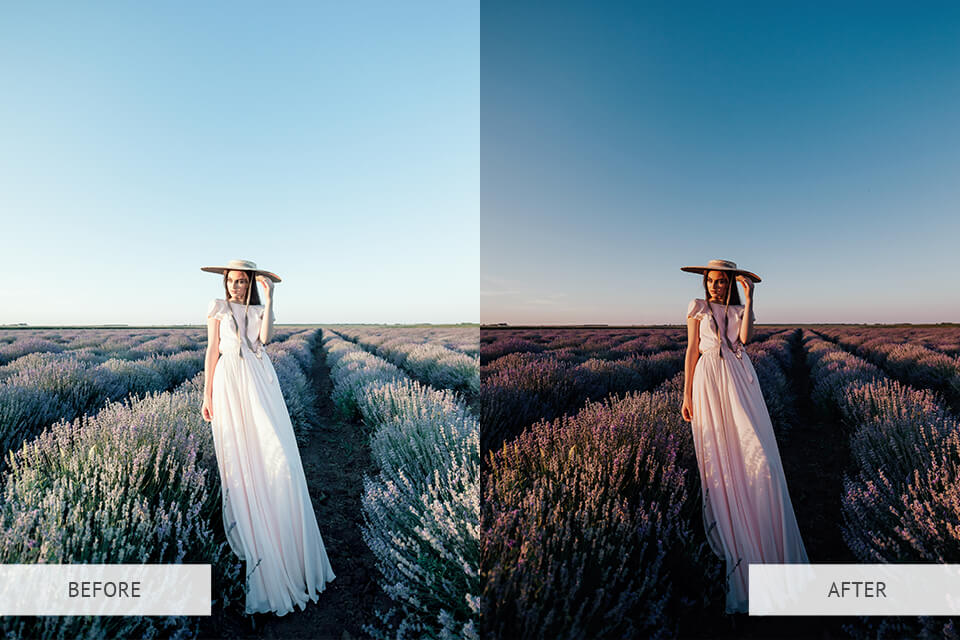 This Photoshop action is a perfect option if you want to give your photos a stylish studio effect with dark, vintage, and dramatic vibes. It works great with photos with dark backgrounds, complementing them with a subtle chocolate hue, increasing saturation, making shadows deeper, and giving skin smoother and tanned look.
You can change the direction of light, density, width, add more light sources, giving your photos a dramatic mood.
This is a simple free Ps action that will make your portrait photos look clean and natural. It is one of the best Photoshop actions if you need to improve shots for social networks.
Use it to add warm matte effects to an image and complement it with faded, bright, and high contrast tones.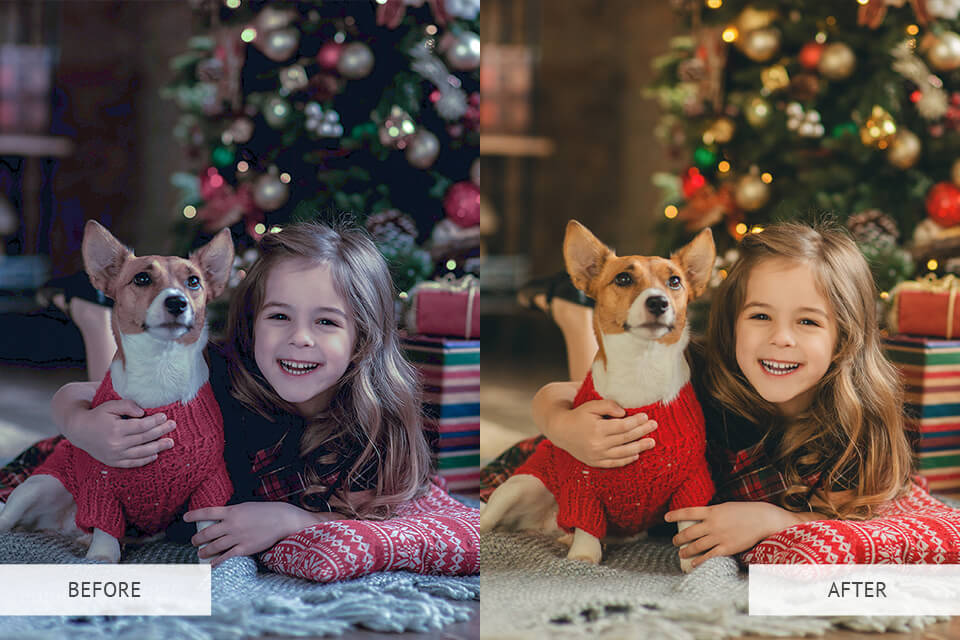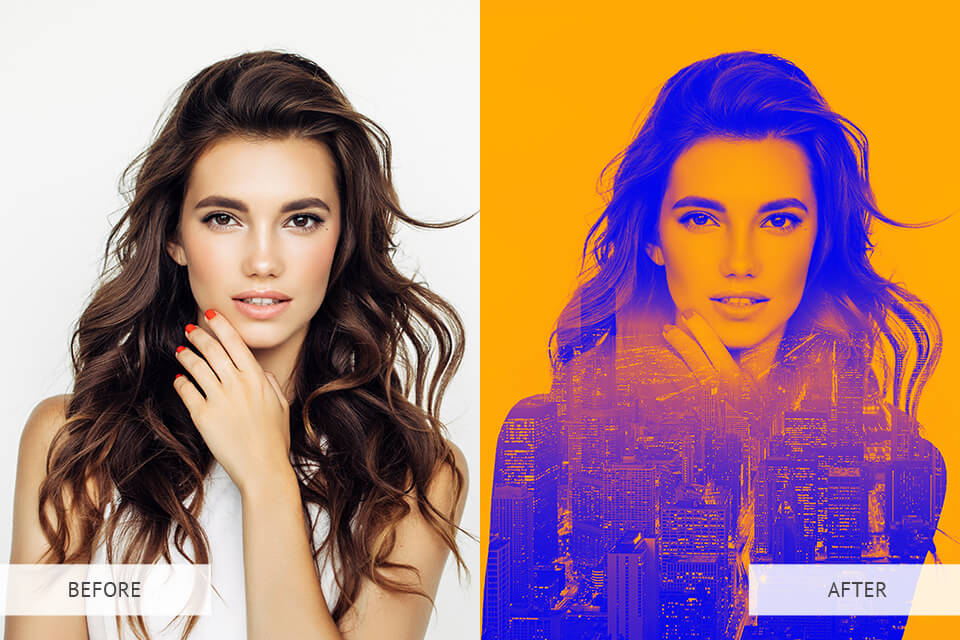 Double Exposure Photoshop Action
A Double Exposure effect is very popular in graphic design. It is also used for producing eye-catchy posters and similar materials that can benefit from a surreal and dramatic finishing. If you plan to create this effect on your own, get ready to spend much time.
So, it makes sense to download this Ps action and jazz your photos up with a Double Exposure effect in no time.
Watercolor Photoshop Action
This advanced Photoshop action lets you add a realistic watercolor painting effect to your photos.
It is suitable for all types of visuals but reveals its full beauty when applied to portrait and landscape images.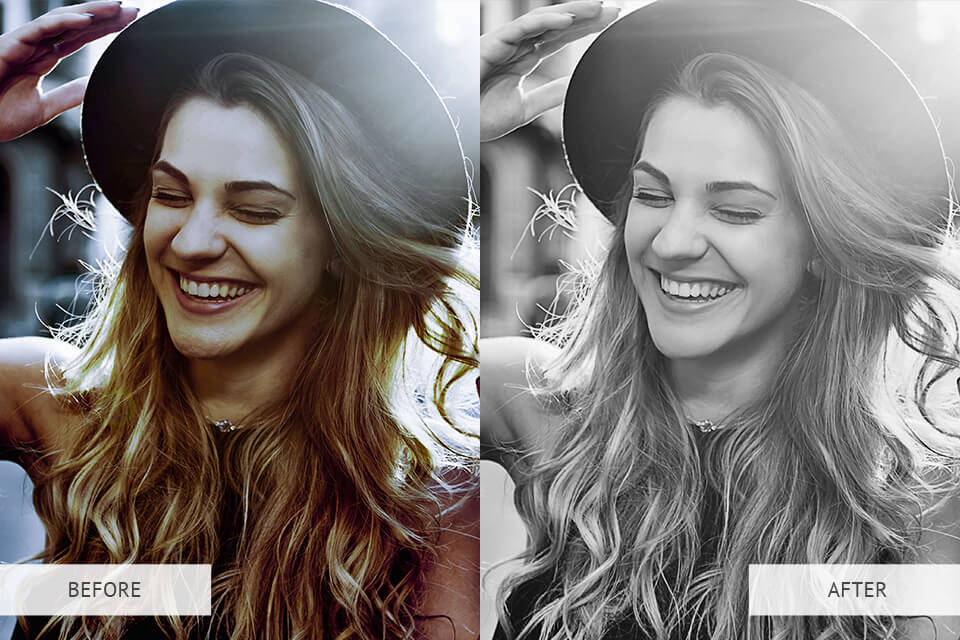 Black and White Photoshop Action
If you want to create an ideal authentic monochrome effect in Photoshop, use this action.
You can try several options for black and white transformation based on your images.
The B&W Photoshop action shows the best results when applied to portrait and landscape images taken outdoors.
This is a modern Photoshop action that makes your photos eye-pleasing by complementing them with bright lines and shapes.
It is a great variant for creating the background, unique design projects, etc. If you like the prism effect or want to create a stunning poster, use this action.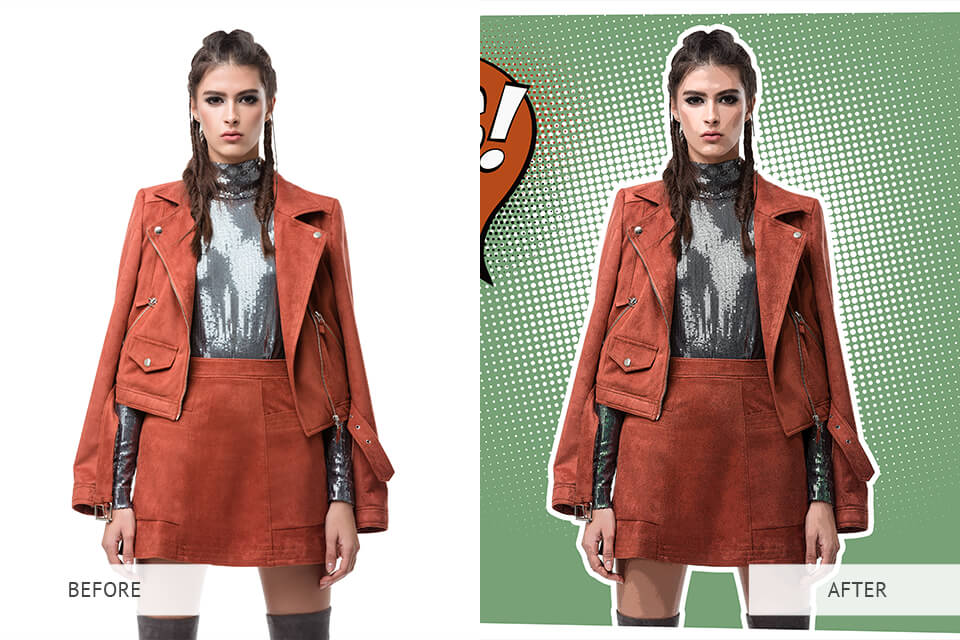 This action is perfect for adding an HDR effect to your landscape and other outdoor photographs. It raises contrast, brightness and improves colors in your images.
This is a non-destructive filter and you can even customize it the way you want.
Even If You Are A Beginner Photographer, With These 10 Photoshop Actions You Can Easily Enhance All Your Photos!
Download Photoshop Actions For FREE To Make Your Photos Look Professional!