Is auto mode starting to feel basic?
Ready to take off the training wheels?
With this ebook, you'll learn how to control your camera like a pro
I'll be honest. The first time I shot in manual mode, I was overwhelmed. It might have been a disaster too (if I were getting paid). Of course, I read as much as I could before. Did research on F-stops, ISOs, and shutter speeds.
I saw all the diagrams that you've seen online too. I learned the ins and outs of what depth of field means. Found a new favorite word — bokeh! — and even tried reading my owner's manual.
But when the camera was in my hands and I was alone on the field — without all the words, lessons, and research — nothing I did looked like what came out in auto mode.
Yes, auto mode! It's such a blessing and a curse.
I mean, I was still learning how to frame my shot and still learning how to look for light, but all the technical steps were lost. I was letting my camera be the creative one. Again, I was overwhelmed. But I also realized that I was forgetting everything and getting overwhelmed because I was learning from people who wrote like crap.
How could anybody expect you to learn and memorize theoretical dissertations? Or pick up something intended for people who are already familiar with photography. What about you?
Are you also getting tired of letting your camera decide everything for you?
If you're still trying to make the jump from auto mode to manual mode, or if you've struggled to find an ebook that puts everything together in a manner that makes sense, then you're lucky. This ebook was executed from the ground up with a plain, common-sense clarity.
And that's why I'm excited to share it with you! DSLR Photography in Plain English is exactly what its title says. Its lessons, guidance, and techniques are easy to understand and enjoyable to read.
No complicated jargon. No theoretical musing. Just the knowledge you want. Written in a way that won't make you want to poke your eyes out.
You'll get both the absolute basics and also advance techniques that will help you master manual mode. But this ebook is a limited-time promotion. So it won't last long!
If you're ready to learn everything you can about your camera, you better hurry and buy now!
Sounds good. What will I learn, exactly?
Shooting in manual mode means knowing how your aperture (F-stop), ISO, and shutter speed work together to create an exposure. Sounds easy enough, right? Just plug in the right numbers and there! That's it.
If only it was that simple! DSLR Photography in Plain English will guide you on the fundamental principles of exposure while building up your knowledge on lenses, camera settings, and focus. You'll learn a system that makes it easier to shoot. A firm bedrock of knowledge that will allow your creativity to flourish.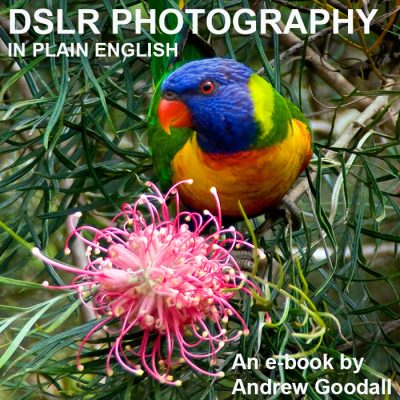 Which lessons are included in the DSLR Photography ebook?
Exposure: main settings used to control it
Shutter Priority (TV) & Aperture Priority (AV)
Manual mode: how to get maximum control with minimal guesswork
White balance, metering, autofocus, shooting RAW vs. shooting JPEG

Much more!
Are you ready to make the jump from auto?
Learn DSLR Photography from the beginning. Understand your camera in and out. Shoot confidently.
$18.50 Add to cart