All you want to do is create beautiful boudoir photography.
It should be simple, right?
But it turns out that there's actually a lot more involved in this process than simply snapping a few photographs in a bedroom scene.
There is marketing. Pricing. Blogging. Social media presence. Not to mention the importance of protecting your intellectual property legally by writing up contracts with your clients.
For a busy photographer, it's a real challenge to keep up with all these tasks. In fact, it's almost impossible.
Where can you find the time in all this to do the most important thing of all…simply to create art?
What you need is a product that can help you streamline and simplify these mundane tasks so they can be accomplished without thinking about it.
But with so many items available on the market, you don't know where to begin, or whether any of the available products for photographers will even help you.
After all, boudoir photography is a very unique niche. Can you really find something that will help you specifically with your genre?
And is the cost really worth it?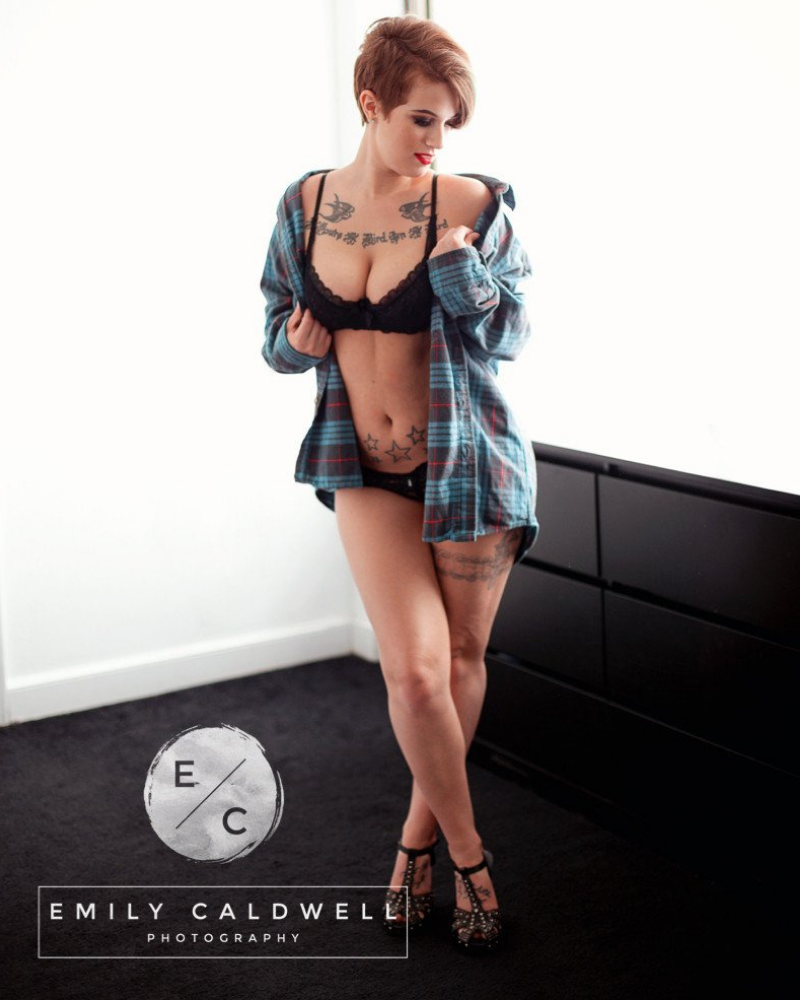 Everything you need to create beautiful boudoir photography!
This Ultimate Boudoir Bundle is the solution to all the problems listed above.
Here you'll find every tool you need for the smooth running of your boudoir photography business…so that you can spend your time doing other things.
Are you having trouble coming up with creative and flattering boudoir poses? The "Boudoir Posing for the Modern Photographer" book gives you a quick and easy reference guide to jog your inspiration.
Are you having trouble coming up with appropriate prices for selling your work? A handy guide to Boudoir Pricing Structure gives you everything you need to calculate prices fairly.
Are you trying to maintain a blog featuring your boudoir photography, but just find that you lack time, as well as ideas? A guide to Boudoir Blog Posts gives you articles, templates and forms to make blogging a breeze.
These are just a few of the amazing products included in this bundle!
With the time you'll save, your photography business will be poised to soar above the competition.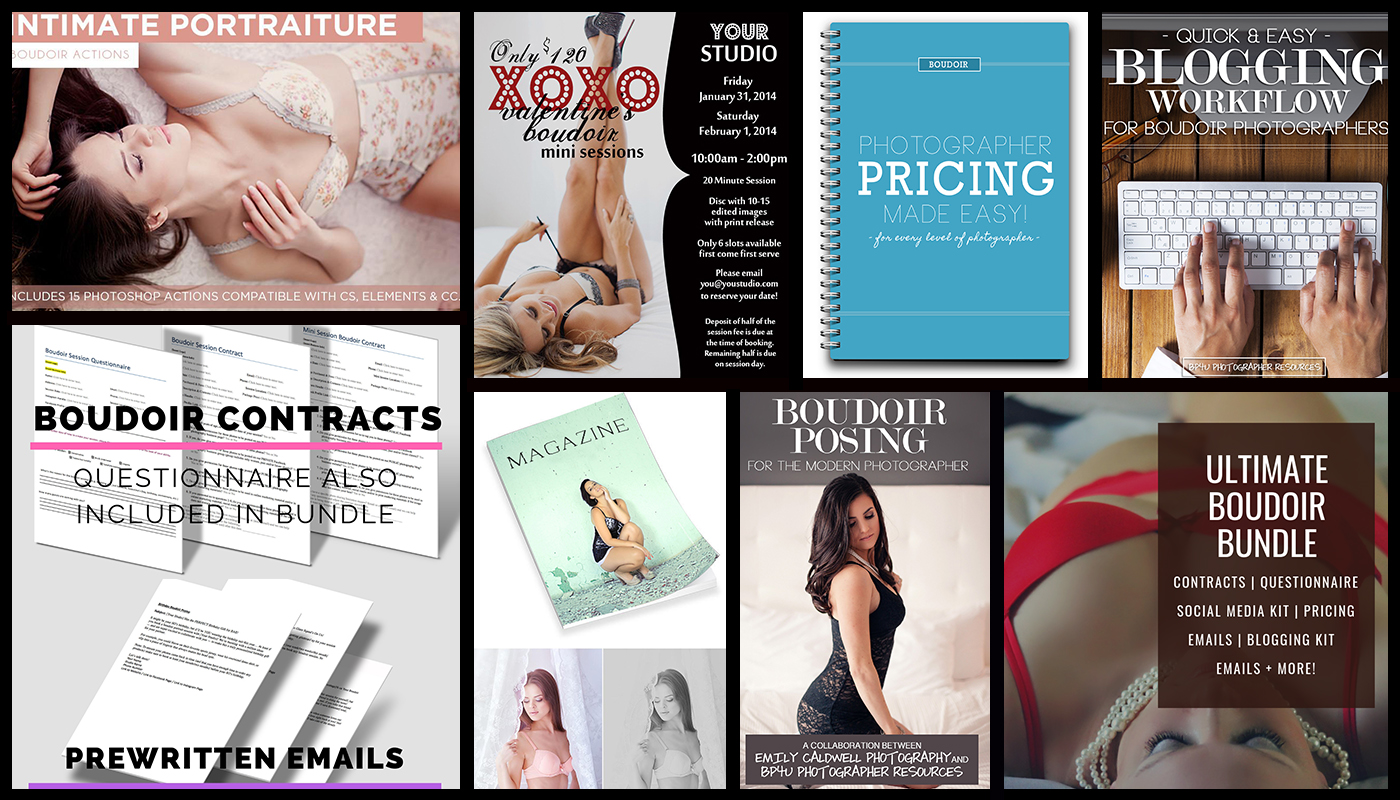 Packed with items just for the boudoir photographer
Here are the products you will automatically receive as part of this unbeatable package.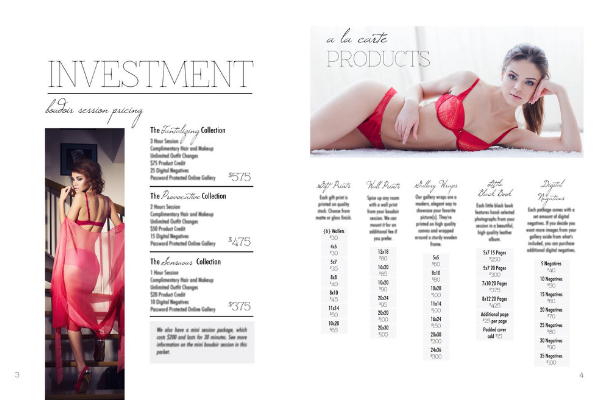 Boudoir Magazine Welcome Packet Template
Creating a welcome packet is an important task. You need something that highlights your work in an attractive way. Why reinvent the wheel? The perfect welcome packet is right here.
Boudoir Contract Bundle
No artist likes to deal with something as mundane as legal contracts. However, these are necessary to protect your artistic and intellectual property. This collection of products takes the stress out of writing a boudoir contract. It includes:
• Boudoir Portrait Contract & Release
• Boudoir FAQ Worksheet Form
• Boudoir Mini Session Contract
• Boudoir Session Questionnaire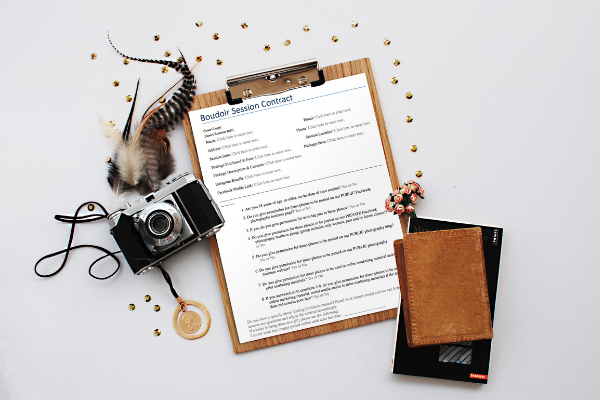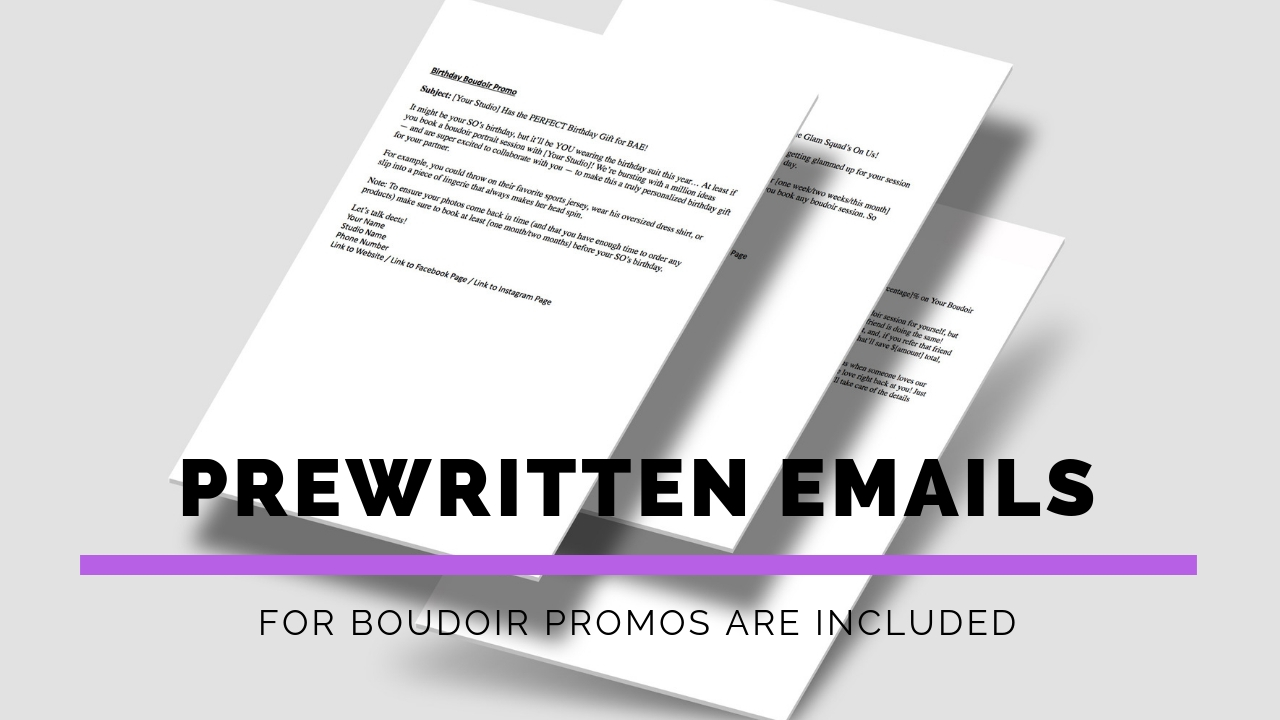 Boudoir Promo Emails
A promotional email campaign is one of the most effective ways to bring visibility to your work. But agonizing over exactly the right words for all these emails can suck your time away pretty quickly. Crafting these emails can drain your time away fast.
But these templates allow you to kick off an email campaign with just a few clicks. Just personalize with important details and graphics, and press Send.
Boudoir Pricing Structures
Boudoir photography is deeply personal, intimate, seductive. How can you possibly put a price on that? And yet you have to if you expect to earn a living.
But no need to worry; this handy guide to fair pricing structures for boudoir photography will help you negotiate for what you truly deserve.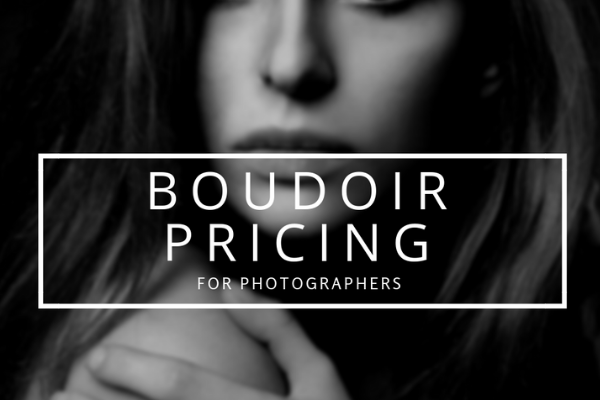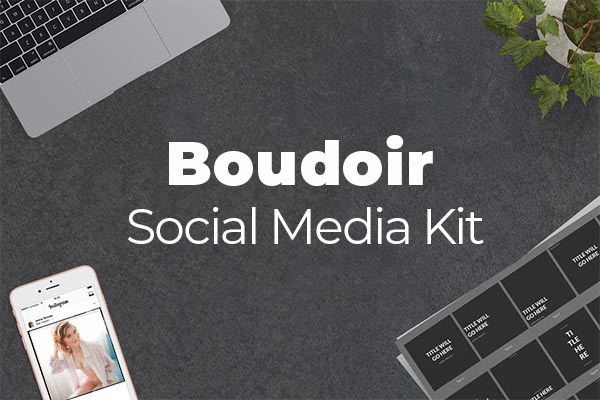 Boudoir Social Media Kit
Facebook and Instagram hold a plethora of opportunities to build connections with colleagues and potential clients. But who has time to come up with meaningful posts and statuses every day? This collection of items gives you everything you need to easily maintain a strong social media presence:
• 161 Boudoir Facebook Statuses
• How to Grow Your Facebook Boudoir Group
• Boudoir Instagram Hashtags
Boudoir Posing for the Modern Photographer Book
Boudoir photography can be magically wonderful, or magically awkward. Finding poses that make your models feel comfortable and bring out the best in them can be challenging. This collection offers poses that flatter every body type. Practical examples and instructions saves you time and stress.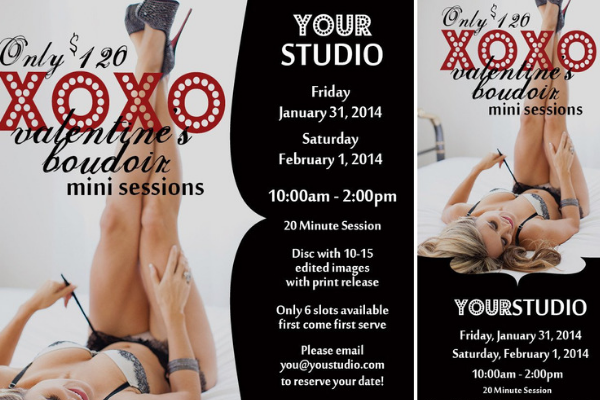 Boudoir Mini Session Marketing Graphics
Creating materials for effective marketing can be a major hassle. But these templates make the process simple and quick. All you have to do is populate the templates with your own photos and you have instant marketing materials for your mini sessions. With less time spent on marketing, you can focus on other things.
15 Boudoir Photoshop Actions
Boudoir photography is unique and requires a different kind of effects. These 15 actions are created just for the boudoir. In addition, they are amazingly user-friendly. And the effects you can achieve are dramatic and stunning.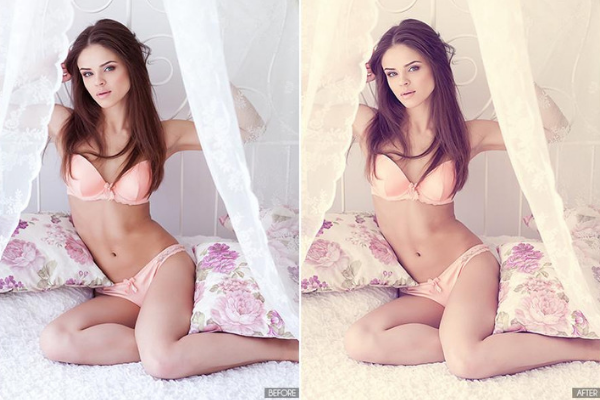 The best investment you'll ever make
To purchase each item in this bundle separately would be costly, and probably out of the reach of most boudoir photographers, who are on a very tight budget.
For convenience and affordability, we have combined all of these essential tools together in one package for a one-time price of $349.
But that's not all. We're currently offering a promotion which allows you to purchase this Ultimate Bundle for just $29.
It seems too good to be true, but it's really happening.
For that $29, you can save yourself hundreds of hours of valuable time. Instead of crafting emails and Facebook statuses, you can spend time brainstorming ideas for your next shoot.
Instead of painstakingly putting together a blog post, you can be attending network effects to connect with valuable colleagues, patrons, and clients.
That $29 will pay for itself within a few short few months, and continue to yield spectacular returns on your investment.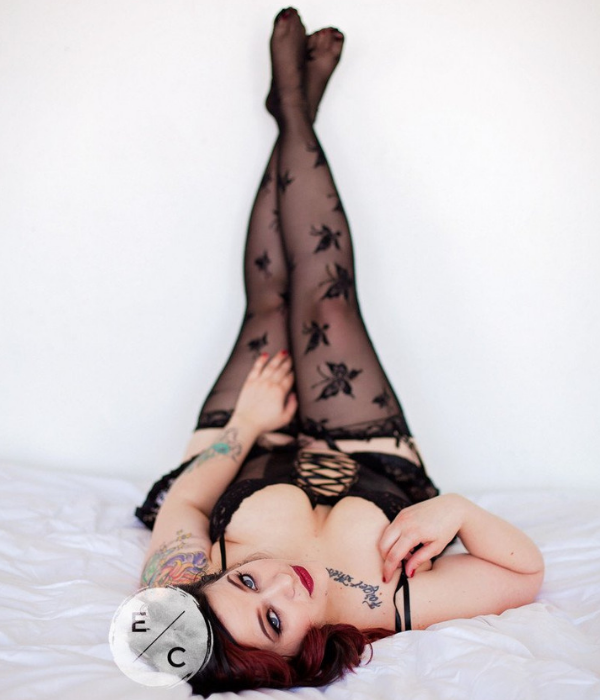 Create the most beautiful boudoir photography in the business…
Download the Ultimate Boudoir Bundle today!