When it comes to artistic Photoshop scripts, the possibilities seem endless
You can do almost anything with your image, including making it into a stunning line drawing.
But not all Photoshop actions are created equal.
Some produce a stunning variety of effects, but may be difficult to use.
You may quickly find that you have to download backgrounds and styles separately in order to get the actions to work correctly.
Or you may find that the actions include a very limited number of effects. And that's really going to cramp your style.
Because let's face it: as an artist, you need the freedom to follow where your creativity takes you.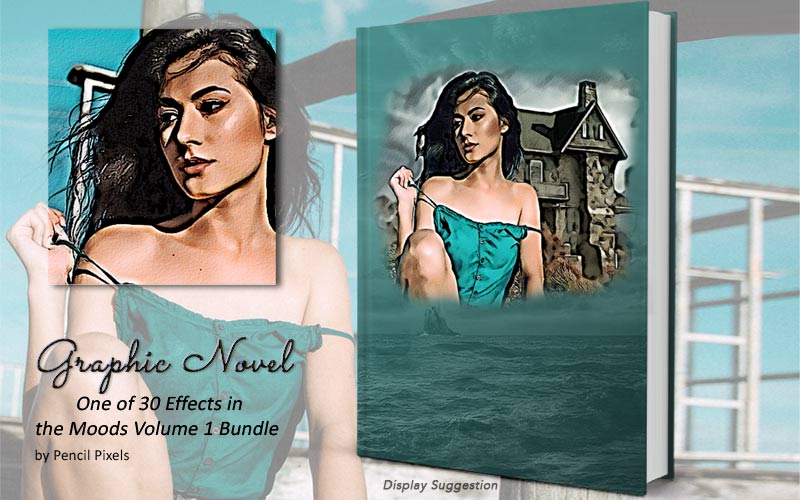 Sometimes you might be in the mood to create a light pencil drawing. Other times, you may want to create something that looks like poster art.
But if you have to download a new set of styles and backgrounds for every place your muse takes you, that's going to slow down your workflow and put a real dent in your artistic inspiration.
And of course, cost is also a factor. You don't have an unlimited budget to work with. So shelling out more money every time you want to try out a new effect isn't going to work for you, either.
Imagine if you could grab every dramatic mood effect you've ever wanted in one user-friendly, convenient bundle.
Well, now you can 😉
Your One-Stop Photoshop Solution For Artistic Effects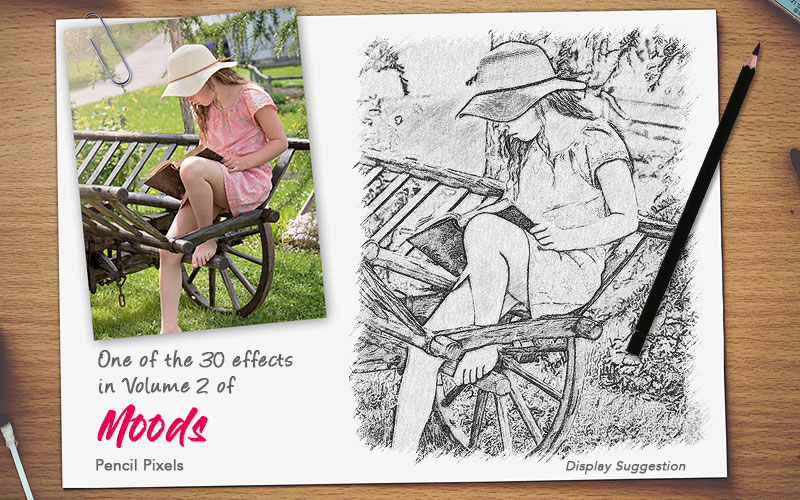 This bundle of artistic Photoshop effects from Pencil Pixels gives you everything you'll ever need to transform your images into stunning graphic art.
Whether you want something really dramatic and eye-catching, or simply want an image that emulates traditional media, it's all right here in this bundle.
This bundle comes in two handy collections. With each of them, you can create a total of 30 different moods and sketches simply by selecting them from the Drop-Down menu.
Then you can customize textures, colors, line and tone to get the exact look you want.
All 60 effects can be output immediately as JPEGs, without using or manipulating the layers of your original image. Your original file is duplicated and preserved intact.
Then, you can manipulate the layers in the duplicate as much or as little as you want.
When using color effects, the color can be partially revealed through pre-masking of the color layer.
What can you create with these incredible effects?
Well, basically the sky's the limit. Think about what you could accomplish with portraits. Or composite artwork. Or figure studies.
Whatever you decide to do with these effects, you can be sure of one thing: your work will never be the same.
Let's Have A Look At A Few Examples
Blue Line
Saturday Morning
Cosplay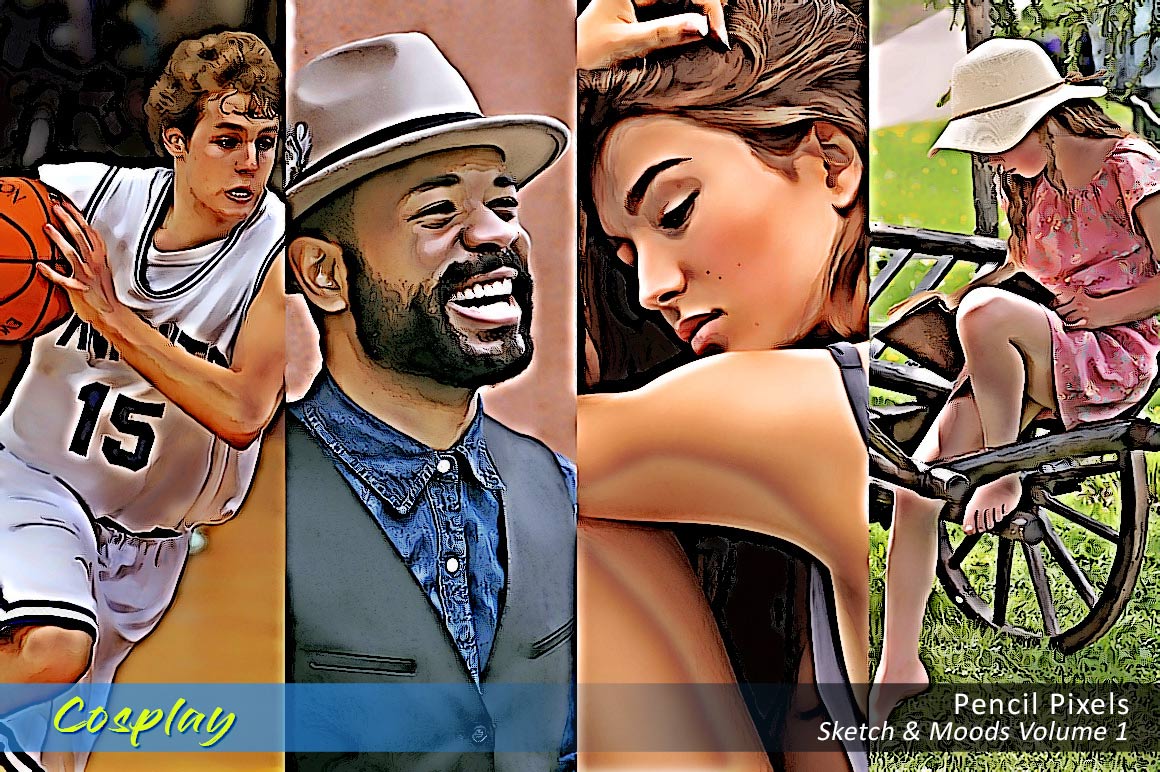 Ink - Watercolor
Medium Pencil
Concept Art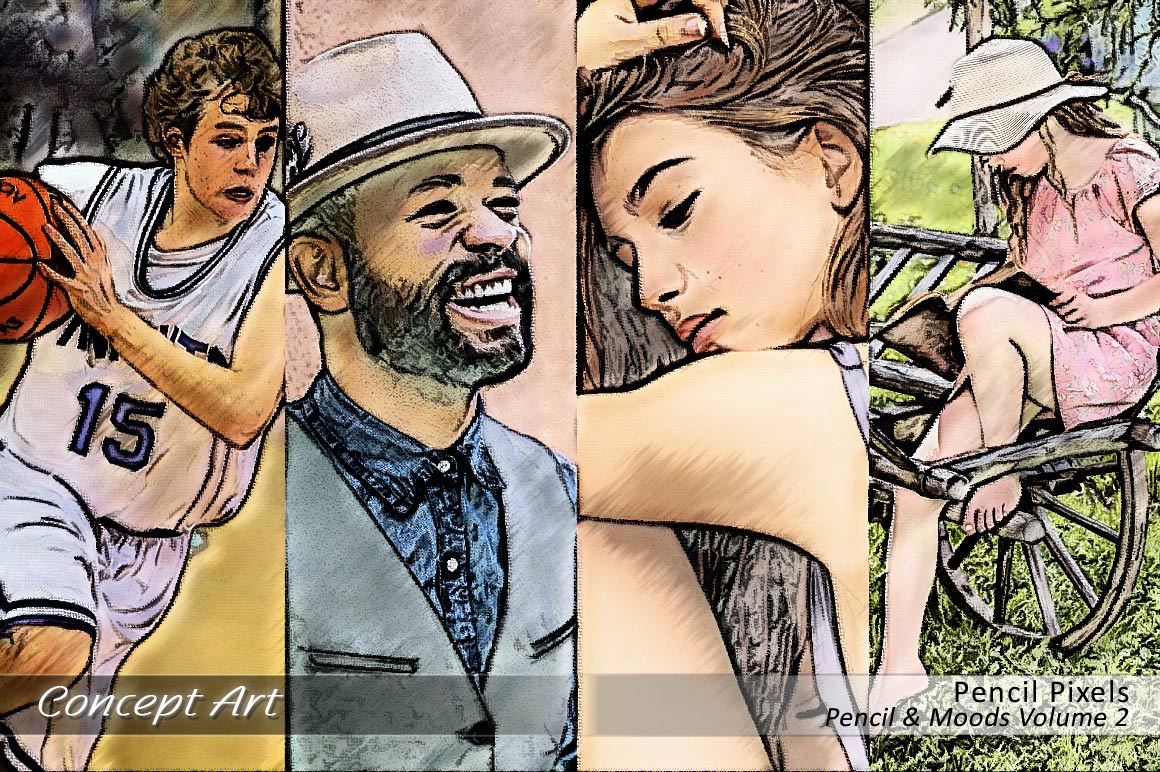 Hard Shaded Pencil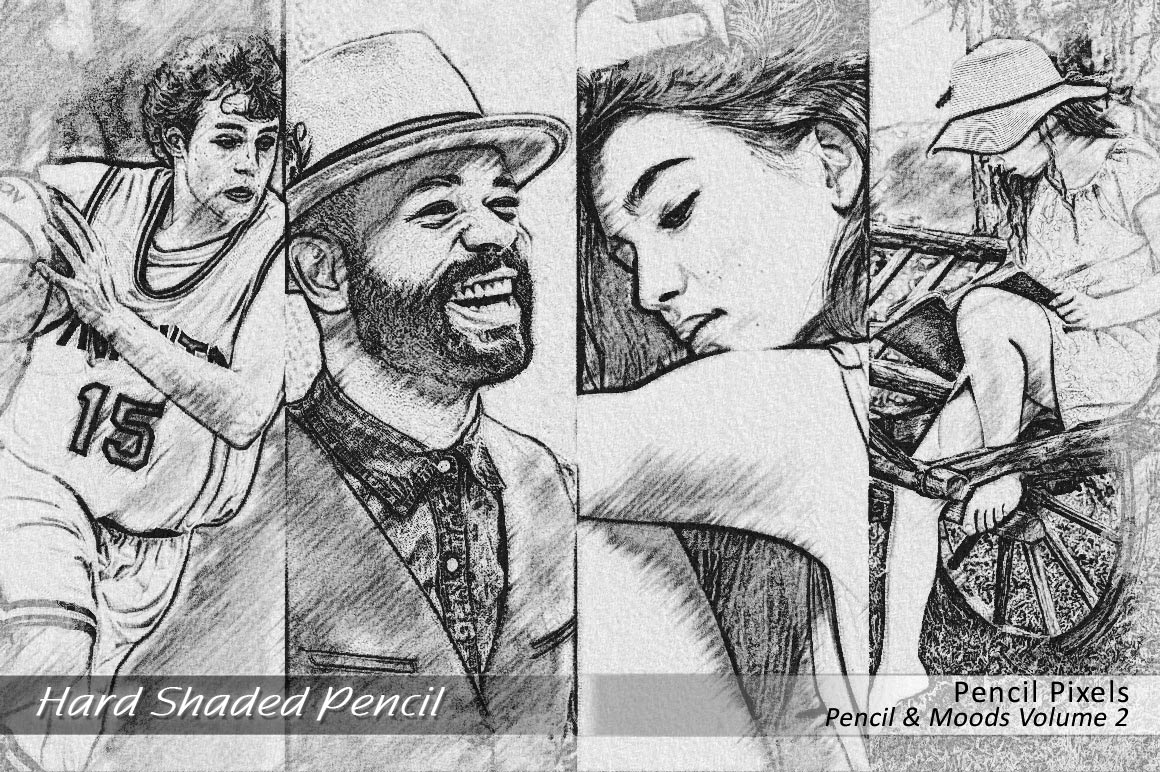 Story Book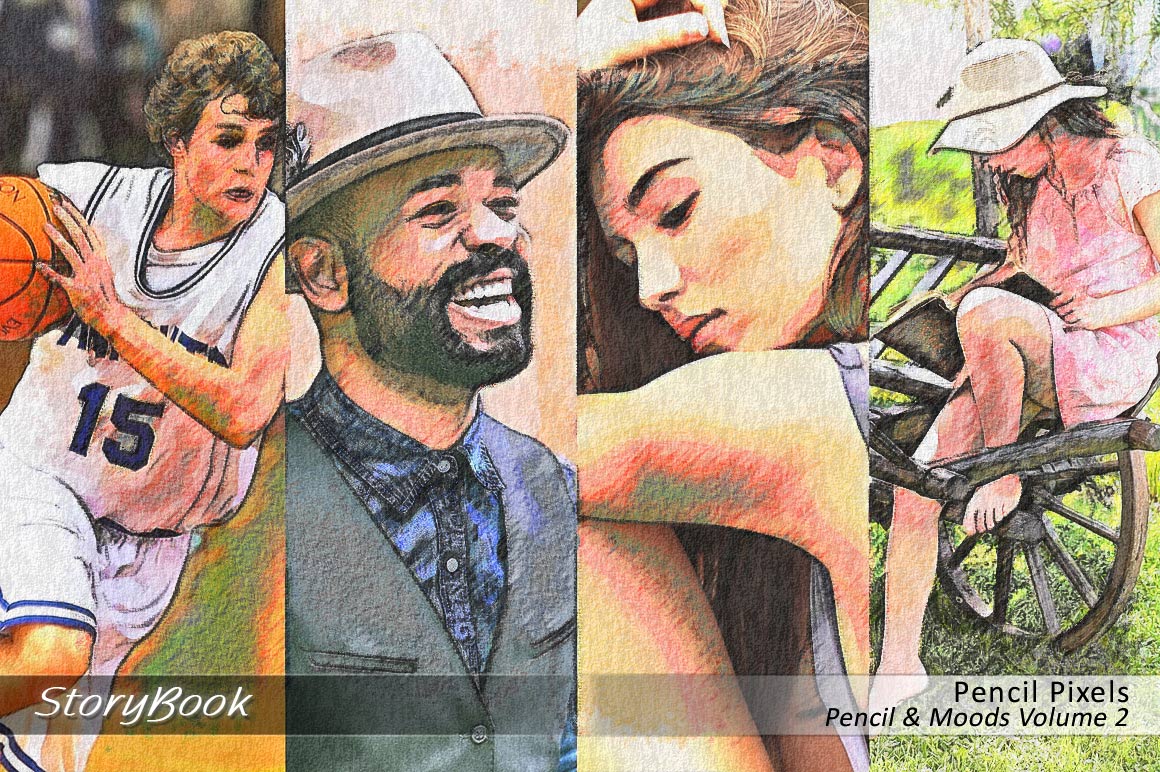 Stylized 1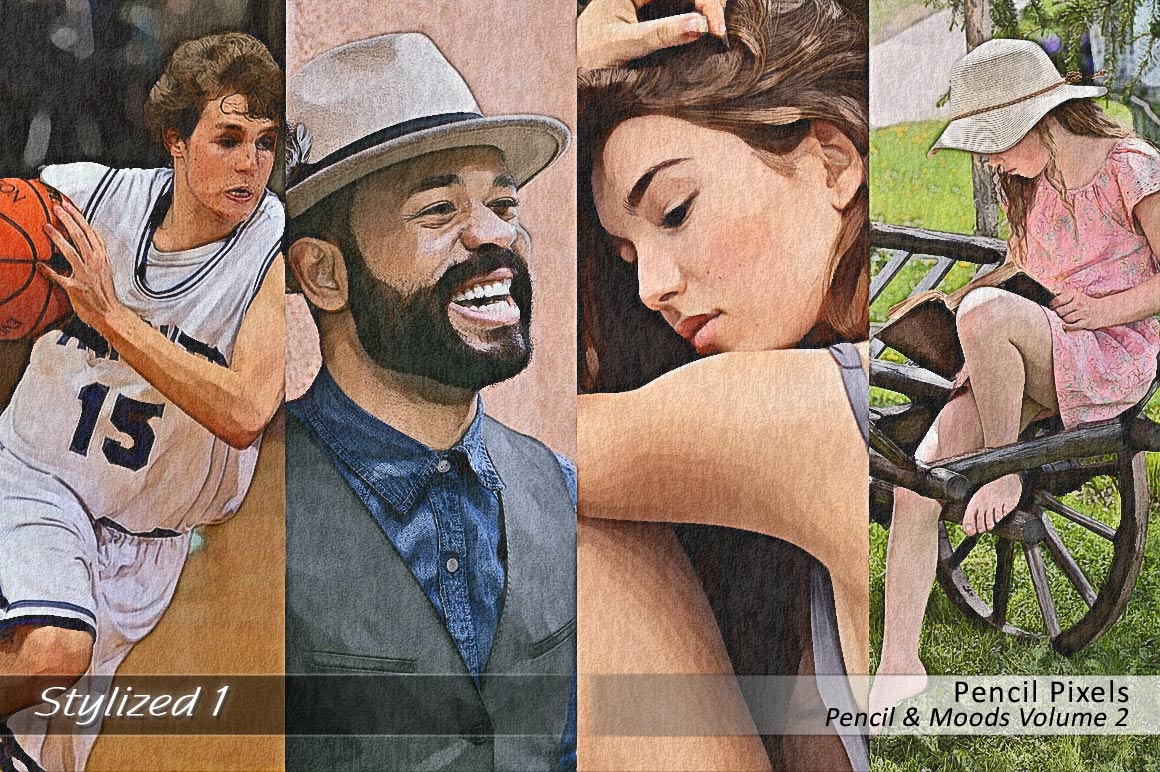 Two Bundles, Dozens of Artistic Photoshop Effects
1.

Sketches and Moods Style
Pencil Sketch

Pencil shaded

Pencil Drawing

Hard Shaded Sketch

Pencil Shaded

Tone Shaded

Soft Shaded

Story Book

Stylized 1

Cinemagraphic

Stylized 2

Dream

Concept art

Cartooning

Chalk

Outline

Book cover

Stylized Drawing

Color Concept

Chalk Board

Soft

Water Paint

Book Cover Rag

Comic Book

Coloroid

Tarot Card

Soft Illustration

Color Drawing

Hard Color Sketch

Editorial
2. Pencil and Illustrate Styles

Medium Hard Pencil

Light Pencil Shading

Soft Thick Pencil

Black And White Graphic

Saturday Morning

Flat Tone Color

Color Graphic

Soft Morning

B/W Inversion

Emerging Colors

Grunge Color sketch

Toon Transition

Smoothing Application

Faux Leroy Neiman

Crossover Media

Cosplay

Color Markup

Active Acrylic

Color Pencil

Circus Poster

Blue Line

Graphic Novel

Moonlight

Sin City

Red Alert

Pearl Grey

Glossy Comic Cover

Crossover Watercolor

Ink Watercolor

Toon
Features & Compatibility

●

Compatibility with Mac OS X or Windows and with Photoshop CS5.5 through CC 2020.
●

On OSX Photoshop, it will work from CS5.5 to CC 2020
●

It works with Photoshop Elements version 14 to version 2019

●

Volume 1 Script with 30 effects
●

Volume 2 Script with 30 effects
●

Instructions and information files on loading and using scripts
●

Instructions on how to use the Volume 1 and Volume 2 scripts
●

Works exceptionally well with portraits, figure studies, and composite artwork

●

Customer support is provided by email, a usual response in 24 hours
Below Are A Few More Examples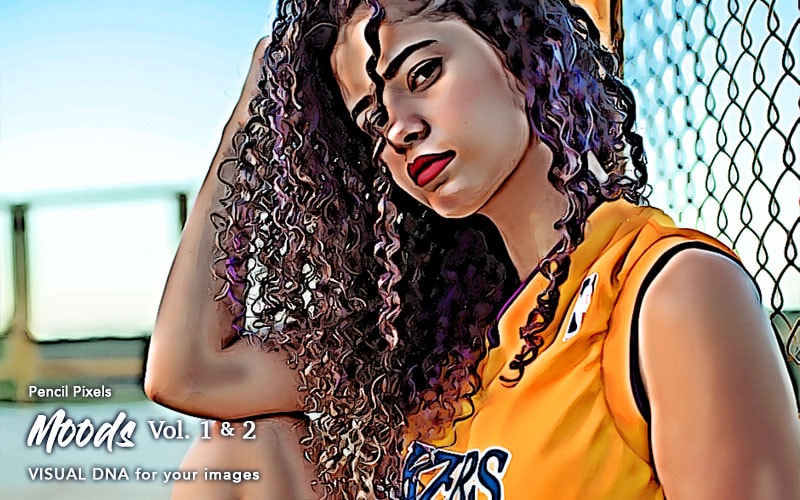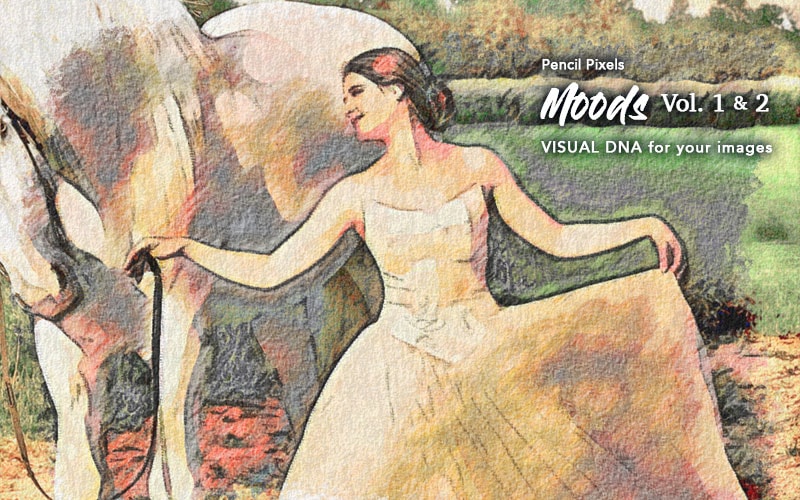 A Once-in-a-Lifetime Deal
Once you've grabbed these amazing bundles of artistic Photoshop effects, there will be no going back.
With just a few clicks, you will be able to transform any image into an artsy pencil drawing or a bold and eye-catching piece of graphic art.
With images so striking and so easy to produce, you will soon rise above the competition, garnering more and more media visibility for your work.
Whether you want something traditional or something that stretches the limits of reality, it's all right here.
You get unrestricted use of these tools, as long as you do not resell, re-engineer or distribute the files.
The transformation of your art is priceless. But for a limited time, you can purchase these bundles of unique Photoshop actions for an unbeatable price.
So don't wait any longer! Grab these amazing artistic Photoshop actions today.