2018 Sexy Live Nude Model Photography Webinars
Interactive Education. Exclusive Insights. Candid Behind The Scenes.
LIVE is an interactive webinar format, providing you 3 globally streamed shows in 2018.
Interact exclusively with the shooting team via a live chat and benefit from real-time advice.
LIVE PHOTO SHOOT #1: "Fashion-inspired Nudes"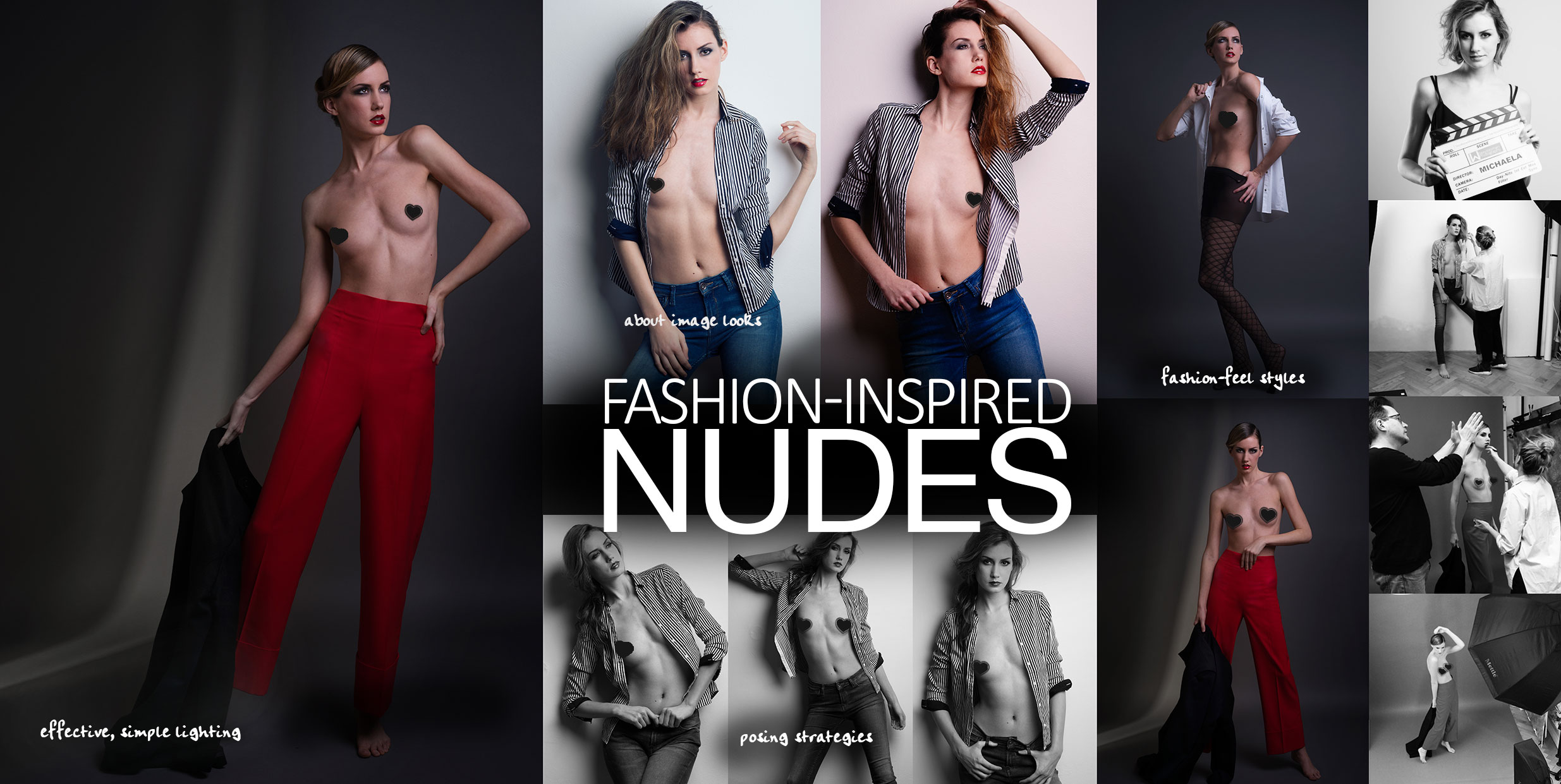 Working with Core Components of a Fashion Feel

Specific Lighting Design, Choosing Simple, Effective Clothing

Working with Well-Known Postures, Carefully Selected Image Looks, and more

1-/2-/3-Light Setup in a Tight Space

Model: Michaela (184cm / 6'0″)

Michaela worked for Cosmopolitan, Harper's Bazaar, Amica, EH!, Luis Vuitton, Chanel, Gucci, Moschino

Nudity: Yes

Saturday, April 21, 2018

19.00 GMT / 20.00 CET / 2PM EST / 6AM AEDT Sunday morning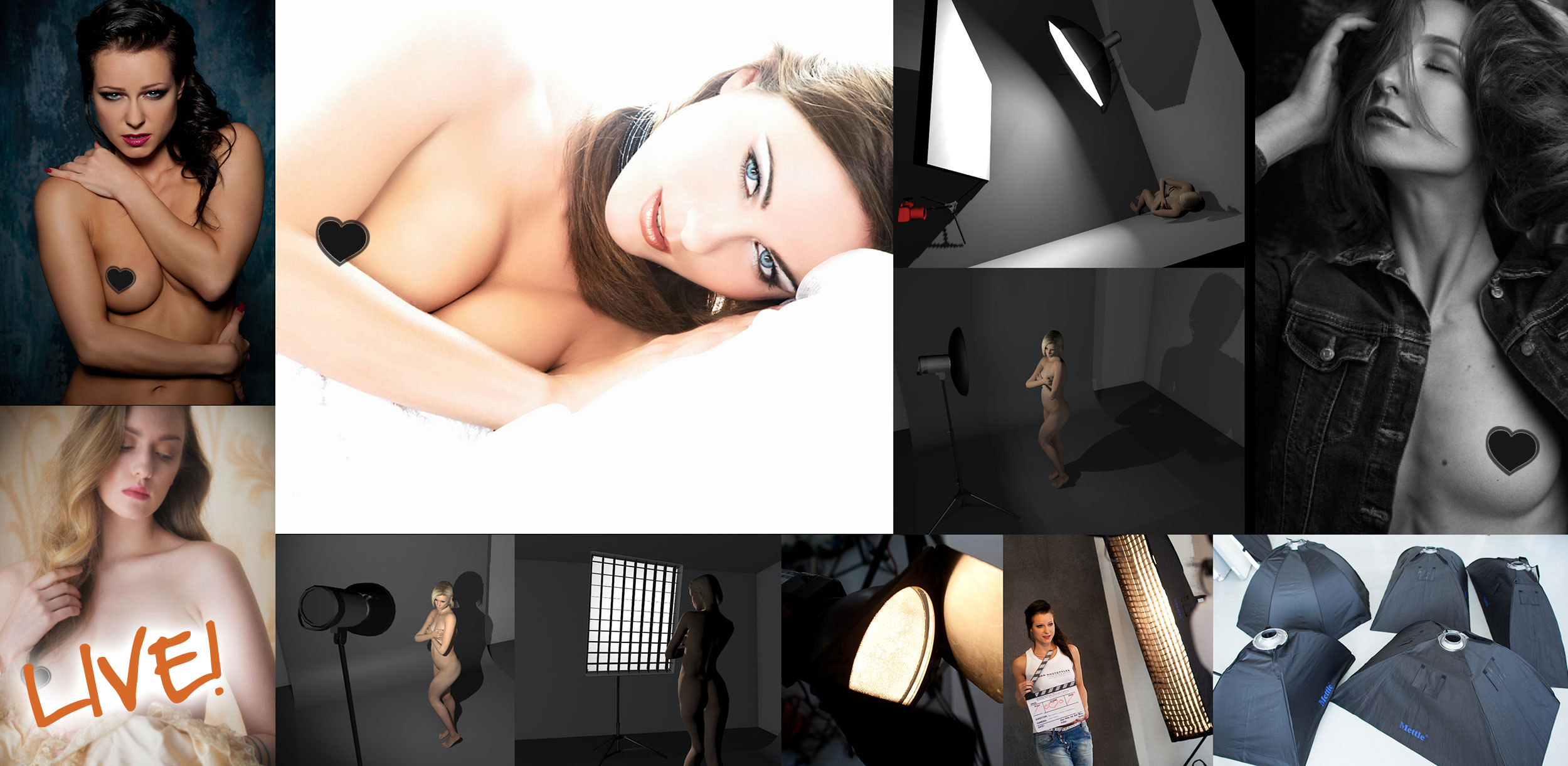 LIVE PHOTO SHOOT #2: "Mastering One Light"
Light Modifiers & Light Direction

Looks & Moods the Simple, But Effective Way

Glamour, Art Nude, Sexy Portraiture

Nudity: Yes

August 2018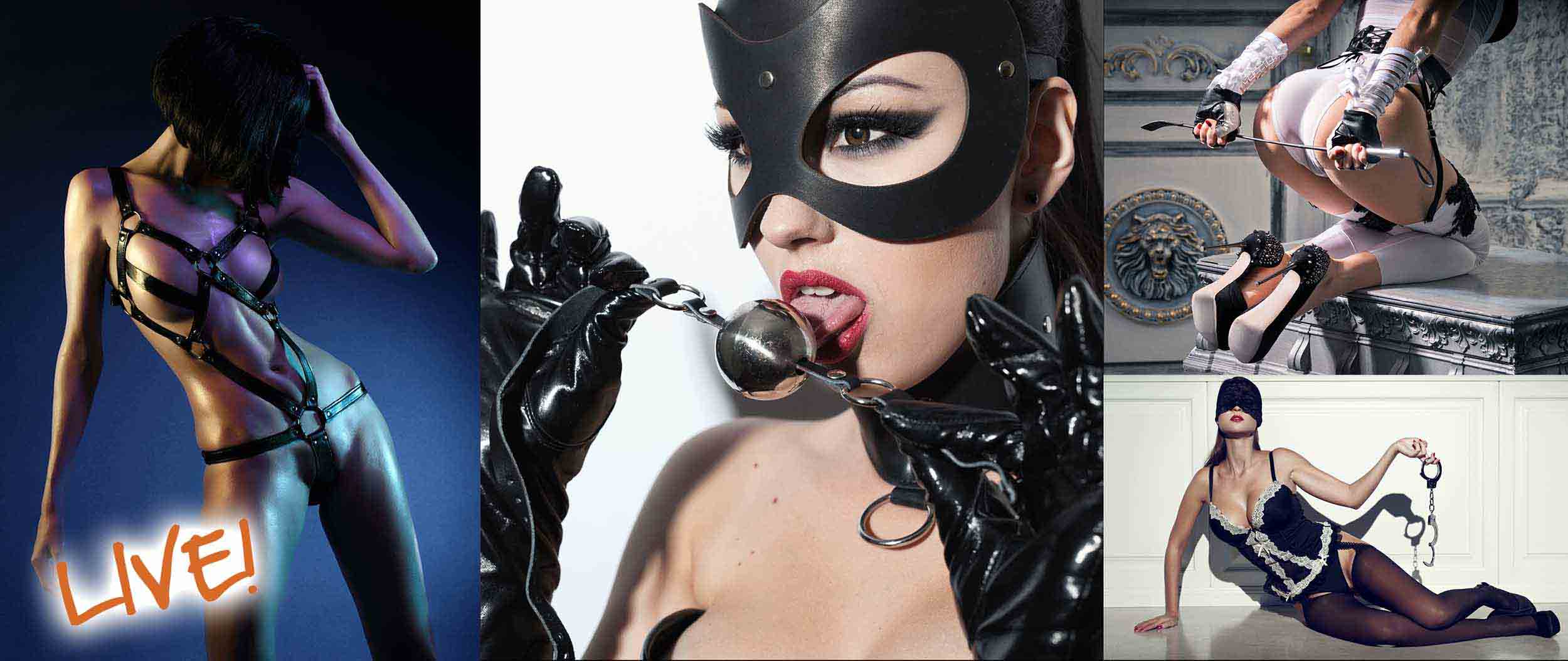 LIVE PHOTO SHOOT #3: "Fetish, Bondage, Romantic Punk & Goth"
Lust & Seduction. Desire & Elegance.

Specific Storytelling, Look Creation & Lighting Concepts

On Location Shoot

Nudity: Yes

December 2018
All webinars follows some crucial basics:
Limited Indoor Spaces. The shoots will happen in a cozy relaxed atmosphere, no big studio show. It's a down-to-earth format, like shooting at your home.

Gear Does Not Make Your Photo. Evoke emotions and use affordable gear.

Hobby to Pro. Concepts suitable for shooting with your girlfriend/wife, beginner to pro models + ordinary female clients (!).

Fast Track Learning. To-The-Point. NO endless shows, NO waste of time.
AWESOME BONUS: SWP ACADEMY Membership for 12 Months
(worth $1500)

Smart, Unlimited Photography Education
✔ Photography Tutorials Streaming Library: All Past & Upcoming Video Tutorials

✔ LIVE Streaming Library: Complete Archive

✔ Fly-On-The-Wall: Photo Shoot Replays. Real-world & Raw

✔ Prime Video Interviews & Documentaries

✔ Forums

✔ Q&A Archive

✔ Weekly Article

✔ and much more…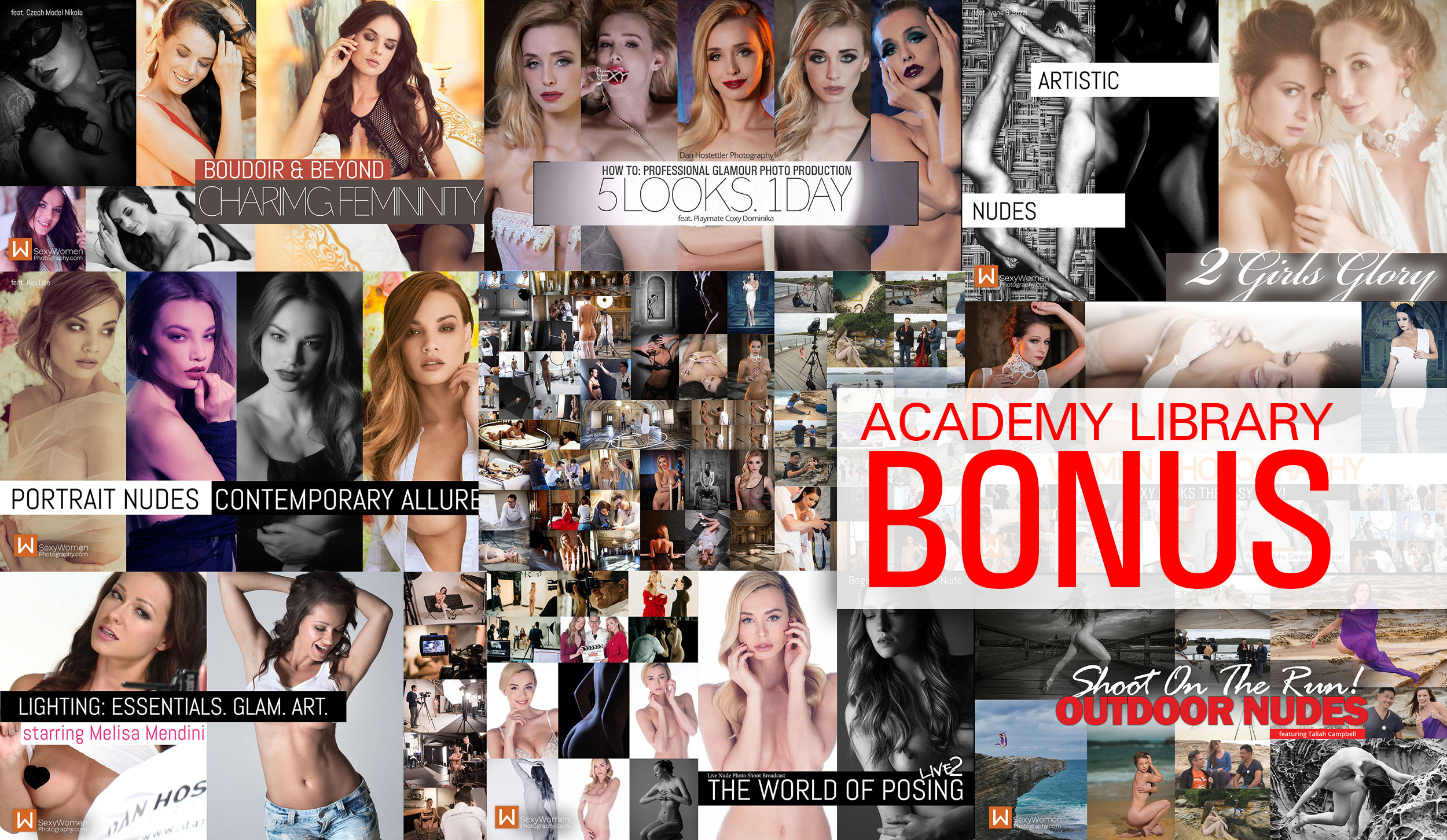 HERE'S WHAT PEOPLE HAVE SAID ABOUT 2017 LIVE WEBINARS
"Fantastic Webinar Dan and the Team were superb, roll on August. PS: Fantastic use of such a small space with multiple sets." – Gary, AUS
"It was a very fun day watching the webinar and moderating the chat room. I hope everyone enjoyed it as much as I did. Can't wait for the webinar in August!!" – Joe, USA
"I could only enjoyed it more if I had been there in person. Great job to all the staff and crew." – Michael Edward, USA
"Hey Dan, ich konnte gestern nur sporadisch zusehen aber was ich gesehen habe war wieder mal sehr interessant und hilfreich. Ich freue mich schon auf die Aufzeichnung und die weiteren Webinare. Danke für die Arbeit die Du mit deinem Team, den Models und den Visas in eure Projekte steckt." – Mike, GER
"Really enjoyed catching the webinar live. Looking forward to the downloads, and the rest of the summer series. Dan, you, your models, HMU, and crew deliver an amazing show. Cheers!" – Howie, USA
"I thought today was good, to see what you can do in a small home studio with limited resources. Thanks."- Rodney, AUS
"Great Webinar, thanks a lot to Nicci, Aneta, Dan and the whole team." – R.Z.LB
"Well done Dan!" – Terry
"Thank you Dan and crew….You do a great job again, thank you for this perfect webinar." – JOERG-O
"Just been through the downloads for Webinar 01. Great Job in particular the Shoot Notes with all information captured in great detail, awesome reference document." – Gary, AUS
"Already signed for LIVE II. Dan's productions are highly recommended!!" – Jose Sanchez / Spain
"What a brilliant idea!!" – Will W. / UK
"With my 'seat in the frontrow' I will now continue promoting your phantastic idea." – Gret S. / Germany
"Brilliant idea to do this!" – Jonathan R. / USA
"Great!!! Amazing idea. I will share this." – Jose / Spain
"Hopefully we will see more like it in the future. Thank you!!" – Bill / USA
"Dan, an outstanding presentation. You, Melisa and your whole team should be congratulated for the hard work you put into this. Well done!" – Joe / USA
"Hi Dan, Great show! I love your style of working where you do your setup yourself and not just telling people what you want. That is very impressive!" – Jackson / Australia
"Hi Dan, I thoroughly enjoyed last night's webinar with the gorgeous Melissa Mendini. Your calm and paced teaching style was not only educational, it was inspirational." – Alan Wheetman / USA
"I must say: I'm deeply impressed with the high-end outcome of your event yesterday! You talked very generous about the process and the shoot itself in terms of the technical aspects and the different styles achieved with different lighting-setups. Kudos to you, Melisa, and the whole team!" – Michael / Germany
"Hallo Dan, ganz herzlichen Dank an Dich, Melisa, die MUA und das ganze Team für die tolle Leistung! Ich finde Deine Idee mit dem Livestream sehr gelungen – die Umsetzung war 1A wirklich. Viele Grüße aus Wien!" – Constantin / Austria
"From the Mexico City, congratulations to the whole team, it has been a great experience." – Pollux Kc / Mexico
"Hi Dan, Great shoot and presentation!! You ebook is superb!! Again, you guys did a fantastic job!! Can't wait for the next shoot!!!"
– Spence / USA
"Enjoyed you! Great job, looking forward for Live3 (inlove)" – Gregory
"Thank you very much for your time, knowledge and energy to all of you, it was awesome experience.." – Guest 514
"I want to thank everyone for putting this together. This has been very informative and I hope to put it to use in the near future. Thanks!!!" – Dean Hu.
"Dominika, Hanna, Dan, and off course the complete team, thank you so much. I learned a lot this evening. Also, thank you to all in the chat for the questions." – Rainer_LB
Get Your Access To All Webinars & SWP Academy NOW!
Promo Pricing is limited to 99 Spots! First Come, First Served.