Dying for a quick way to add drama to your photos?
Stick your camera in front of some incredible action
Making your subject move is a simple formula for adding that extra oomph
Who's the craziest, most outdoorsy person you know?
How cool would it be to photograph them the next time they go out? You know, when they're in their element, pumped with adrenaline. If you're already getting excited just thinking about it, can you imagine how awesome your photograph of them will be?
Adventure photographers do exactly that. They hunt for most action-packed moments and capture them with firm, relentless technique. When out on a mountain in Alaska you don't have the luxury of coming back next time, right? These techniques are precise.
Dan Bailey, who's worked for the New York Times and National Geographic, has been shooting adventure photography for 20 years now. And he has an unshakable grasp on the techniques fit for this exciting genre.
Behind the Action is look behind 12 of his adventure photographs that anybody can learn how to do with only the simplest gear. Here are some techniques you'll be able to do after reading it:
Mix landscape photography with environmental portraits (a great technique for editorial and advertising photographers)

Use off-camera flash for capturing tight, close-up shots of action

Execute an approach that has a high ratio of success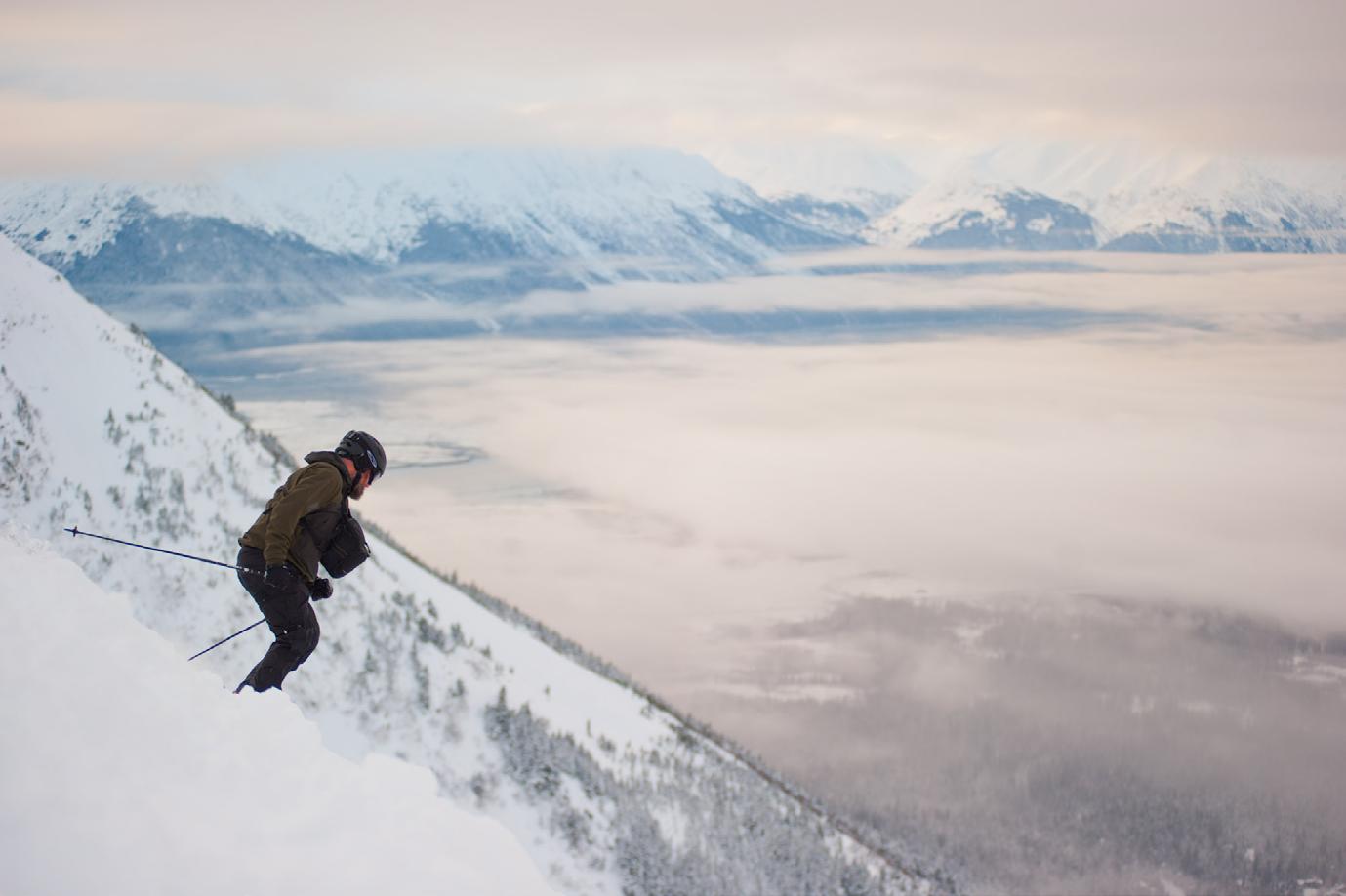 You're going to learn these techniques by studying Bailey's method from beginning to end. For each photograph, you'll get the exact gear, the specific concept, the ideas behind his creative decisions, and the lighting techniques he used on location.
It's 64 pages of pure adventure photography education. You'll learn techniques that add visual interest simply by putting you where the action is.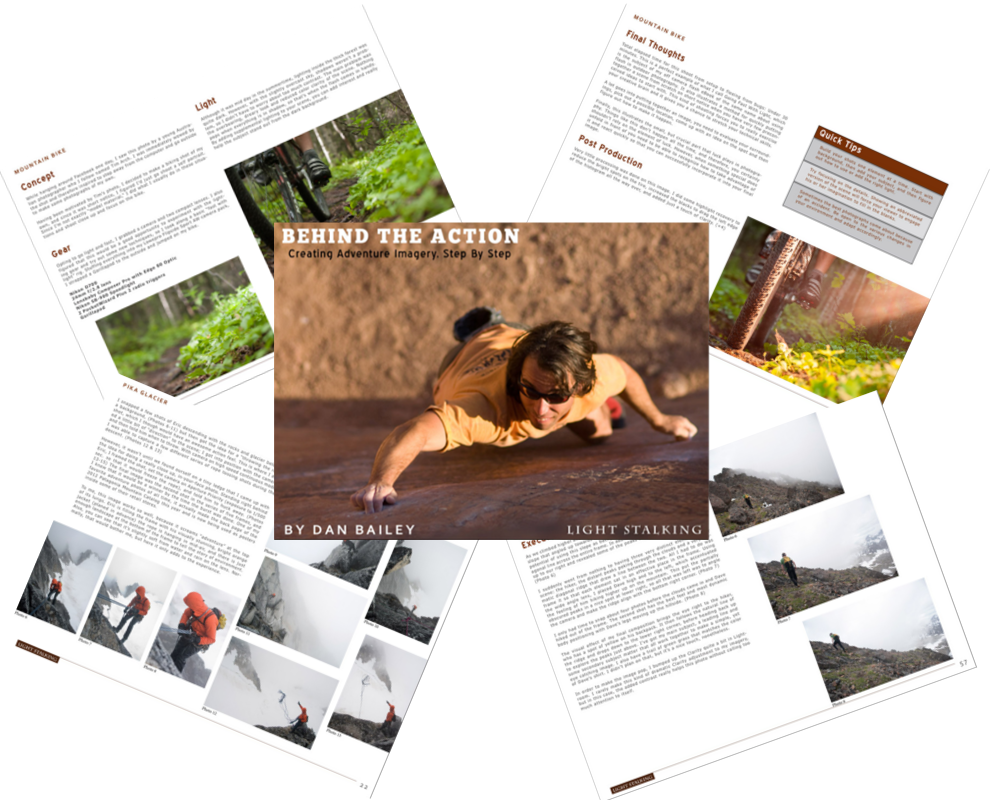 See an image you like. Learn how to shoot it.
12 achievable examples of adventure photography
You don't have to be a mountain climber to buy this ebook.  But if you are one, don't waste any time thinking, just click buy already. Trust me, the universe made you read this. It has to mean something! (Hint: This ebook is perfect for you).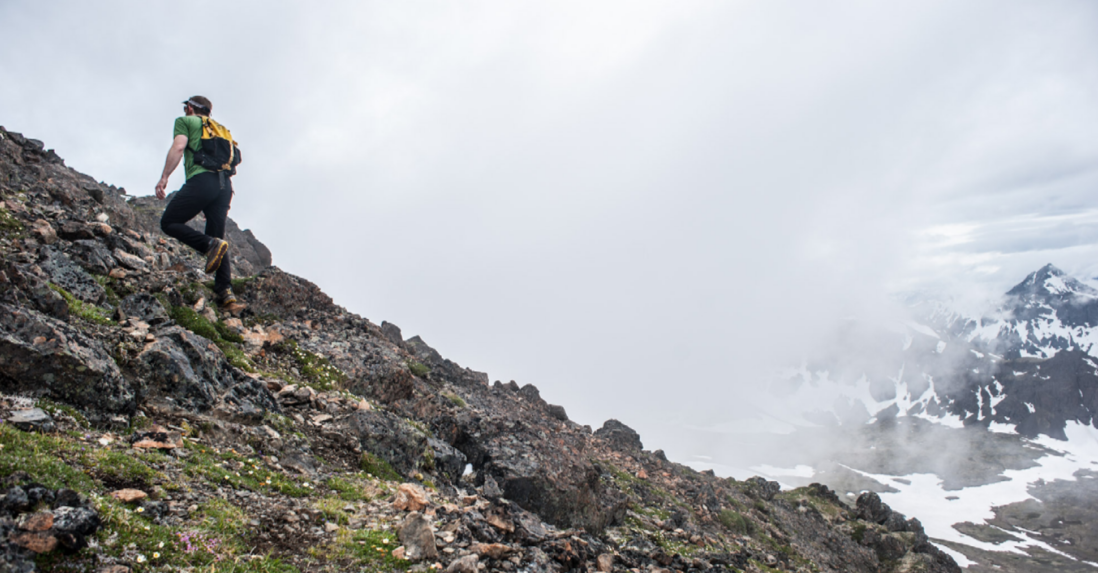 If you're not one, you've probably already thought about adventure photography. You also probably know that action equals interest. Something curved is more powerful than something straight.
So why don't you learn how to photograph the action you do every day? It doesn't have to be something crazy, either. Almost any action will add a layer of complexity to your photography. It can be as normal as walking.
With this ebook, you'll be able to look over Dan's shoulder as he scouts out the location, gauges the light, chooses his ideal equipment, comes up with an approach, executes the final image, and then reflects on how it all went down. You'll even get the outtakes to see how the final shot was made from a long line of mistakes.
What information will I get?
Full list of camera settings
Inventory of gear used in each shot
Detailed descriptions of shooting setup
Examples of rejected shots
Breakdown of post processing used on each shot
Some action is better than none, right? If you're interested in adventure photography, this guide is what you need to get started.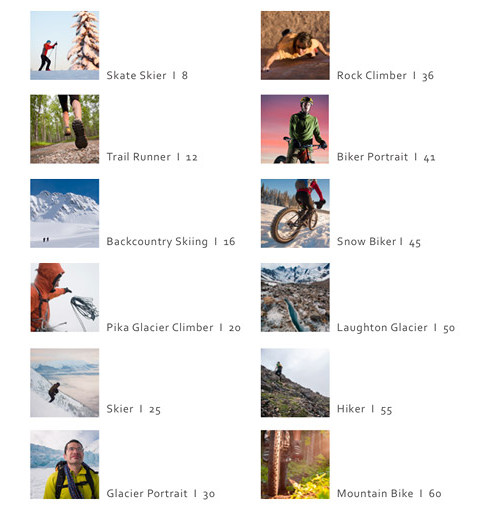 Want to explore an exciting combo of landscape and portrait photography?
Add a dimension to your work that you never had. Buy this guide and learn how.