How to Use Small, Budget Flashes to Achieve Professional Looking Portrait Photography
Want to take professional-level portraits but don't have thousands of dollars to spend on fancy gear and equipment?
You don't need expensive equipment to succeed as a portrait photographer. In this 2-hour online video course, Phil Steele will teach you how to take amazing portraits with minimal gear and inexpensive flashes.
You will learn:
How you can save money and take amazing photos with off-camera flash – the new, easy, inexpensive, portable way to take professional photos without expensive studio gear!
The four crucial, inexpensive pieces of equipment you need to get the flash off your camera (and don't worry, if you don't have a flash yet, I'll tell you which kind to buy to avoid over-spending)
How Phil Steele works! See 4 photo shoots with live models, revealing all my off-camera flash secrets.
Advanced techniques using multiple flashes, colored filters, reflectors, and other optional equipment, for creating photos that make viewers say "Wow!"
How to edit the photos in post-production, adjusting them to look their best.
The reality of each shoot, including what goes right and what goes wrong and how to fix it.
The foolproof 4-Step-Formula for choosing the perfect ISO, Shutter, and Aperture for your flash photos. Never wonder what to do in "M" mode again in Portrait Photography!
"Your videos are fantastic – the perfect balance between technical detail and simple explanation. I especially appreciate your shopping tips and reviews of the various products that are available, as that can be pretty overwhelming. Thanks so much!"
"Thank you! I have taken a few camera classes and came out as dumb and confused as ever. I am a visual person. Show me, and I get it. And you have done just that. You are easy to listen to, and right to the point. You have saved me hundreds of dollars on books and classes. "
 What Else Will You Learn in the Course?
The crucial piece of gear that you can spend either $40 or $400 on (I'll tell you the exact website where you can buy the $40 version)
A tip for posing your subject that I learned by watching a master LA headshot photographer shoot my girlfriend (yep, that's right – I stole it).
The "secret setting" on your Speedlite flash that you must know about or risk insanity! (Though some would say I discovered it too late.)
How to always have a willing model at hand to test lighting setups, any time of the day or night!
Where to focus your camera when your subject makes this common move – to avoid having your shots turn out useless.
Three ways a window can ruin your shot – and how to prevent them.
The secret lighting combination that gives you the profitable "LA Headshot" look.
How to use camera settings to control the brightness of your background and your subject separately, to achieve exactly the lighting effect you want.
The no-budget way to get a variety of different backgrounds in a single lighting setup.
The clear explanation – finally! – of the different ways you can trigger your off-camera flash.
How to light your backgrounds to make them look super-cool and stylish.
"I learned more in 4 or 5 videos than in all the photography books I've read!"
"Amazing value for the money! . . . A fast track to great Portrait Photography."
How to use the free, wireless remote flash system – that's already built into your Canon or Nikon flashes.
How to save hundreds of dollars on one piece of equipment – by buying it at Home Depot instead of your camera store!
The easy, idiot-proof Four-Step Formula for choosing your manual camera and flash settings (no more worrying about what to do in "M" mode).
Two Free Bonus Videos for Ordering Today – Access Instantly!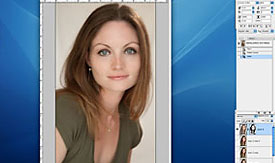 Bonus Video #1: The Glam-Blur Technique for Portrait Retouching
This multi-layer Photoshop technique is the single greatest method for creating beautiful-looking skin. Once you learn these simple steps, you'll use it again and again to give your subjects that flawless studio-model look.
In this free bonus video, Steele walks you through the entire process, step by step in Photoshop, while you look over his shoulder.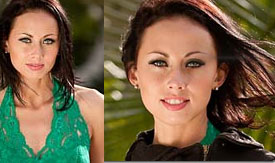 Bonus Video #2: Outdoor Portraits Using a Reflector
Sometimes the best place for your flash is in your camera bag! In this free, 15-minute bonus video you'll learn when, where and how you should opt for a simple reflector instead of pulling out the lights.
Watch as Phil Steele discusses the equipment and camera settings, shoot the model, point out potential problems,describe how to make your own low-budget reflectors, and edit the photos in post-production.
---
Steele Training is the best and simplest online training course
Phil Steele is the photographer behind Steele Training, a photography training site that will teach you how to make your photos look awesome. The best part is that you don't need to spend thousands of dollars on expensive photography gear. Steele himself uses inexpensive small flashes, and in this training guide, he will teach you how to use these products effectively and still capture great photographs.
If you're interested in taking portraits and headshots and don't have a huge budget, then this online video course will help you learn how to get started with inexpensive gear and get results that rival the pros.
For a limited time, get this SteeleTraining online portrait photography course for only $28 dollars. You get access to this online course instantly after your order. The course is delivered as a series of online videos (please have a reasonably fast Internet connection to view them). You get access for life! Return to view the videos any time you like, forever.