Capture breathtaking portrait photography.
This guide will give you the foundations that you can build upon.
6 Stunning Portrait Photography Lighting E-books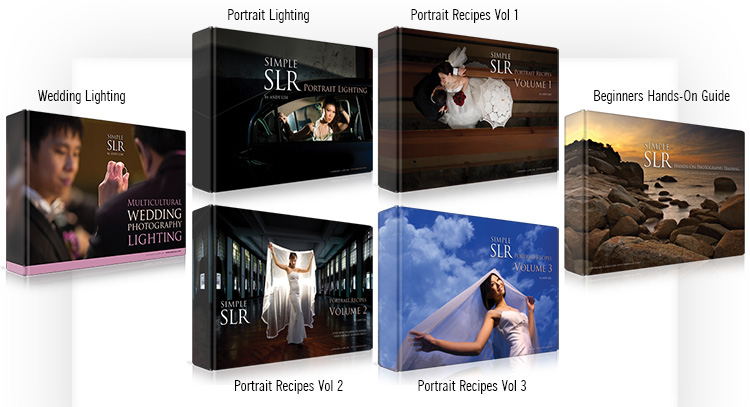 [eBook 1] Portrait Lighting Guide
Learn to light with a variety of different methods, including speedlights, available light, and natural light.
SimpleSLR Portrait Lighting is the anchor guide that will help you create stunning portraits. You will learn simple lighting techniques that will give you amazing results. And you don't need lots of expensive equipment either. The set ups taught by Andy Lim can be put together very quickly using only basic equipment.
This guide will give you the foundations that you can build upon with the following e-books.
[eBook 2] Portrait Recipes Vol 1 – Indoor Portrait Recipes
In volume 1 of the portrait recipes series, you will learn various portrait scenarios for indoor portrait photography. In total, you'll learn 8 different lighting set ups.
Each of the detailed diagrams show the exact placement of lights (both speedlights or available light). EXIF settings are also shown so you know exactly how Andy shot the photo.
Most importantly, Andy shares his insights into each lighting set up so you can understand what he wanted to achieve. Learning the principles behind each set up will help you advance your photography.
[eBook 3] Portrait Recipes Vol 2 – More Indoor Portraits lighting
Volume 2 contains more portrait lighting recipes for indoor portraits. Like volume 1, you'll see detailed explanations for 8 different lighting set ups for portraits and weddings.
Andy shares several "problem" lighting scenarios and teaches you how to remedy each of them on a case-by-case basis. He thoroughly explains each lighting set up and how to make the best out of any troubling lighting situation.
What's really awesome is that Andy explains how he might have done things differently for that set up. Seeing these variations will give you some great ideas on how to manipulate his lighting set ups for your personal tastes.
[eBook 4] Portrait Recipes Vol 3 – Outdoor Portrait Recipes
Filled with even more great lighting info, this e-book completes the series of portrait recipes. This volume focuses on outdoor portrait lighting set ups.
Outdoor set ups are generally more difficult because you're up against many more elements. In the harsh sun, you have to balance the powerful light of the sun with your speedlights. In the evening hours you're up against the quickly diminishing ambient light.
With the tips in this e-book, you'll be able to start taking great outdoor portraits and see how Andy solves the many problems involved with outdoor shooting!
[eBook 5] Hands-On Photography Guide
This an intro-level book is designed to get you up to speed on basic photography principles. You will not be learning advanced photography theory. Instead, Andy holds your hand through the learning process and teaches you with easy-to-understand conversational language.
Photography exercises will help familiarize you with the basic photography techniques. The goal is to get you to experiment intelligently with your own photography. Andy's approach will help you gain a deep understanding and make learning simple.
[eBook 6] Multicultural Wedding Portrait Photography Lighting
This Multicultural Wedding Photography Lighting e-book guide is designed to help wedding photographers grasp the various possibilities of on-location lighting
at wedding ceremonies and receptions. It will help wedding photographers use speedlights in creative and practical ways at wedding ceremonies and receptions,
with natural light as an ally.
Different types of multicultural weddings are illustrated, and detailed lighting setups are revealed. You will see Andy's thought process and why he chose the settings used to create the final result.
As this is an advanced level guide, We highly recommend reading his above e-books in the Portrait Lighting series before taking on this e-book, because this guide builds on the foundation skills taught in the Portrait Lighting guides.
Ready to start enhancing your photos?
Learn to take better pictures in only 4 hours with these Portrait Photography e-books.