Ready To Unlock All The Mysteries Of Photoshop Elements?
You might think we're exaggerating, but this software really can be very complicated to use effectively.
How many of us have taken on the task of mastering Photoshop Elements…only to find ourselves hopelessly lost?
The tools. The menus. The seemingly infinite number of choices.
All of these conceal the amazing power to transform photographic images into stunning works of art.
But first, you have to learn how to use it!
It doesn't help that, like everything else in life, Photoshop Elements is constantly getting improved and updated. So as soon as you think you've mastered it, it changes yet again.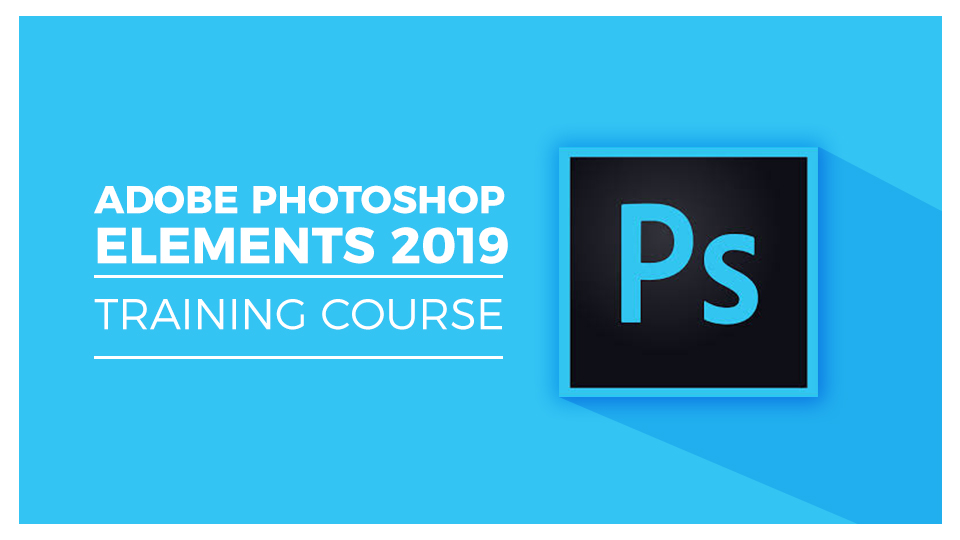 Of course, there are many tutorials and guides available to help you navigate this transformative software.
But some of these tutorials, although helpful, are already outdated.
And some of them just don't give you as much detailed, step-by-step instruction as you need. In fact, they can leave you feeling more lost than you were before!
What you really need is a comprehensive Photoshop Elements training which covers all the newest updates, as well as the tried-and-true features that make this such an amazing software for photographers.
Does it seem like too much to ask? Not anymore.
Have A Look At This Video & You'll Know What We Mean!
The Ultimate Photoshop Elements Training Course
Here are stunning 120 segments of video instruction, adding up to many hours of footage.
Here are the topics covered:
Introduction: How to navigate the Home Screen, to use the Help menu, Keyboard Shortcuts, Preferences, and Touch. An overview of What's New in PSE.
QuickStart: Getting Images, Media Browser, Fixing in Organizer, and Slideshow.
The Organizer – Part 1: The Organizer Workspace, Catalogs, The Timeline, Full-Screen View – Part 1, Instant Fix – Part 1, Image Properties, Keywords and Tags, Albums, Auto Curate.
Acquiring Content – Part 1: Importing Images from Camera or Card Reader, Importing from Files and Folders, Bulk Import, Importing from a Scanner.
Backup and Restore: Full and Incremental Backups, Restoring from a Backup.
The Editor: The Editor Workspace; Editor Preferences; Opening, Saving and Closing Images; Image Size and Resolution;Zoom and Pan.
Editing in Quick Mode: Editing in Quick Mode; Making Adjustments in Quick Mode; Effects, Textures and Frames; Auto Smart Tone; Quick Selection Tool; Red Eye and Pet Eye.
Printing: Printing Images and Print Settings; Printing Contact Sheets.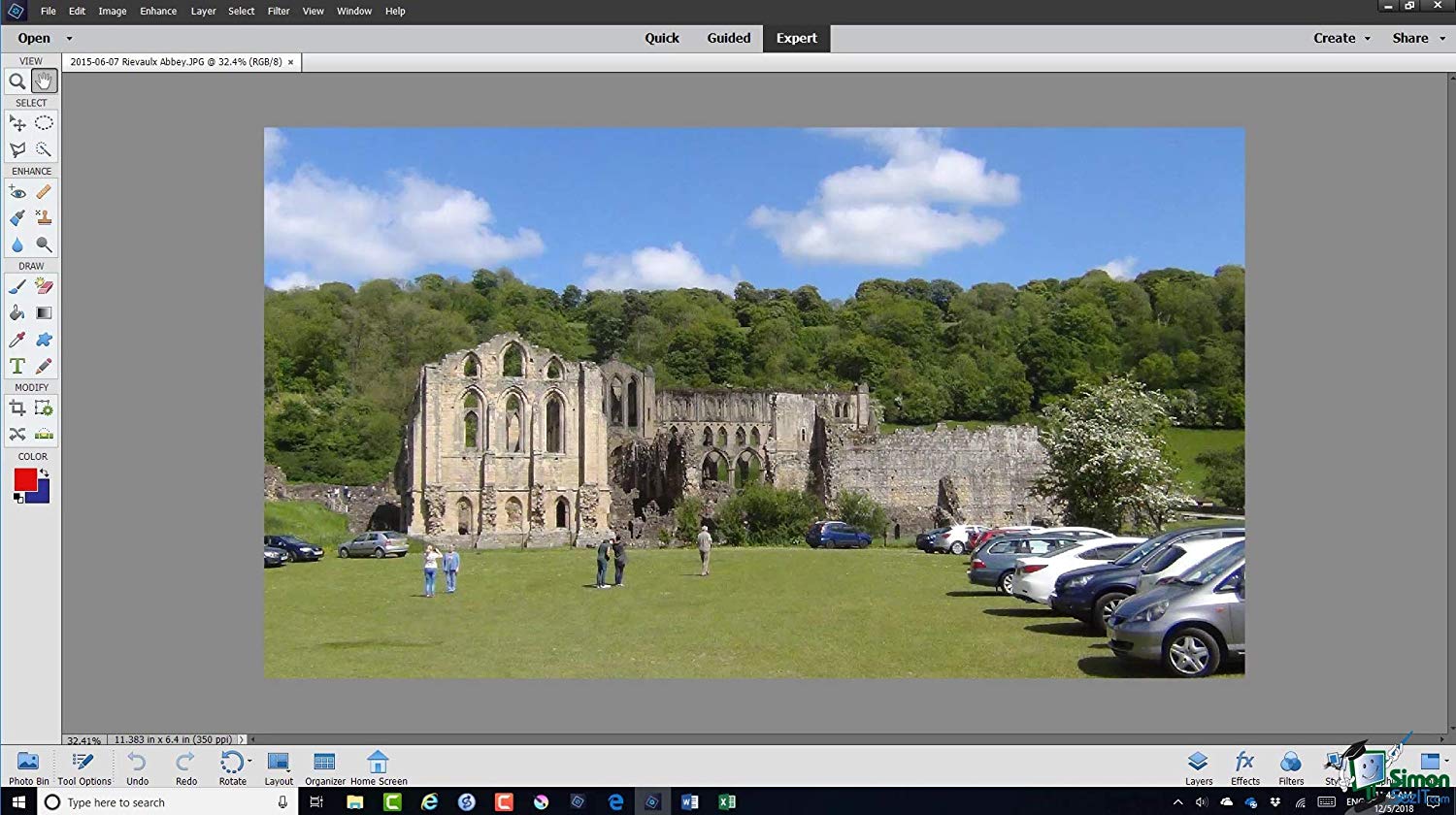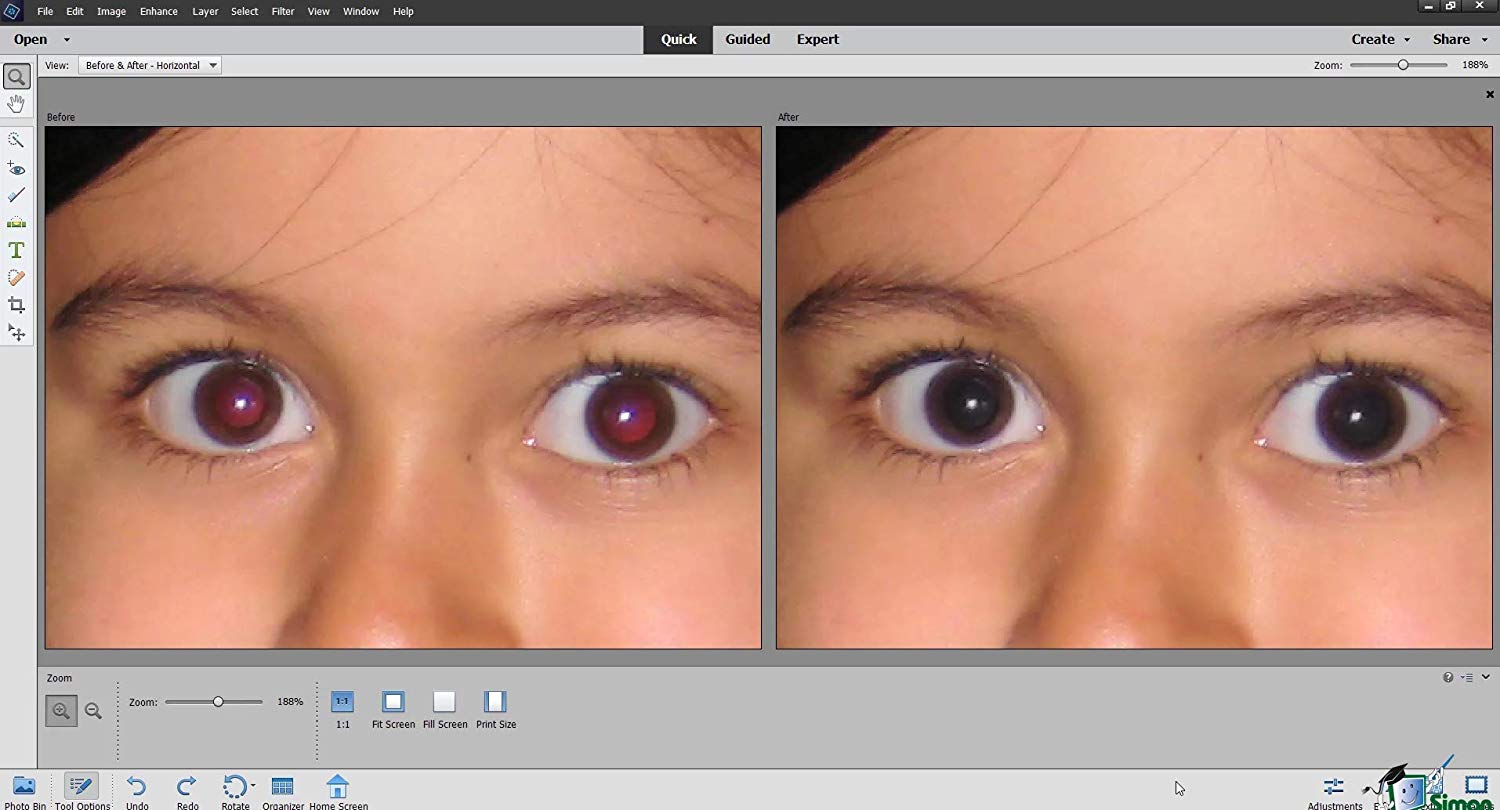 Editing in Expert Mode – Part 1: Expert Mode Tools and Options; Cropping; Rotating and Flipping; Undo, Redo, Revert and History Panel; Straightening Images.
Guided Editing – Part 1: Introduction to Guided Editing; Meme Maker; Multi-Photo Text.
Text – Part 1: Introduction to Text.
Saving and Sharing: Saving, Sharing and File Formats; Sharing Using Email; Sharing Using Flickr; Saving for the Web.
The Organizer – Part 2: Captions; Ratings; Smart Tags; Version Sets; Find Menu; Search.
Acquiring Content – Part 2: Acquiring Images from PDFs; Acquiring Images from the Web; Watch Folders.
Editing in Expert Mode – Part 2: Canvas; Rulers, Grid, and Guides.
Selections: Basic Selection and the Marquees; Lasso Tools; Color Selection Tools; Selection Brush; Auto Selection; Refining Selections; Saving Selections.
Layers: Canvas; Working with Layers; Fill Layers and Picking Colors; Layer Masks; Blending Modes.
Editing in Expert Mode – Part 3: Removing Blemishes; Sharpening and Blurring; Removing Unwanted Objects; Content-Aware Move and Fill; Recomposing an Image; Haze Removal; Shake Reduction.
Working with Lighting: Lighting and Levels; Dodge and Burn.
Working with Color: Intro to Working with Color; Using Color Swatches; Adjusting Color for Skin Tone; Color Replacement; Converting an Image to Black and White; Removing Color Casts; Using Sponge Tool.
Using Filters: Filters.
Styles and Effects: Applying Styles and Effects; Using the Smart Brushes.
Drawing and Painting: Using Brushes; Fill; Drawing; Erasing; Graphics.
Text – Part 2: Text Styles & Effects.
Projects: Photo Collage; Photo Book; Slide Show.
The Organizer – Part 3: Stacks; Events; People; Places.
Closing: Course Conclusion.
Course Quiz and Certificate of Completion.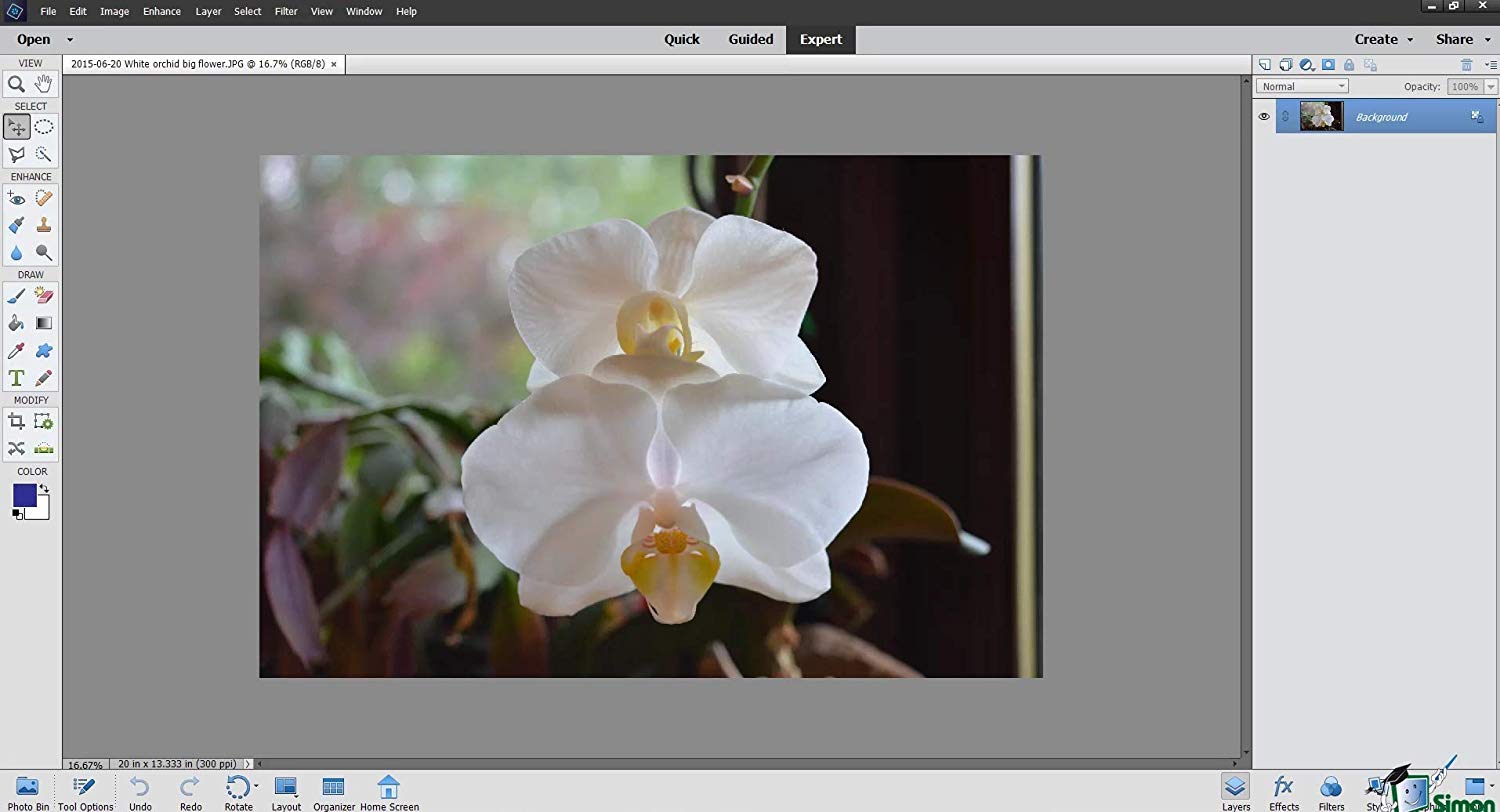 Duration: 14.52 hrs | Videos: 121
Create spectacular ­images – even from imperfect shots!

Navigate the Photoshop Elements interface

Remove red-eye, change a background, retouch and enhance images

Resize images and about image resolutions and quality

Import, store and organize your images for easy access

Apply a considerable range of basic and advanced photo-enhancing techniques
What's new in PSE

The best keyboard shortcuts to use

Getting images, Media Browser and fixing in Organizer and Slideshow

Importing and storing images

And so much more!
This massive course includes 120 videos and hours of detailed tutorials. Whether you are just looking to learn the basics or become a Photoshop Elements pro, we have you covered!
Take On Photoshop Elements Effortlessly
If you have been struggling to master Photoshop Elements, now's your chance.
At last everything you need to know has been collected in this clear and user-friendly course.
And it is completely up-to-date, with all the information you need to know for the most recent version of Photoshop Elements.
Once purchased, the course belongs to you indefinitely. You can access it on your desktop & laptop, any time and from anywhere.
It even comes with a handy discussion section, so you can interact with others who are taking the course along with you.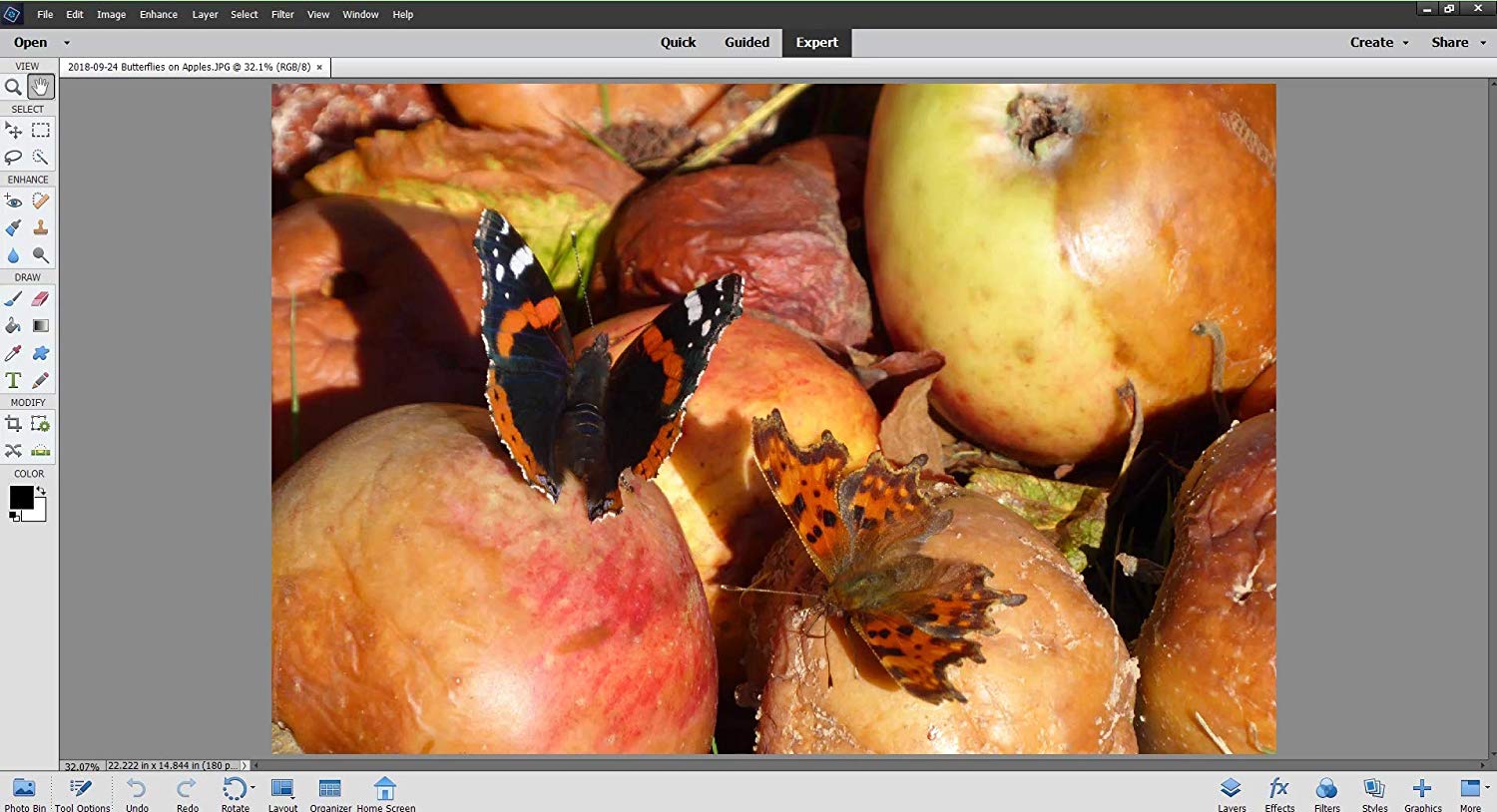 Not Convinced? Check Out These Reviews!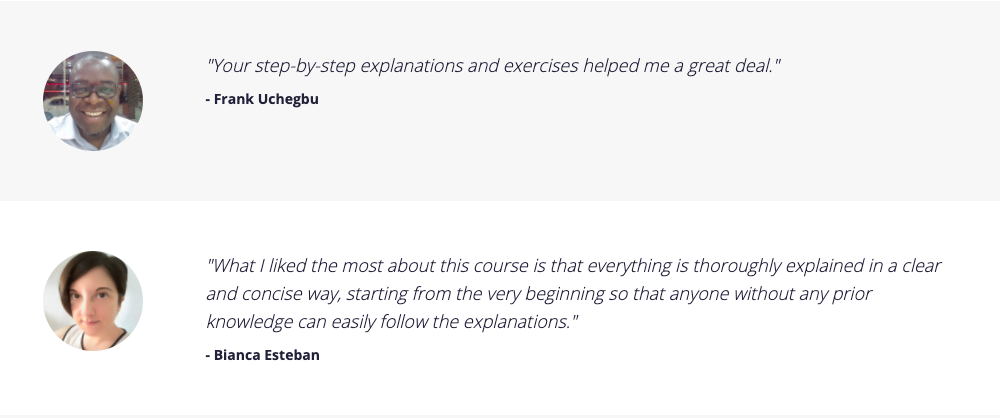 Upgrade With The Photoshop Elements Training Course Today!