Valentine's Marketing Boards For Everyone!
Phew…thank goodness the holidays are over! Now it's time to relax a little…right?
Wrong! Say hello to one of the most high-pressure holidays on the calendar…Valentine's Day.
When it comes to Valentine's Day, everyone is a perfectionist. They want the perfect card, the perfect gift, the perfect romantic evening. Not even the smallest detail can be neglected.
And the same goes for Valentine's Day photography.
Everyone is looking for that perfect Valentine's Day shot…
As a professional photographer, it's your job to convince the public that you're the one who can accomplish that.
The problem is, that as a photographer, you wear many hats. You are an artist, but also a salesperson, a customer service rep, and an accountant. It's hard to find the time to juggle everything.
You know marketing is important. After all, without clients or customers, you can't pursue your art at all.
But when it comes to selling yourself and your art, you often find that you don't feel very motivated. Often, you just throw something together to get it done and move on to the more compelling aspects of your work.
But that just won't cut it when it comes to Valentine's marketing boards.
The perfect solution would be a collection of pre-made Valentine's marketing boards, all set and ready to go.
And that's just what you can get right now from PhotoWhoa.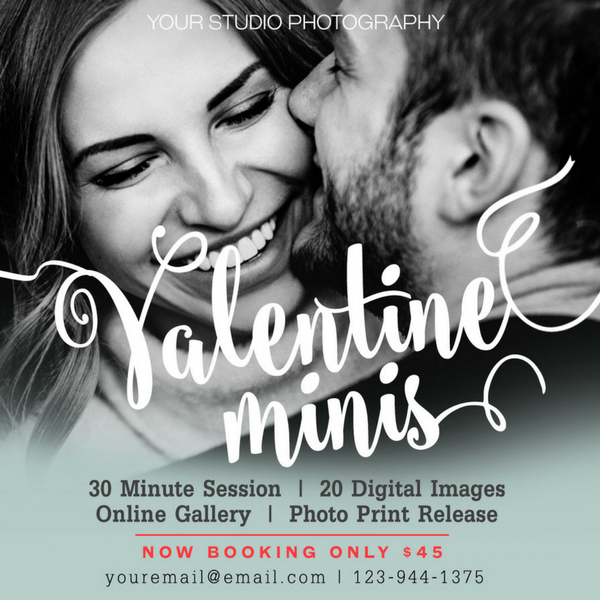 Stress-free Valentine's Day Marketing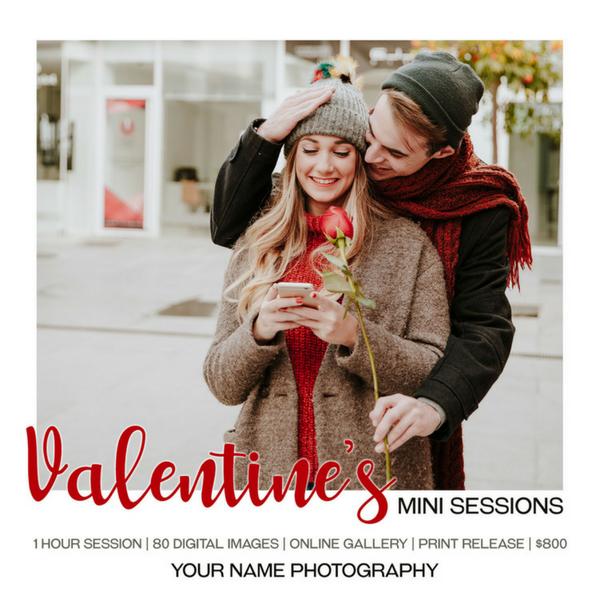 Whether your specialty is boudoir photography or children's portraits, you may never need to create your own Valentine's marketing board again!
Our marketing board templates come complete with pricing information, attractive fonts, and charming images. All you have to do is customize them with your business name and your photos, and you're good to go!
Grab an enticing boudoir-themed marketing board to advertise a sexy, intimate theme for couples. Or perhaps your couples would prefer something that sweetly oozes old-fashioned affection. We have one for that, too.
Check out our many Mini-Session templates to market your work for families with young children. Each one is unique in terms of services offered, time commitment, and price so they are simple to customize to your needs.
No more hours spent coming up with the perfect marketing board, just to end up with a less-than-perfect display that does not do justice to your art.
Here you have everything you need to get the attention of potential clients without any work or expense on your part.
That frees you up to spend more of your time and resources on the thing that you do best…creating stunning photography.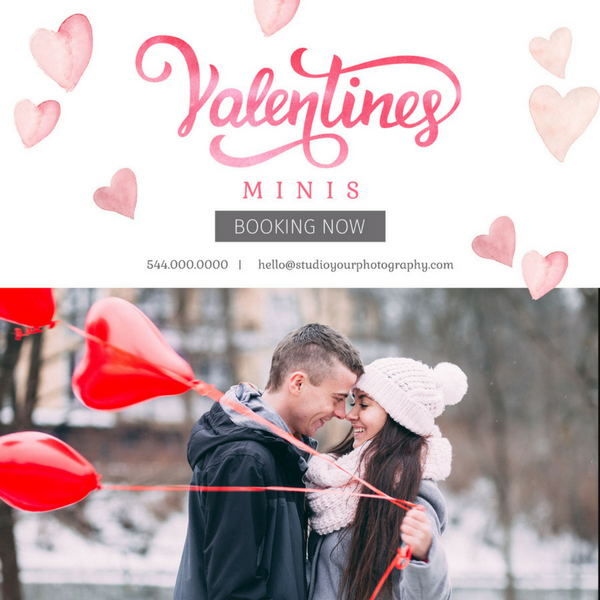 Marketing boards as lovely as your work…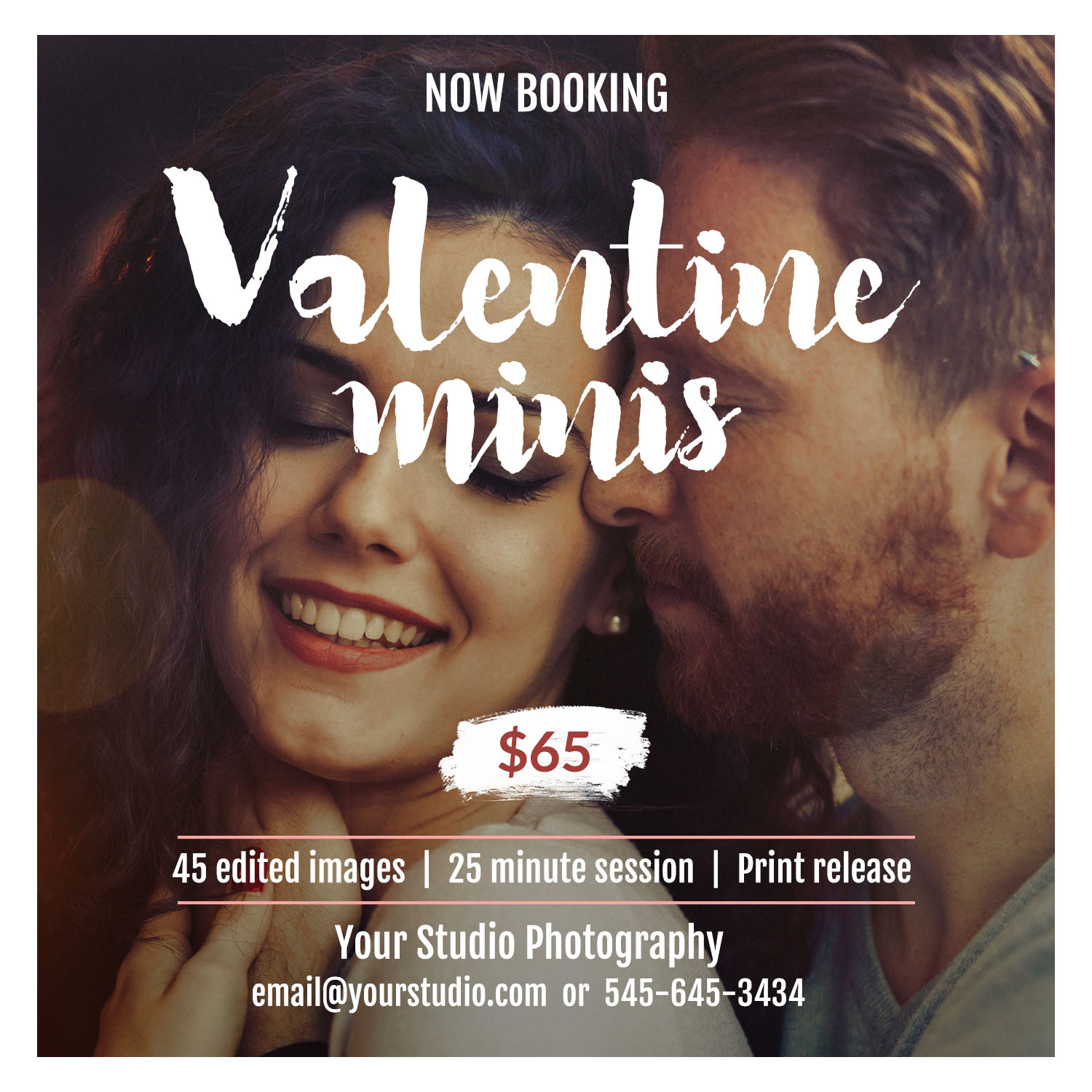 As a business owner, your budget is constantly in the forefront of your decisions. You wish that cost didn't have to be a consideration…but sadly, it does.
So whenever you can do something yourself instead of hiring someone else to do it for you, you do it.
Unfortunately, this can cost you time. And time is money.
That's why you look for freebies whenever you can…though often, they seem too good to be true.
But in this case, it really isn't.
These gorgeous marketing boards are ready for you to customize your own business name and photography.
At a cost of $5.00-10.00 each individually, the price could really add up if you were to purchase them separately. Not to mention the many hours of time that you would spend creating all these marketing boards yourself.
The time and money that you save just might give you the winning edge you need for this competitive, high-pressure holiday.
And there is more… Check out these 20 romantic photo overlays to make your Valentine even more specisl. Consider it our Valentine's Day gift to you.