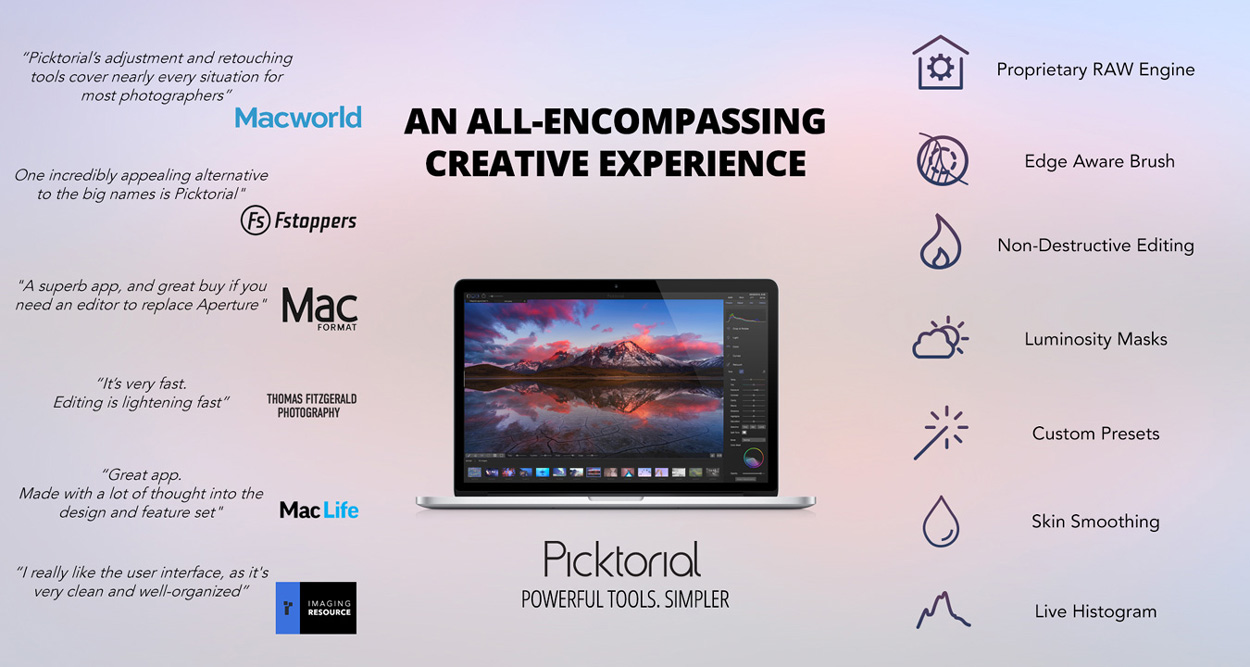 Picktorial makes pro-level photo editing tool available in a minimalist, streamlined workflow.
With carefully designed workflow and innovative technology, Picktorial is the ultimate photo editing tool for every photographer to intuitively organize and enhance photos.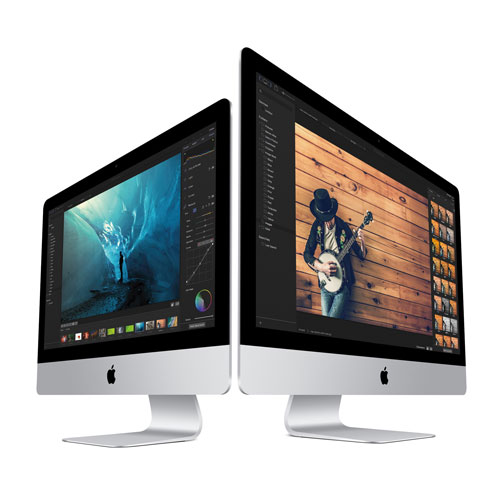 Powerful tools. Simpler.
From quick enhancements to detailed retouching work, you will find the tools you need together with organizing and exporting functions. All in an inspiring, intuitive interface.
Make every photo shine
Enjoy maximum control over light and color, with a rich palette of precise photo editing tool: from exposure, shadows, and highlights to curves, split tone and more.
Remove distracting objects
Emphasize what's interesting by getting rid of what's not. Seamlessly erase unwanted elements with our state-of-the-art patch tool.
Retouch on the spot
Selectively preserve natural details as you smooth skin, remove blemishes and sharpen features with our smart retouching brushes. No need for external tools.
Key Features
Versatile and responsive patch tool, up to 30x faster than Lightroom's equivalent Spot-Removal tool (tested on a modern 15" MacBook Pro).

Unique color and luminosity masks making fine-art results easier…

Adaptable single-space workflow, from camera-to-edit within a single window without slow switching between the library and develop modules.

Advanced selective tonal adjustments including HSL, Curves, Split Toning, and more, operating on specific parts of the image defined with advanced masking tools.

Skin smoothing brush utilizing Frequency Separation in a single brush with the ability to control the separation radius.

Edge-aware brush to enable more precise selections.

Smart extension for macOS Photos, the first of its kind to offer non-destructive pro-level editing while recalling positions of sliders and masks, even after closing Photos.

Catalog-free Image handling that automatically monitors the content of referenced folders, enabling instant editing with no slow import process needed.

Native browsing of Aperture libraries with no conversion needed.

Assistant viewer similar to Lightroom's new "reference view," but fully functional with edits and tabs.
"I've fallen in love with several features that are not available in Lightroom." – Christian Hoiberg, Fine-Art Landscape Photographer, May 2017
"A superb app, and a great buy" – MacFormat magazine
"I can't see any kind of artifacts or edge issues that are apparent in other software." – Thomas Fitzgerald Photography, April 2017
With The Power Of Picktorial Bring Out The Best In Your Photos
An Amazing Tool Made For Perfection!
$

65