SEXY LIVE PHOTOGRAPHY WORKSHOP: KNOWLEDGE, INSIGHTS & CANDID BEHIND THE SCENES
You guys loved our first two events with Dan Hostettler, so we decided to set up a new, complete series.
Dan has set up an exciting series of 3 webinars, covering 3 different core topics:
"Contemporary Allure", covering creative, tempting and striking nude women portraiture.
"Artistic Shapes". We let 2 women pose together in an artful and poetic way.
"Charming Femininity" is a Boudoir, Lingerie & Editorial Segment.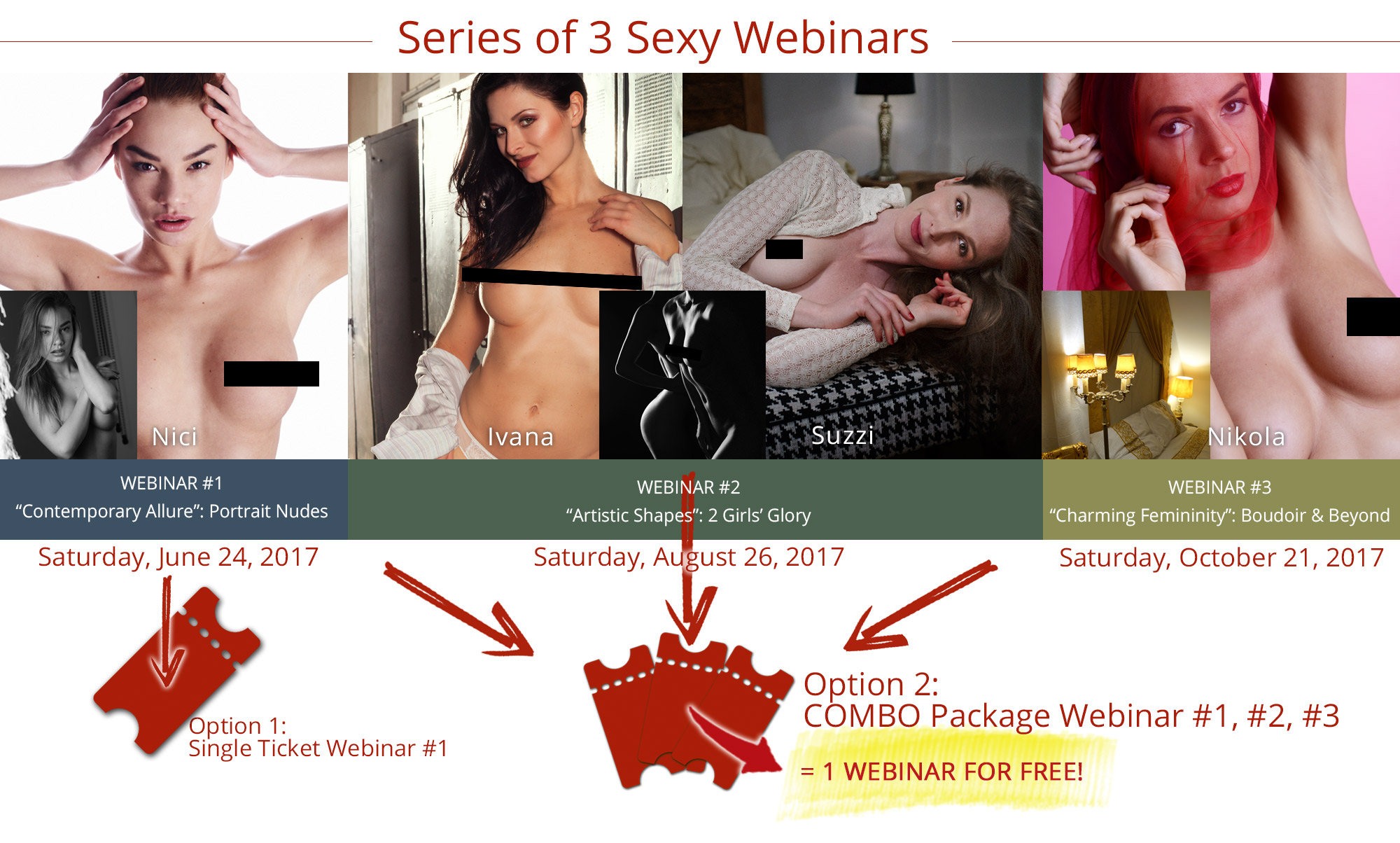 All webinars have some crucial basics in common:
Limited Indoor Spaces. The shoots will happen in a cozy relaxed atmosphere, no big studio show. It's a down-to-earth format, like shooting at your home.
Gear Does Not Make Your Photo. Evoke emotions, rely on your heart – and use affordable gear.
Hobby to Pro. Concepts suitable for shooting with your girlfriend/wife, beginner to pro models + ordinary female clients (!).
Fast Track Learning. To-The-Point. Quick Wins. NO endless shows, NO waste of time.
SAVE THE DATES FOR NUDE MODEL PHOTOGRAPHY! (EXCLUSIVE RECORDINGS AVAILABLE FOR TICKET HOLDERS)
Promotion Limited to 150 Tickets!

Webinar 1: Saturday, June 24, 2017 – "CONTEMPORARY ALLURE" – PORTRAIT NUDES

Webinar 2: Saturday, August 26, 2017 – "ARTISTIC SHAPES" – 2 GIRLS' GLORY

Webinar 3: Saturday, October 21, 2017 – "CHARMING FEMININITY" – BOUDOIR, EDITORIAL & BEYOND

Globally streamed @ 8 PM CEST (UTC +2) Prague local time

MODERN STREAM & LIVE CHAT FUNCTION
No installation needed, no Flash! Lean HTML5 Player, access the live nude model photography event with your regular internet browser. Watch & interact from any device: Adaptive connection speed will guarantee you a smooth streaming experience.
Interact with Dan and the team – a unique opportunity. Q&A blocks and small discussion panels are dedicated to answering as many posing related questions as possible – by the models and also Dan himself. That's pretty interactive, insightful and most exclusive!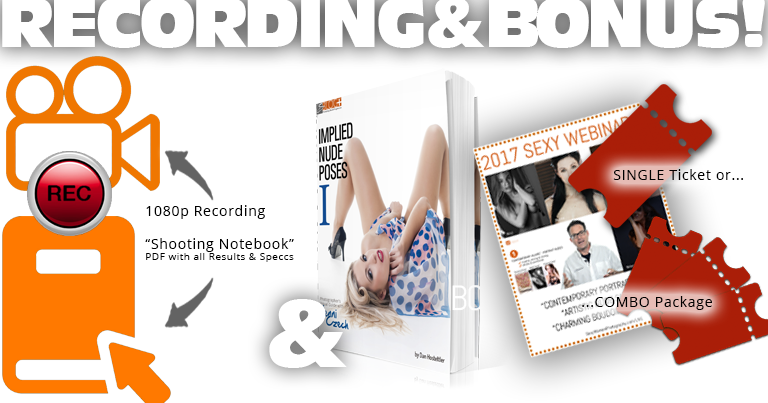 GET A RECORDING + MORE AWESOME BONUSES!
Not able to attend the live nude model photography? Are we streaming at an ungodly hour at your location? Want to avoid an unexpected last minute absence? We got you covered! We record all webinars.
1080p Full HD downloads will be available 7 days after the live streams of nude model photography for ticket holders.
"Shooting Notebook(s)", containing all results, contact sheets, behind-the-scenes stills
FREE Guide: "Implied Nudes" feat. Jenni Czech
HERE'S WHAT PEOPLE HAVE SAID ABOUT LIVE 1+2
"Already signed for LIVE II. Dan's productions are highly recommended!!" – Jose Sanchez / Spain
"What a brilliant idea!!" – Will W. / UK
"With my 'seat in the frontrow' I will now continue promoting your phantastic idea." – Gret S. / Germany
"Brilliant idea to do this!" – Jonathan R. / USA
"Great!!! Amazing idea. I will share this." – Jose / Spain
"Hopefully we will see more like it in the future. Thank you!!" – Bill / USA
"Dan, an outstanding presentation. You, Melisa and your whole team should be congratulated for the hard work you put into this. Well done!" – Joe / USA
"Hi Dan, Great show! I love your style of working where you do your setup yourself and not just telling people what you want. That is very impressive!" – Jackson / Australia
"Hi Dan, I thoroughly enjoyed last night's webinar with the gorgeous Melissa Mendini. Your calm and paced teaching style was not only educational, it was inspirational." – Alan Wheetman / USA
"I must say: I'm deeply impressed with the high-end outcome of your event yesterday! You talked very generous about the process and the shoot itself in terms of the technical aspects and the different styles achieved with different lighting-setups. Kudos to you, Melisa, and the whole team!" – Michael / Germany
"Hallo Dan, ganz herzlichen Dank an Dich, Melisa, die MUA und das ganze Team für die tolle Leistung! Ich finde Deine Idee mit dem Livestream sehr gelungen – die Umsetzung war 1A wirklich. Viele Grüße aus Wien!" – Constantin / Austria
"From the Mexico City, congratulations to the whole team, it has been a great experience." – Pollux Kc / Mexico
"Hi Dan, Great shoot and presentation!! You ebook is superb!! Again, you guys did a fantastic job!! Can't wait for the next shoot!!!"
– Spence / USA
"Enjoyed you! Great job, looking forward for Live3 (inlove)" – Gregory
"Thank you very much for your time, knowledge and energy to all of you, it was awesome experience.." – Guest 514
"I want to thank everyone for putting this together. This has been very informative and I hope to put it to use in the near future. Thanks!!!" – Dean Hu.
"Dominika, Hanna, Dan, and off course the complete team, thank you so much. I learned a lot this evening. Also, thank you to all in the chat for the questions." – Rainer_LB
COMBO Offer or Single Ticket Webinar #1