What's the secret behind capturing that elusive art of tasteful boudoir?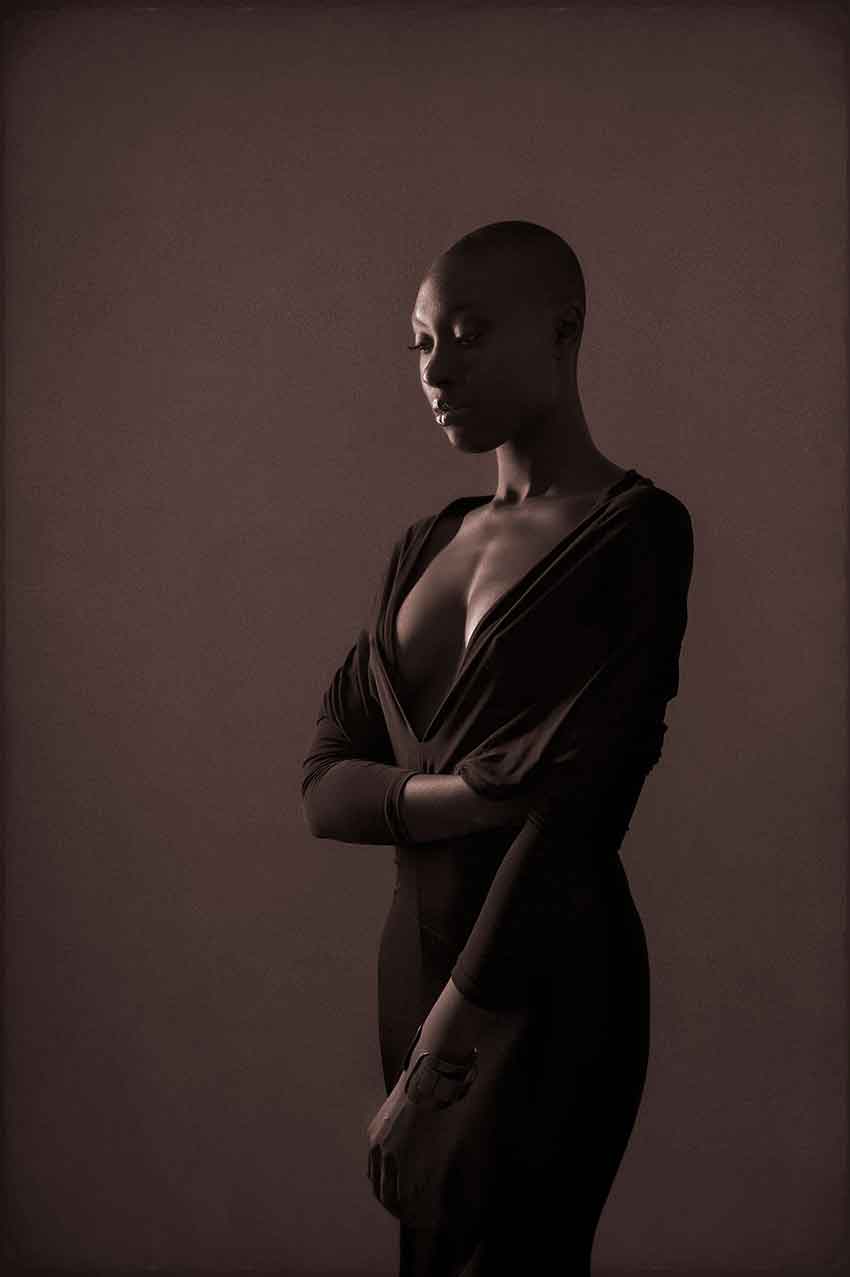 In boudoir what's hidden is just as important what's seen. Understanding how to create light that's delicate, soft, and diffuse — light that contours and shapes excitement  — that reveals just as it holds back is crucial to keeping clients.
Because the name of the game is seductive, not sleazy. Your client wants a portrait that will make her partner insatiable. Get her to look her sexiest but without looking like she even tried. It's all part of the tease.
So if you're still relying on old tricks, still plugging in what worked in the past, still shooting with the same setups you shot for mom and dad, you're probably doing boudoir wrong. If you can't tantalize with your lighting, your client will find somebody else who can.
So what's the secret? What kind of lighting equipment, technique, and setups do you need to know about to shoot portraits that tease and scintillate? Wouldn't you like to learn an approach to lighting that leans heavily on mood, atmosphere, and sensuality?
Just recently, we found Jen Rozenbaum's great, content-rich 75-page ebook that will make it easier for you to understand lighting for the boudoir. It's a breakdown of the equipment, technique, and setups you need in order to shoot boudoir portraits that are refined and tasteful.
Also included in Jen's incredible ebook are some of her favorite go-to poses and lighting setups that she uses for her own work. All laid out in easy-to-follow diagrams. But the meat of ebook — the tips, lessons, and ideas — are what we're really excited to share with you.
I learned so much in my first read-through. And on top of getting poses, I want to put in my own shoots right away, I was also able to finally understand why, when it comes to boudoir, less is really more.
I really can't wait for you to read it! If you want to take your boudoir to the next level, or even want to start for the very first time, this ebook will help you get better at creating delicate light that works wonders for the boudoir photography.
So you're ready to step up your game?
75 pages full of advice, tips, and insider techniques
A Boudoir Photographer's Guide to Lighting comes in two ebooks. One is 75 pages and contains the instructional component that's broken down into three sections. The second is 22 pages and contains diagrams of Jen's go-to, most utilized lighting setups and poses.
What I loved the most about these ebooks is Jen's homespun, folksy charm. There are no highfalutin words or needless scientific jargon. Just real advice and real technique. It's almost as if you were sitting across from her and hearing what she had to say face to face.
And boy does she really know what she's talking about! In three sections — lessons, shot guide, and gear + glossary — the instructional ebook was full of insider tips that will definitely help you on your first — or twenty-third — boudoir shoot.
Included in the ebook is advice on:
Natural light — how to control it and when to use it 

Strobes — how subdued should you go and why 

Softboxes — how to get the most out of this essential gear

Backlighting and gels — creative tips on thinking outside the box

Mood — how to create atmosphere and allure 
Check Out Some Pages From The Book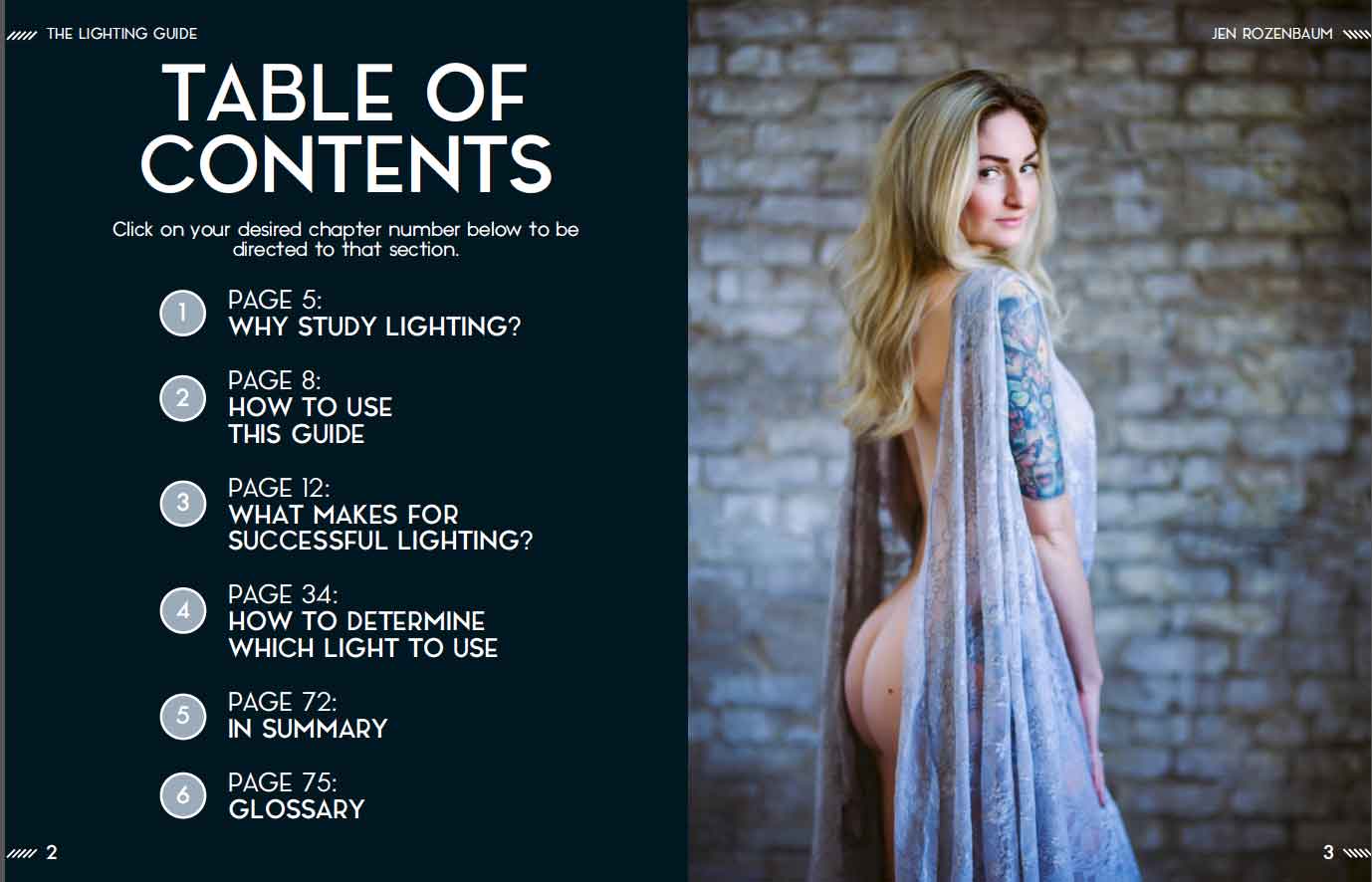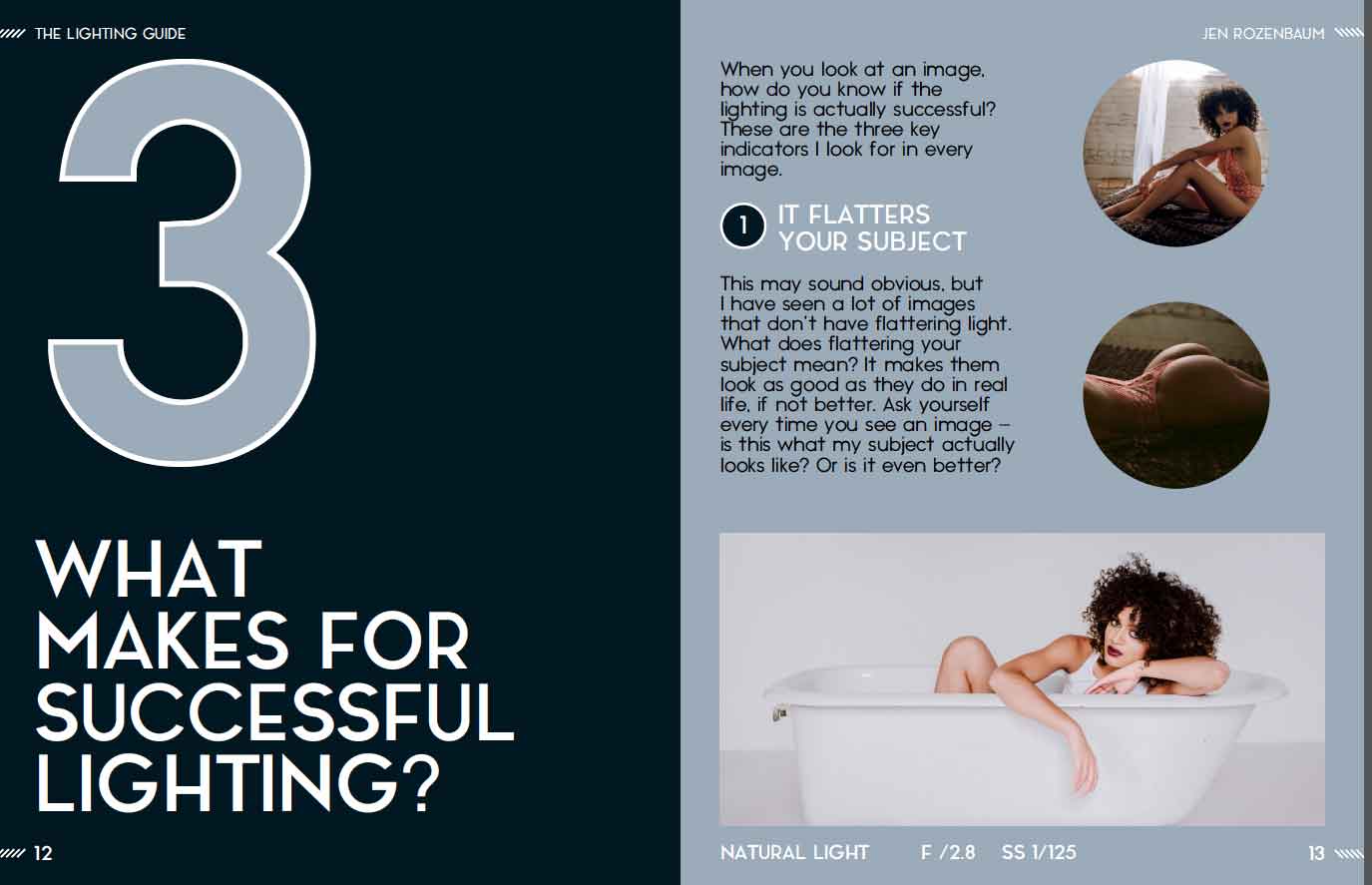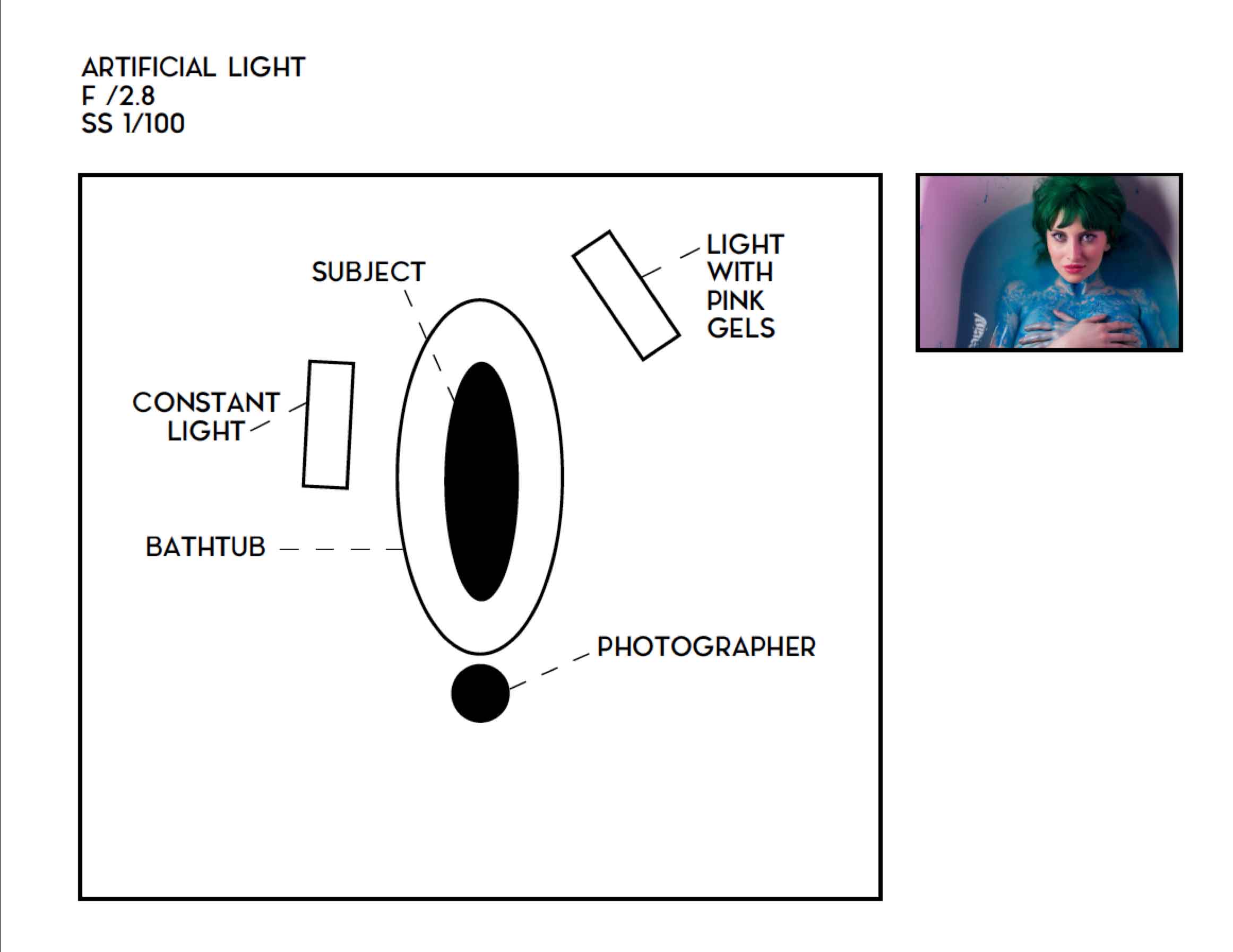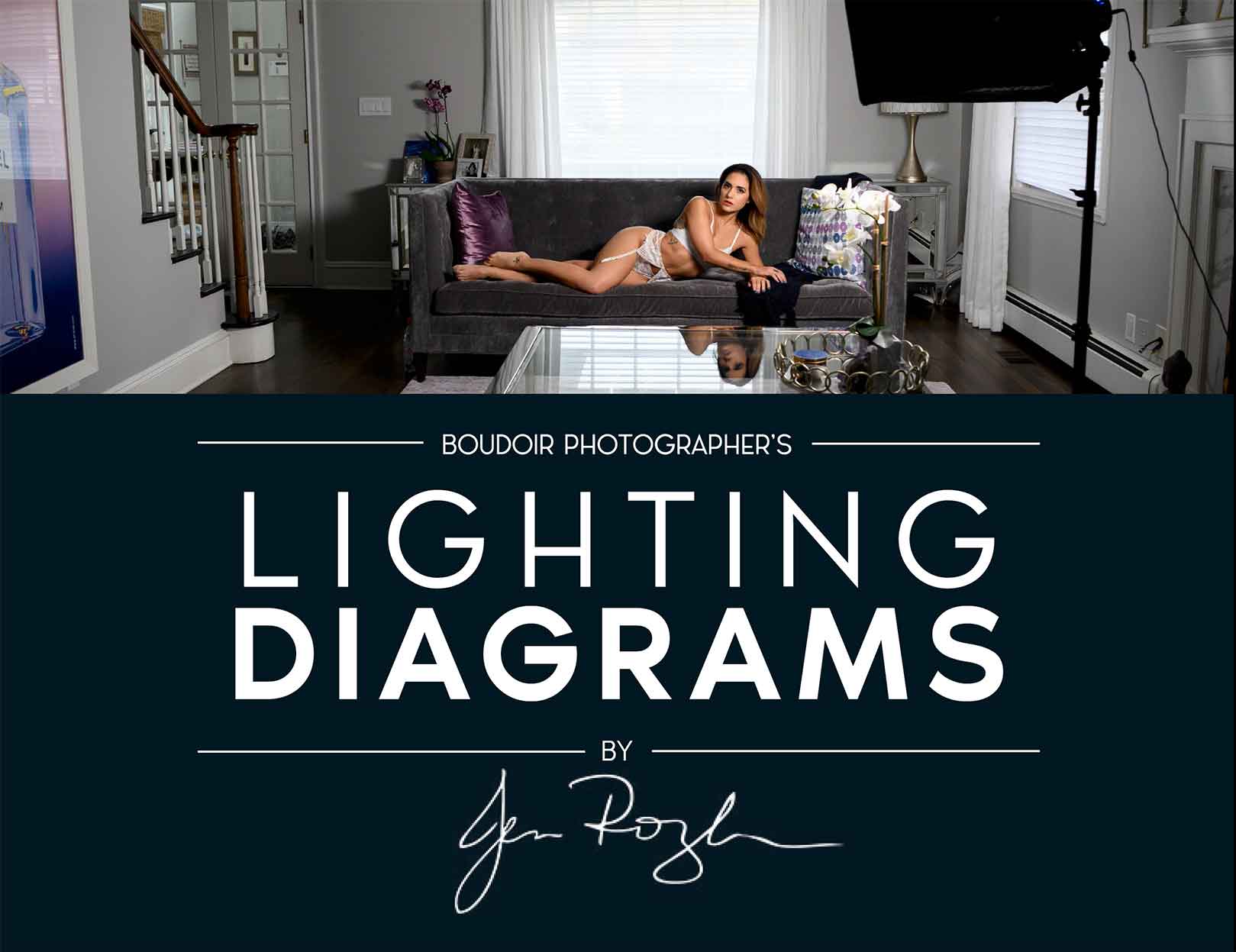 What we really like about this boudoir photography book?
What I also appreciated were the sections on strobes and backlighting.
One, because strobes are always difficult to use no matter which type of photography you're shooting. And any help in this direction is help needed.
Two, because her techniques on backlighting can extend way beyond the boudoir. And that extra use of applicability is always a winner for me.
But there is so much more to learn. That's why we're excited to share this great resource with you.
After reading it, you'll come away with all the necessary techniques, poses, and lighting setups that you will get you firing on day one!
With it, you'll be able to create that elusive light that tantalizes, scintillates, and teases!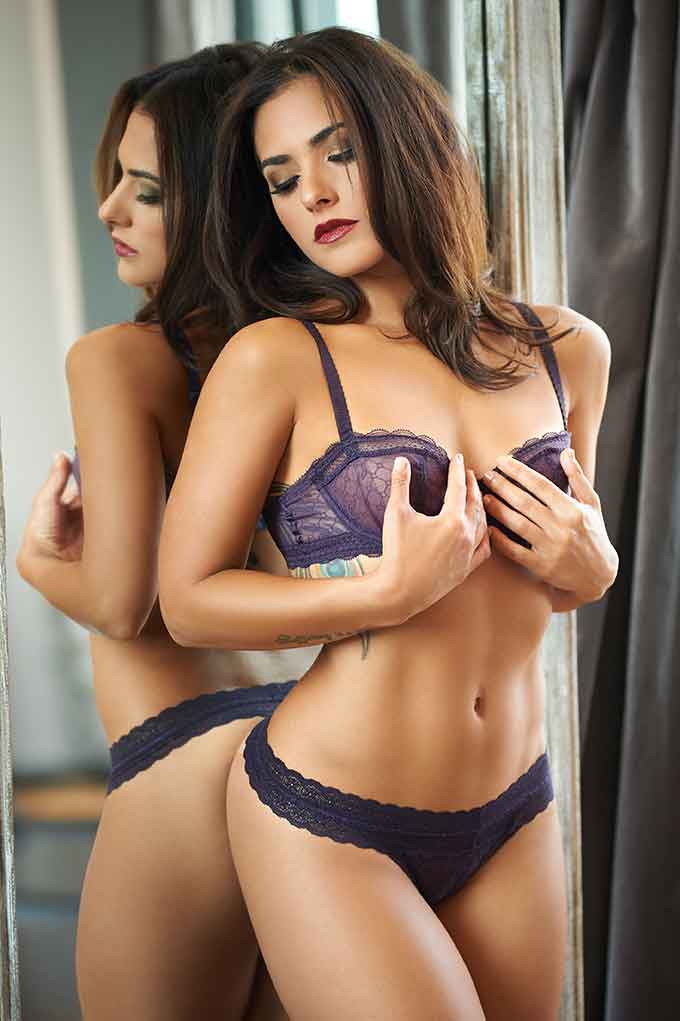 Are You Ready To Capture Portraits That Are Tantalizing?
Get this incredible boudoir photography ebook today!