A Boudoir Magazine Crammed With Practical Photography Tips
Boudoir Magazine Collection For Endless Inspiration
If you're like most photographers, you're constantly searching for new ways to take your artistry to the next level.
When it comes to boudoir, nude, or portrait photography, there's always a moment when inspiration runs dry.
Whether you've run out of creative poses or you're tired of using the same old settings over and over, there's always a point when you find yourself in a rut.
So what do you do?
There's a limit to how much inspiration you can squeeze out of Instagram and Pinterest. 
Boudoir Magazine provides some unique ideas but these magazines and photography books cost money, and offer a limited number of ideas. Once you've used these up, they're no longer worth the money you spent.
As for classes, who has the time? Or for that matter, the money?
So you find yourself back to the drawing board again, experimenting with your own ideas as well as you can. 
Yet it sometimes feels like a waste of time, especially when you know that hundreds of photographers of all walks of life have already taken this journey.
If only there were an easy way to look at the body of professional work that already exists, to learn from it, and to incorporate that learning into your own workflow creatively.
Well, your golden opportunity has arrived. Here's a boudoir magazine collection that will help you out!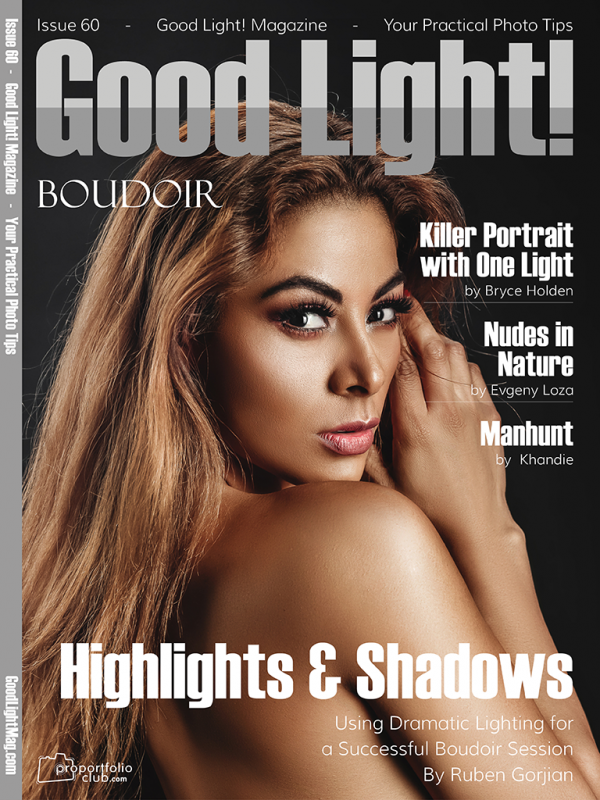 A Boudoir Magazine For Aspiring Professionals
This bundle brings you 85 issues of Goodlight magazines. These are crammed with top-quality photography to inspire you, as well as practical articles on a variety of topics, including:
Vintage TfP shooting
Fine art portraits
Aesthetics and locations
SEO for photographers
Setting the mood through colors
The 50m f/1.4
Collaborations for fantasy photography
The richness of a chocolate melanin skin tone
Tips for portraits in a swimming pool
Trendy posing tips
Glamour photography concepts
Uplighting an athletic masculine figure
Versatile locations
Introduction to infrared portrait photography
Capturing the gracefulness of a dancer
Surface detail
Capturing authenticity
Conceptual beauty portraits with four lighting set-up
Portfolio leverage with cosplay photoshoots
Creating a rippling effect
Golden opportunities with OCF
Creative portraits
Bare and beautiful
Seeing through the hype
Symmetry and silhouette
Highlights and shadows
Light and mood
Using a white umbrella for soft lighting
Capturing the intricate details of a romance
The best boudoir lens
Using speedlights for conceptual photography
Low-key lighting for fitness
Lighting lesson
Versatile two-light setup
Injecting irony in a stylized conceptual series
Layers
A fashion photographer's journey
HSS made easy
UV photoshoot tips
A creative long exposure tutorial
A whimsical beauty editorial with a retro feel
Celebrity editorial portraits
How to crush your competition
Street photography at night
Large light sources
The right color gels for dark skin
Floating objects
Creating a Victorian period editorial on a budget
Ski and snowboard photography
How to create compelling characters from scratch
Holi powder portrait
Capturing India's secret haven with one flash everywhere
Small studio fashion shoot
Using a beach location to portray a dramatically tough workout
Beauty photography on a budget
Nudes against the light
Conceptual photography with multiple stories using one speedlight
Hydro illuminations
Basics for rim lighting and backlighting effect
Flash for fantasy
Steam glam
And much more!
Some Of The Editions In The Bundle
Some Amazing User Reviews
Endless Inspiration, One Convenient Bundle
All 85 of these magazines come to you in a convenient PDF format, which you can access on your device any time.
And every issue is crammed from cover to cover with the newest trends and ideas to revolutionize your photography.
You will find yourself referring to these issues over and over again. The boudoir magazine issue is something you'll use throughout to level up your boudoir shoots.
And with so many great articles, tips, and examples you will never run out.
Most photographers would pay any price to get out of a rut and stay out of it, because a rut can be a death sentence to any aspiring artist.
And you don't even have to go into debt to access this incredible source of inspiration.
It not only has boudoir magazine but portrait, fashion & other photography tips to help you take your photography career to new heights.
These 85 issues, a $425 value, are currently on offer for just $39. It's a deal that no savvy photographer can afford to miss. So what are you waiting for?
You can also check Michael Zelbel's 30 Unique Boudoir Poses In 30 Minutes eBook at 40% off.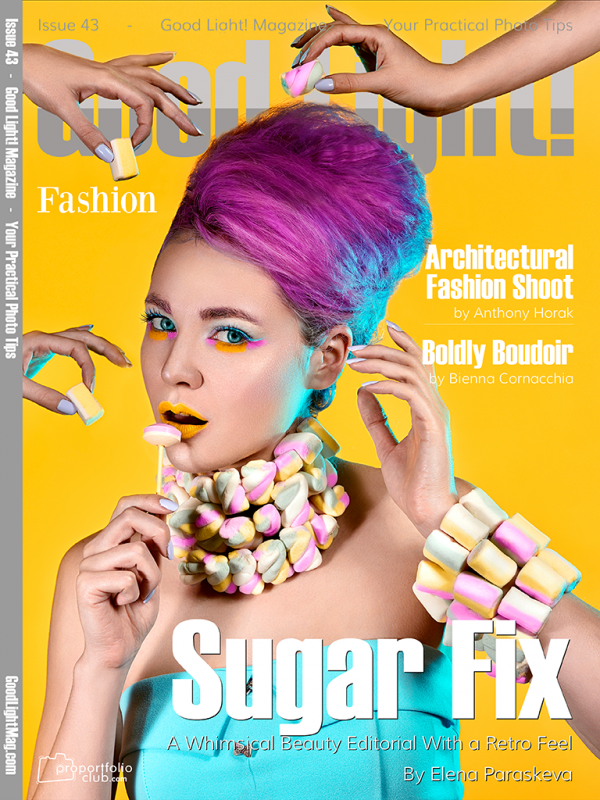 Download Endless Inspiration From This Amazing Boudoir Magazine Bundle Today!