Instagram is one of the greatest platforms that ever came down the pike for photographers…
Suddenly you are able to reach hundreds, even thousands, of potential customers and fans with a single social media post. It gives you the ability to build connections that would have required hours of networking in pre-social media days.
But for all its advantage, Instagram adds another level of challenge to your work too. Managing various Instagram accounts can quickly become a full-time job all on its own. You can become consumed by posting your photos to social media and monitoring likes and comments.
Besides the simple act of just posting your photos, you also need to work on writing clever captions over and over again, tracking new followers, and uploading your photos from other platforms that you're using, like Dropbox and OneDrive.
It's also important to remain engaged with photography influencers that you follow by liking and commenting on their posted content.
Add this to your other commitments, like planning shoots and promoting your work, and you can rapidly begin to feel like Instagram is not just a time-consuming chore, it's an all-consuming lifestyle.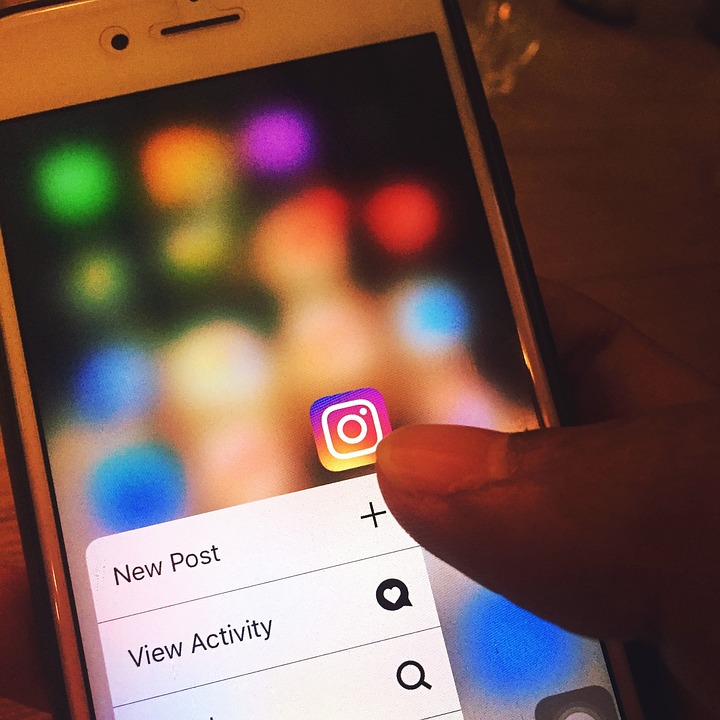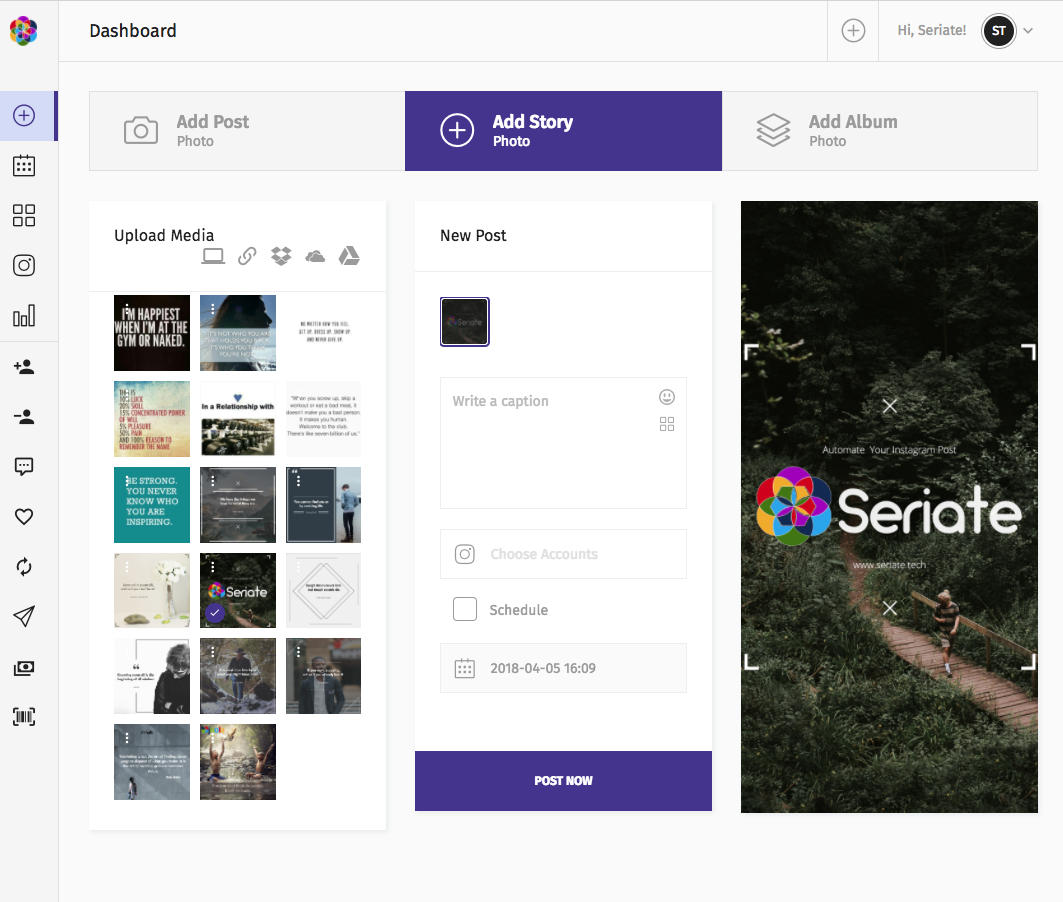 Seriate is the newest, best Instagram tool for photographers. It makes the process of posting to Instagram, as well as interacting with it, intuitive and effortless.
For example, let's say you have a very successful photo shoot. That one shoot yields close to 100 wonderful photos. Because your day was busy, you don't have time to post them to Instagram until a few days later. When you do have time, you post all of them at once, simply because you're not sure when you'll have another opportunity.
There are several problems with this approach. For one thing, your Instagram followers won't see your work until several days to possibly a week after the shoot. You lose all the momentum and excitement of posting about a shoot as it happens.
Another problem is that posting a large number of photos all at the same time makes it impossible for your audience to give their full attention to your work.
With Seriate, you can approach social media posts very differently…
Pictures can be posted automatically, meaning that you don't have to waste time uploading and posting your work.
You can also schedule your posts ahead of time. That means you have the option of gradually building excitement by posting a few photos each day, instead of posting them all at once.
That is just one small example of the many ways in which Seriate can make your photographic interactions on Instagram effortless.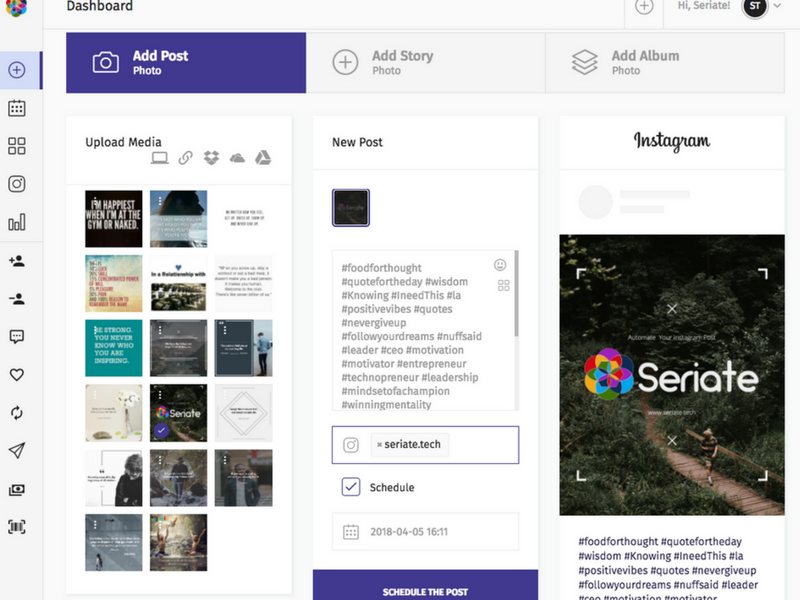 Simply the best Instagram planner on the market for photographers
There are plenty of tools on the market that can help you use Instagram more effectively to develop and promote your craft.
But this is the only Instagram planner that lends itself so perfectly to the needs of photographers:
What will you get exactly…
Under Kick Off Plan:
Up to 3 accounts
Post Types: Photo, Video,
Story (Photo only),
Album (Photo only)
Cloud Import:
Spintax Support
Storage: 500MB
Under Professional Plan:
Up to 7 accounts
Post Types: Photo, Video,
Story (Photo+Video),
Album (Photo only)
Cloud Import:
Spintax Support
Storage: 1GB
Under Agency Plan:
Up to 10 accounts
Post Types: Photo, Video,
Story (Photo+Video),
Album (Photo+Video)
Cloud Import:
Spintax Support
Storage: 2GB
Seriate truly is the best Instagram planner you will find.
Check it out today & watch how your social media influence grows.
Get lifetime access!
$25.00 – $45.00 Select options