Learn to have a clear vision with Lightroom workflow tutorial when you start editing your photos and save hours in Post- Processing in Lightroom
Look, we all know we got it pretty good with digital photography.
Going digital has helped in so many ways: you get to see every image you make, hence more leeway, and of course you don't have to mess with clunky film stock.
But that doesn't mean digital systems have made all things better, or any easier. Now that you can shoot to your heart's content — which for me means shooting 1000s of selfies! — you don't have to worry about volume.
But like we all learned in elementary school: the more volume, the more substance. What this means is that you probably got thousands of thousands of files. Completely unorganized. Ridiculously scattered. And in awful need of organization.
To prove it to you, let's be honest:
Do you have a naming convention for your images? Something that includes information that will prevent you losing your image?
Do you use flags, ratings, and labels that visually mark how far that image has come along in your workflow?
Have you ever performed a risk analysis on your data management?
Do you have data protection system in practice?
If you answered yes to any of these questions, I want to thank you for reading this far!
If not, then Gavin Gough's The Photographer's Workflow is the framework you'll need for all those files in disarray. It will teach you how to shave HOURs of post-production time off your usual workflow.
Basically it means you'll get to SNATCH Gavin's robust post-production method, allowing you to move files from capture to output in the most effective and timely way possible.
But this isn't about just saving time. You'll learn the same post-production techniques that Gavin uses to create beautiful images. He reveals his methods for post-production that will help you achieve the most beautiful images in the quickest amount of time.
When I said effective I meant it. Gavin doesn't shy away from details or any stage of post-production. You'll be able to work much faster and securely with chapters like these:
Data Management – You'll learn Gavin's scientifically proven, triple blind tested, method for keeping your data safe. But no really, you'll get a data protection system that eliminates gaps in storage and safety. And complete instructions to implement this within your workflow.
Configuring Lightroom – Missing files or folders? You'll learn how to synchronize all your files together using Lightroom as your control center. Plus you'll setup all your preferences into a system that streamlines your editing and learn complete Post-Processing in Lightroom.
Making Life Easier on Location – This is my favorite chapter. You'll trick Gavin uses to make him work faster and smoother on location. For example, you know those elastic hair bands? Use to wrap all your wires to the gear they belong to. Not bad, right?
The Complete Workflow – Gavin's complete 10 step process to getting an image file from the camera to export-ready with multiple stopgaps to prevent data loss.
Image Processing – Gavin has some wise words about post-processing, "Great images are made long before they hit the computer screen, not after." But you'll learn how every technique Gavin uses to set his images apart.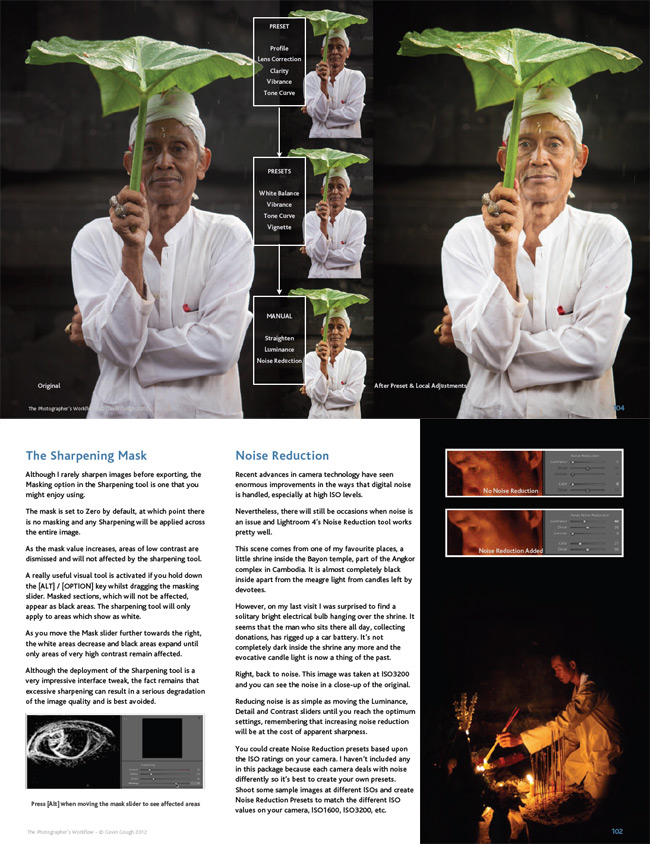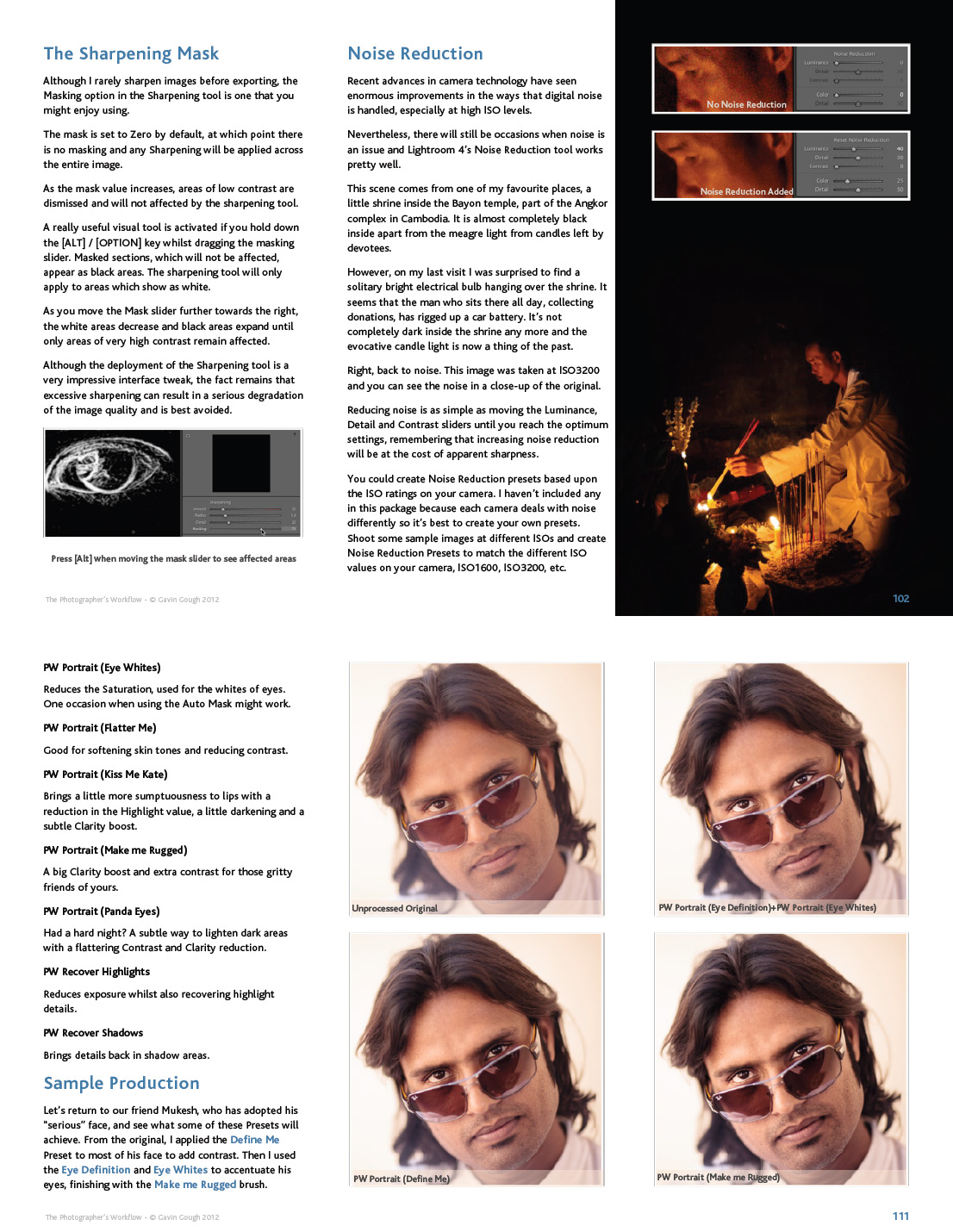 WHO WILL USE THIS EBOOK THE MOST?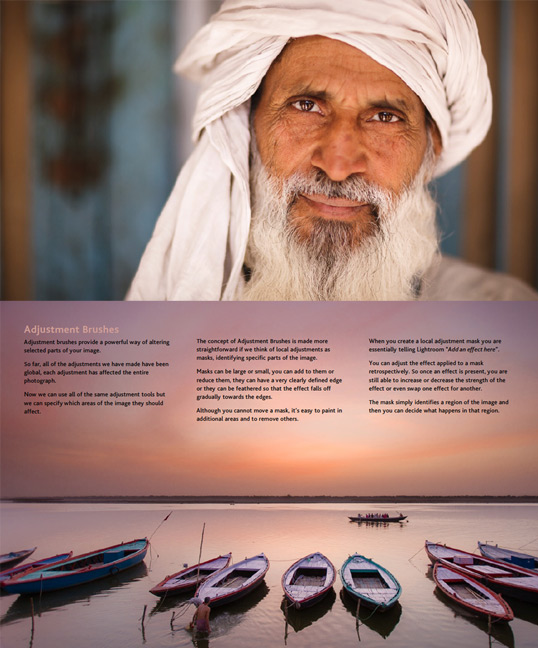 Anyone who swears by digital photography.
Any film photographer looking to make the switch.
Anyone looking to make their life easier would love to learn Post-Processing in Lightroom.
The Photographer's Workflow is to you what a personal trainer is to some Hollywood star. Just like they get each expert step on how to chisel their muscles to heavenly perfection.
You'll get every step to managing your workflow better.
Plus, on top of videos that demonstrate what Gavin is talking about, you'll get a bunch of presets that Gavin uses in his own work.
Presets that will allow you to take control of each individual aspect of the development process. 65 awesome presets ready to go – right now.
Here's What the Others Are Saying
"If I could use one word to describe the book, it would be "brilliant". It is very well-thought out, clearly written and carefully organized" –

Sabrina Henry
"If you are a Lightroom user, and you only buy one photography book this year, I strongly recommend that you make it this one to learn Post-Processing in Lightroom." –

Ian Mylam
Why don't you make your life easier?
Take control of your workflow. You'll thank us trust me.