Photographers, why do we all love doing what we do?
Now be REALLY honest. Why do we even take photos?
When I ask photographers this question, the most common answers are "I do it because I love being creative" or "I want to make money doing something I love."
We all know those are the politically correct answers.
But what do we all DEEP DOWN really want?
We want RECOGNITION for our work!

We want RAVING and ADORING fans!
We want FAME and ATTENTION!
No photographer wants to be stuck in a room taking photos without sharing their work with others.
That makes a lot of sense. Everybody wants to know they're something awesome. Every photographer wants to feel that other people love their work.
But besides the self-validation, there are a LOT of practical benefits to having fans.
You can sell products to them, like prints, instructional DVDs, magazines, t-shirts, or merchandise.
More fans = more reach. You can connect with more people in the industry once you have more notoriety.
You get feedback from your target audience.
More reach = MORE PAYING CLIENTS.
Instagram is the PERFECT network in 2017 (and beyond) to get that fanbase
Right now Instagram is the BEST way to grow a photography following for 3 reasons.
It has built in viral mechanisms DESIGNED to help you build your following.
It's a VISUAL medium, perfectly built for photography.
People freakin' love Instagram, and everyone's jumping on this platform now (and leaving Facebook & the others).
Facebook pages limit your reach (unless you pay extra money). Snapchat is still hard to understand. Twitter is a freakin' wasteland. And the other networks just don't have enough members to make a difference.
Right now it's still super EASY to build up your following if you have the right tools and Instagram marketing strategies. But it won't be that way for long. That's why you need to learn Instagram now to take advantage of this platform (before it becomes MUCH harder to grow an audience).
In fact, I used a few simple tactics to go from a measly 531 followers to 229,394 followers in only 13 months (and I'm growing by 600-1000 followers every single day).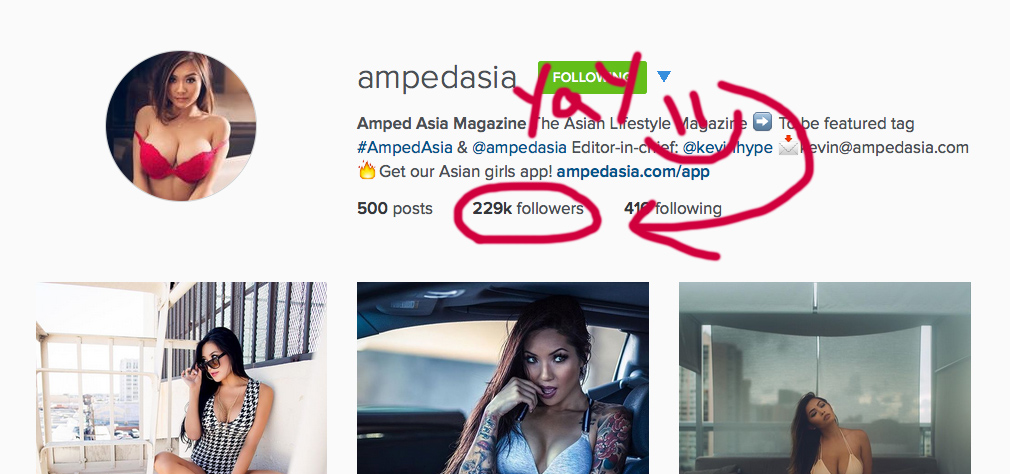 And once I got all these followers, some crazy sh*t started happening.
I'm a glamour photographer, and it became SUPER easy to shoot with top girls in the industry.
I had beautiful women asking to PAY me to shoot them instead of the other way around 13 months ago.
Companies started SPONSORING my Instagram account, so I got paid just for posting stuff on Instagram.
I launched a digital magazine which ended up making 6-figure revenues.
People started recognizing me in real life, and I'm no Kim Kardashian.
But after talking with 100s of photographers, including some who were WAY better than me in photography, I noticed that most of you guys had zero clue how to build up a following over Instagram.
In fact, most of you guys are doing things on Instagram that are SCARING off your potential audience.
So I created a course that will teach you all the strategies I used to quickly build up a huge Instagram audience.
In Instagram Explosion: Photography Edition I will detail the exact Instagram marketing strategies I used to get over 200k followers. It took me 13 months WITHOUT any mentorship, but with this blueprint, you can achieve the same results in half the time or less.
The great part about this course (vs other Instagram-related courses) is that I created several modules ESPECIALLY for photographers & other visual artists.
What's even more important is I'll tell you the MISTAKES most photographers make with their Instagram account. Mistakes that are costing you followers. If you don't understand these mistakes you'll be leaking followers and growing much slower than you should be.
Here's what the full course entails:
How to set up your Instagram for "viral" growth.
The simple way to grab your first 10,000 followers on autopilot.
Going from 10k to 200k+ followers with

advanced

 Instagram strategies.
My personal "secret weapon" that's been getting me MASSIVE amounts of followers.
Personal access to me for any questions you might have.
The MISTAKES that are causing you to LOSE followers and not grow as fast as you could be.
How to turn these followers into something more profitable.

Here's what Tyler Lai, a photographer in Austin, TX had to say about Instagram Explosion. Check out his Instagram: @avant_photo and website http://avantphoto.com
Is this Instagram Marketing Strategies for ALL photographers?
I'll be honest with you guys. There are certain niches of photography that are going to grow slower. Wedding photography and product photography come to mind. That's because not as many people appreciate the "art" of wedding photography.
But for the more artistic photography genres, you're going to get a LOT out of this course.
And if you're a glamour or beauty photographer, this course will ROCK your world, because you can follow all my tactics exactly.
For a LIMITED time, I'm offering this course on PhotoWhoa for a huge discount.
I know money is tight for the average photographer. I GET IT. I'm giving you guys an exclusive discount down to $97 (retails at $297).
Still on the fence? My best advice to you. If you get this course and don't like it, grab the full refund.
As photographers we cannot miss this MASSIVE opportunity to grow our fanbase over Instagram, especially since it's still extremely easy to build up your following over the platform.
Ready to build your fanbase?
Get Instagram Explosion: Photography Edition for 66% off the list price. EXCLUSIVE to PhotoWhoa members.