Wouldn't it be cool if Instagram was always giving you customers?
Want to know how it's done? Afraid you're doing it wrong?
After reading this ebook, you'll stop posting like your mom & actually gain followers
Some habits are impossible to break. Like your morning ritual, you know. When you wake up, there are always those things you do without thinking. When I wake up, the first thing I do is read the news. No questions asked. Then, I check reddit. And right after that, I check Instagram.
Most times, I'll scroll down Instagram until I return to where I left off the night before — and not double click anything. I know, I know. It's not nice. But it's not because I'm a loser and hate people. That's definitely not it. It's just that most of my favorite users haven't posted anything yet.
If you have Instagram, you know what I'm talking about. There are certain people who always seem to post something that makes you double click immediately. It could be a picture of their breakfast — but damn do they make that avocado toast look GOOD!
One day, this got me thinking: How are they actually doing this? Because I like to think of myself as somebody who doesn't usually latch onto things. And I'm the last person to jump on a bandwagon. But there I was liking every. single. one. of. their. posts. Not only that, I was also checking out their website for more!
So then naturally, my next thought was: How do I become one of those people? How can I get my Instagram as good as theirs? What can I learn from them? Let's not kid ourselves, though. Using Instagram like them isn't magic. It's definitely strategy.
You can't build a following without finding a theme and carrying out a plan to find people who like your theme. And, more than anything, that's what I learned in Mastering Instagram. And that's why I'm excited to share it with you. With it, you'll learn how to use Instagram professionally.
If you're just posting whatever you feel like, or posting and posting and getting no traction, then these Instagram marketing tips will show you how to change that. With it, you'll learn how to build a souped-up Instagram that does your work justice.
Even if you don't understand anything about Instagram or think it's pointless, you can't deny that it's one of the few apps that almost everybody uses and trusts. If you want to create an account, or overhaul the one you have, you can't ignore this ebook!
But this ebook is a limited-time promotion. So it won't last long! If you want to increase the amount of eyes on your work and grow your business, you better hurry and buy this now!
If your work on Instagram looks nothing like your website's, or, worse, if your work on Instagram turns people off, then you're hurting your brand and potentially losing new customers. But that's obvious. What's harder to prevent are things you'd have never given a second thought.
Like how many hashtags to use in a post — and what type of hashtag? Do you know which hashtags could make people unfollow you? Have you ever used a hashtag sarcastically, or as a joke? #noteverybodyknowshowtousehashtags
With these Instagram marketing tips, you'll avoid every pitfall that inexperienced users — i.e., those who didn't grow up with the internet — do. But that's not it. You're also going to learn from people who have used Instagram to gain large followings. Learn how to do the same.
In the end, the goal is to put your work in front of more people, isn't it? Instagram is the best way to do that. And with this ebook, you're going to learn how create a brand that keeps getting bigger!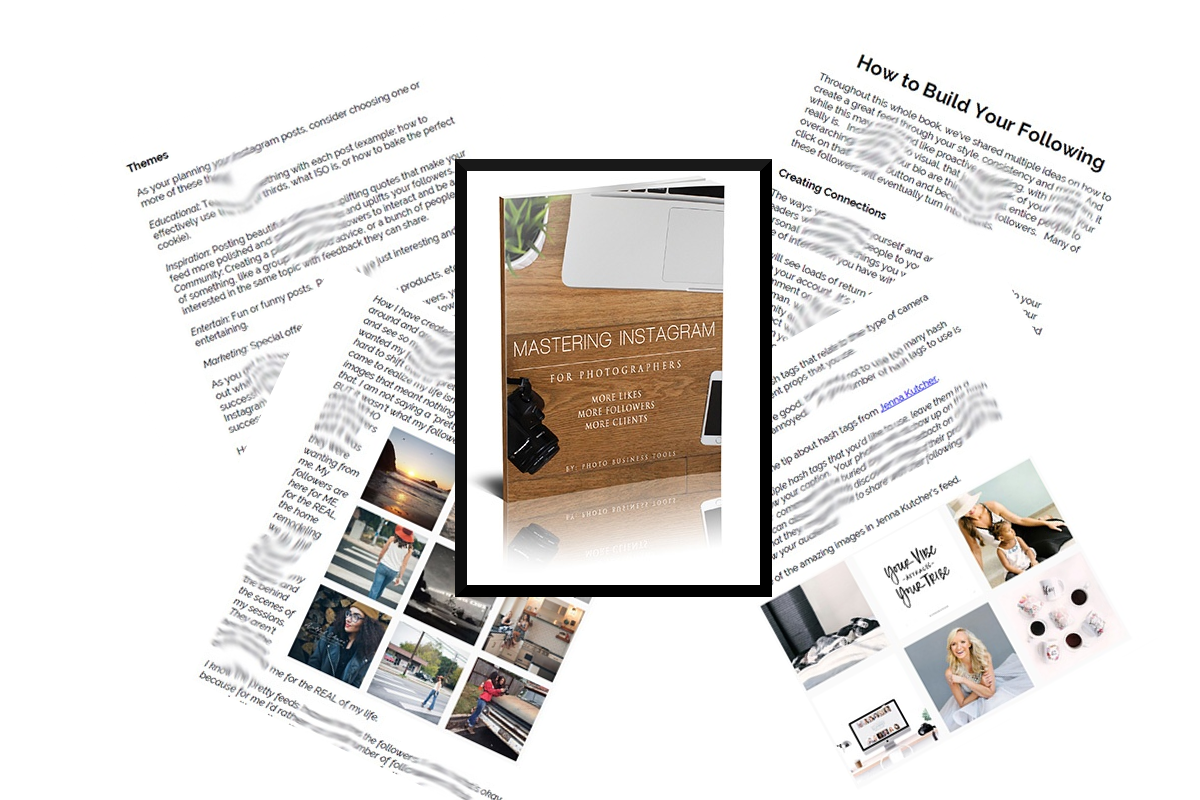 Ready to overhaul your Instagram?
Learn how to use Instagram professionally. Develop a strategy. Build your business.