Blurry images. They're the bane of every photographer.
Sometimes you wonder if you should purchase image focus software to make your photos look better, but you're not sure if you can afford it. You're also not sure that it would really work.
When it comes to sharpening and focusing your photos, you may have already tried many different things.
Perhaps you've experimented with different kinds of camera lenses, but this can also get very expensive after a while.
There's nothing more frustrating than getting that perfect photo of a beach sunset, a famous landmark, or a child at Christmas, only to have the photo come out blurry and unfocused.
You've also experimented with many tools post-production. But many of the tools and software that exist are difficult to use. You just don't have time to try to figure them out. You want immediate results, so you can show off those great vacation or holiday photos to friends and family.
And the few that do seem helpful are too pricey to be a realistic option for an amateur photographer.
If only you could find a quick, easy, and inexpensive way to add depth and focus to your photos.
Well, wait no longer.
The image focus software you've been waiting for…
Super Refocus for Mac is the most intuitive software you'll find for improving focus in your photography.
With almost no thought or effort on your part, it defines an area for focus to reduce unwanted blur. You can also use it to achieve lens blur or motion blur effects that are sure to make your photos stand out in a crowd!
The focus and effects you can achieve will immediately put you on an equal playing field with professional photographers who have all kinds of pricey equipment and software at their disposal.
But you don't need an expensive camera or nice equipment to produce professional grade photos.
Super Refocus is also delightfully easy to use! All you have to do is load your image in Super Refocus, adjust the box to cover the area you want to focus, mark this area with red, and mark the area you want to blur out in blue. And instantly, you'll get results that you'll love.
You can begin using the software immediately after purchase. All you have to do is install it using the setup file that you can access with your unique license key.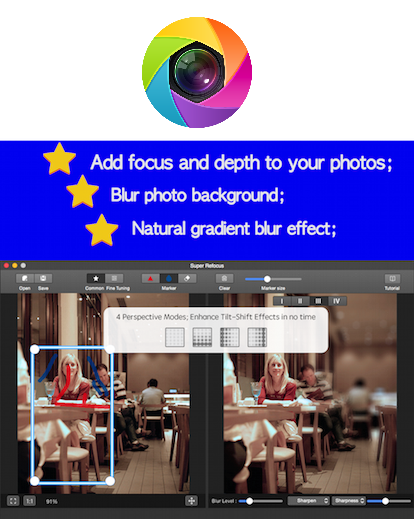 Take a sneak peek into how it's done!
Check out ReFocus in action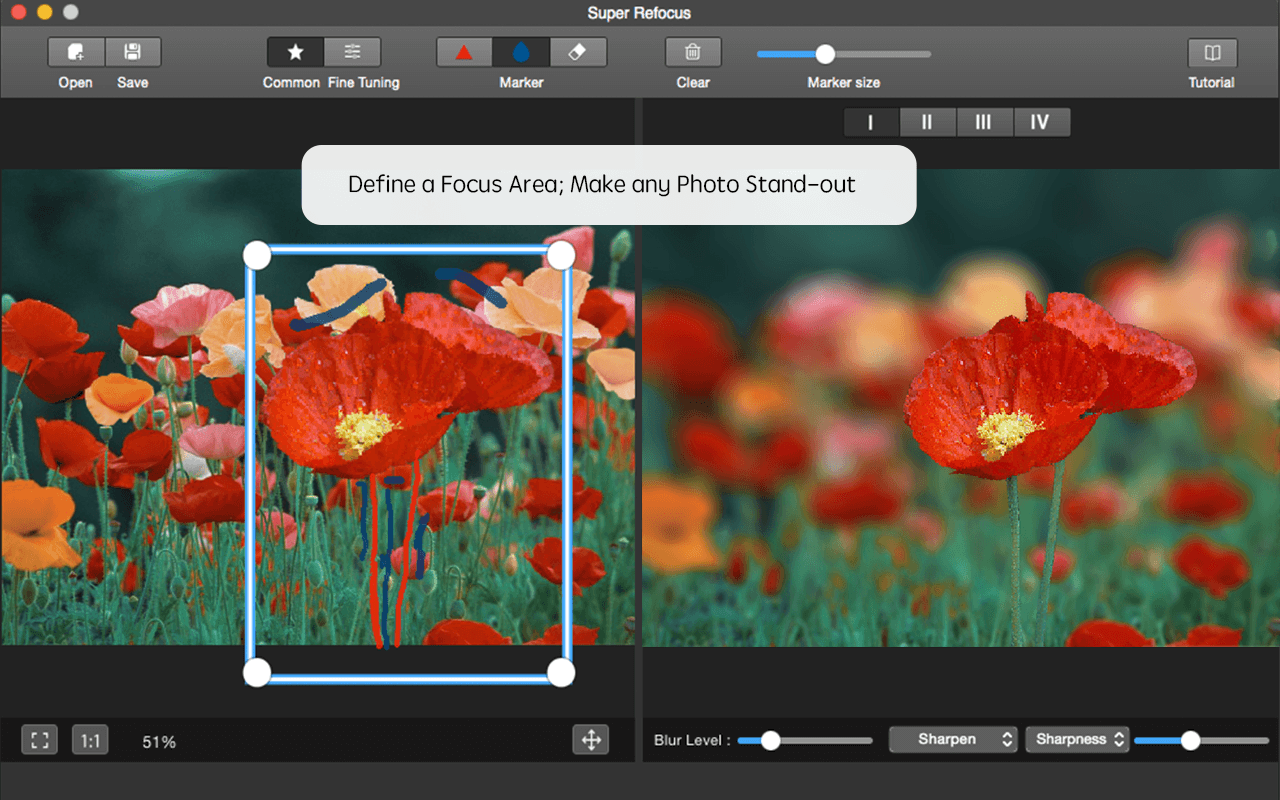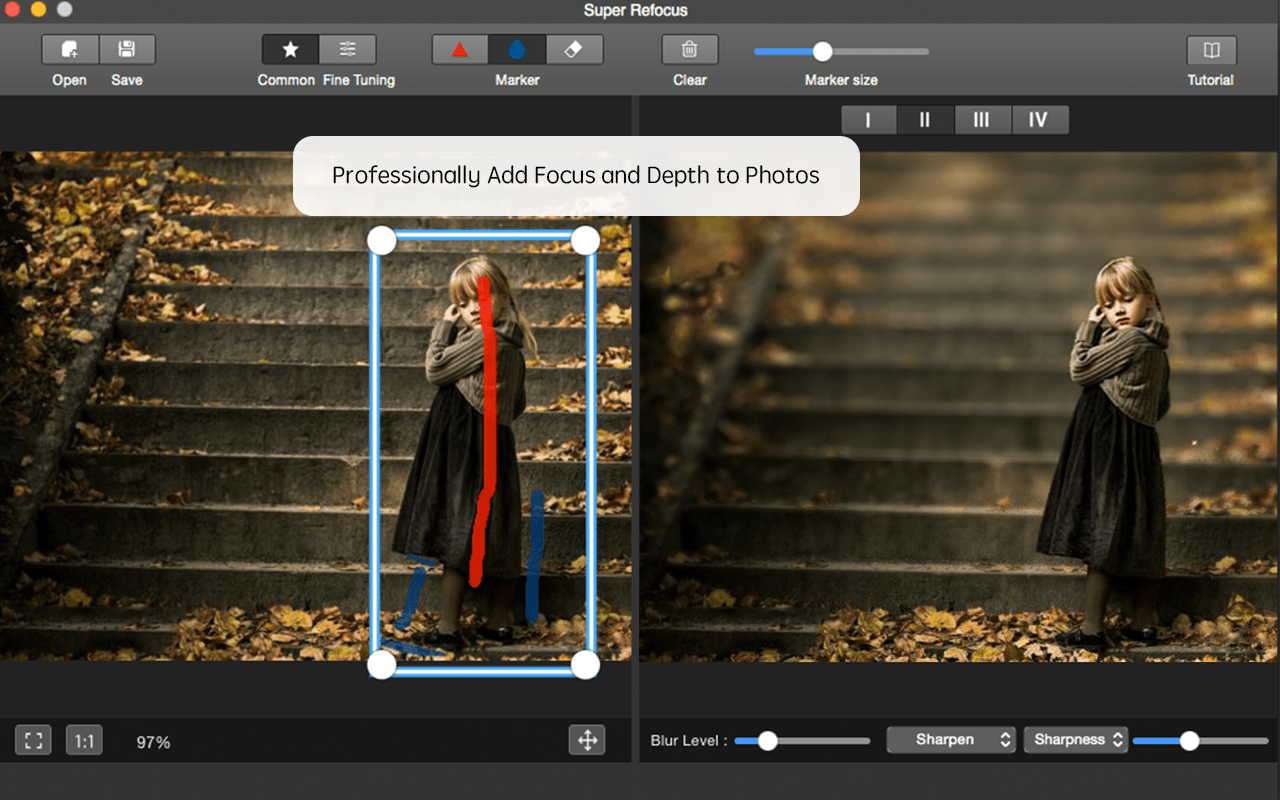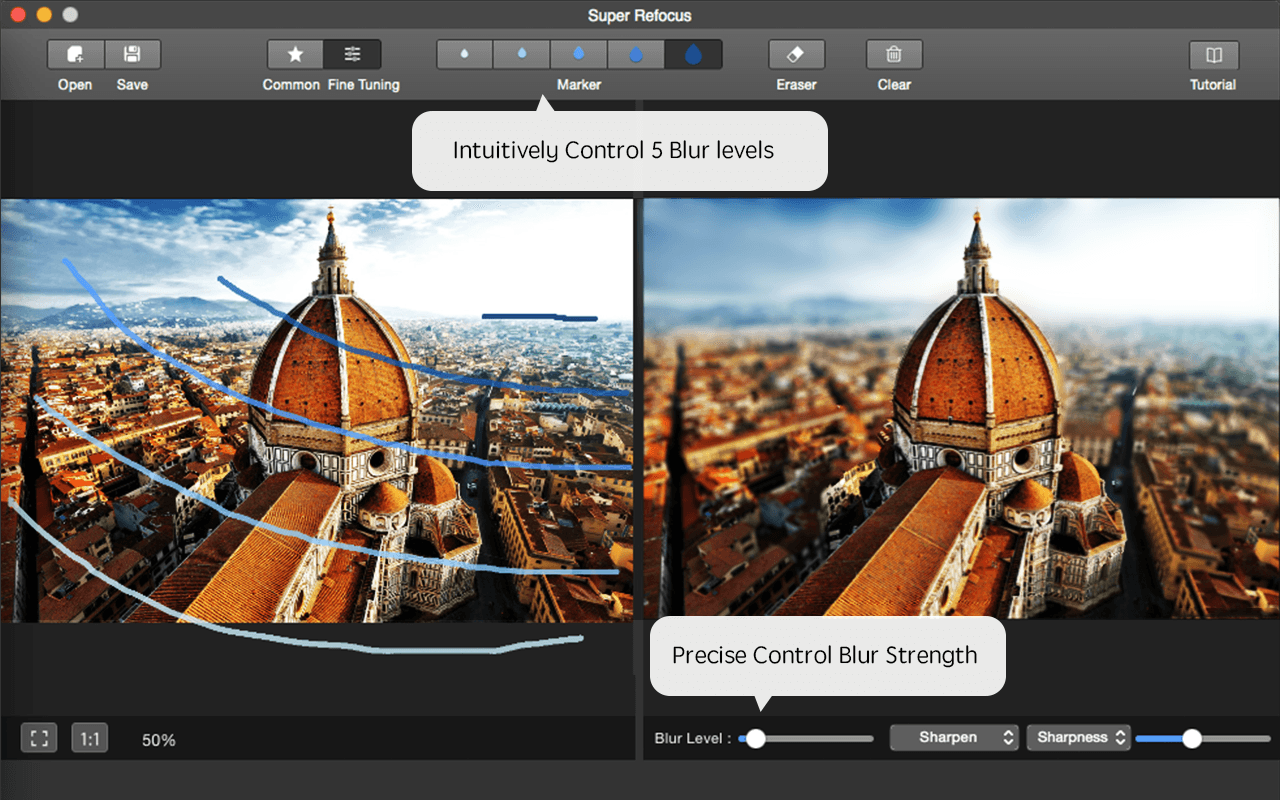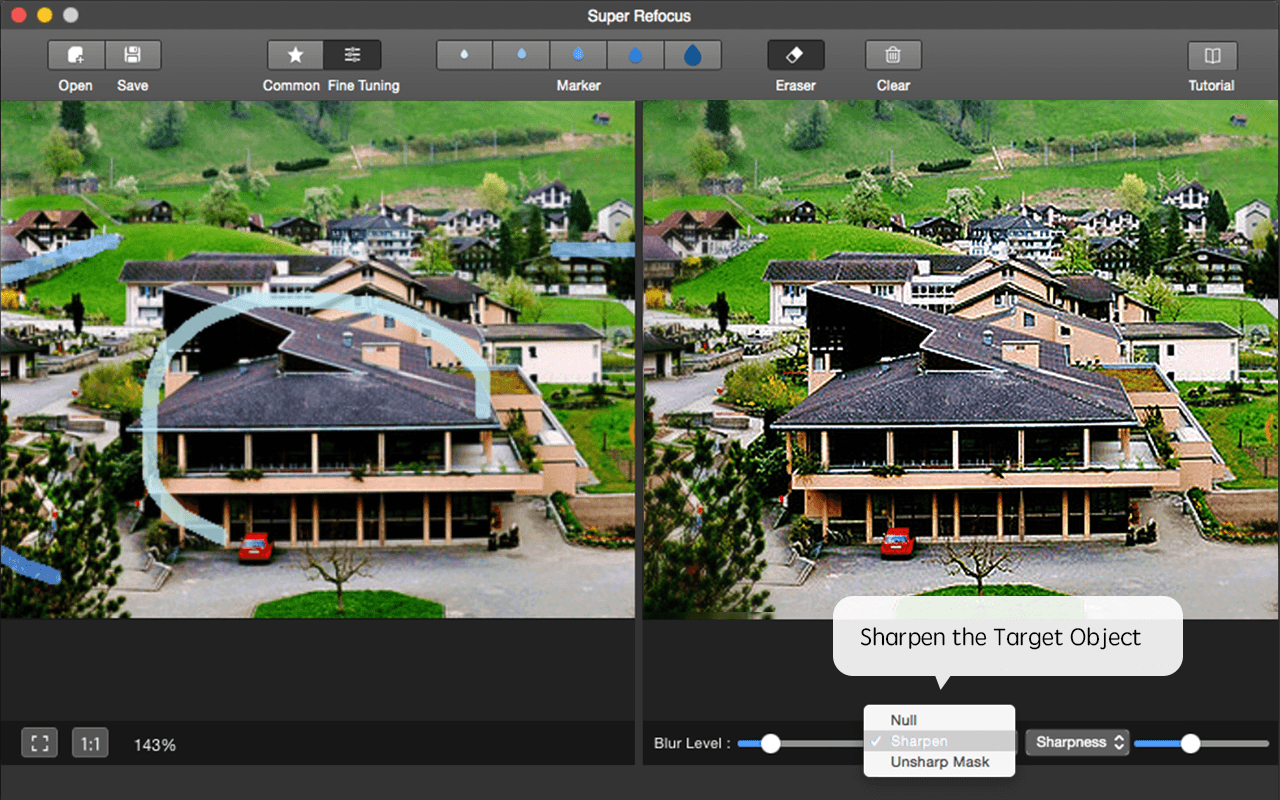 One tool, a plethora of features
Here are all the unique and amazing features that you get with Super Refocus for Mac.
A state-of-the-art image segmentation algorithm which allows you to easily zero in on your target
A choice of two processing modes (Regular and Customized) which gives you the option of a simple or a sophisticated set of tools to work with.
Easy adjustment of scope and background, using a simple but unique drawing stroke.
A variety of natural blurring effects for your backgrounds available through four different Perspective Modes
The ability to determine the blur gradient for any area
Complete professional image editing with the advanced focus algorithm
Intuitive control of 5 different blur levels, as well as easy adjustment of blur strength
Clear the target prospects with an advanced sharpen algorithm to achieve a professional refocusing effect.
Live previews and real-time editing
The ability to undo or redo your history multiple times
An incredible tool for an even more incredible price!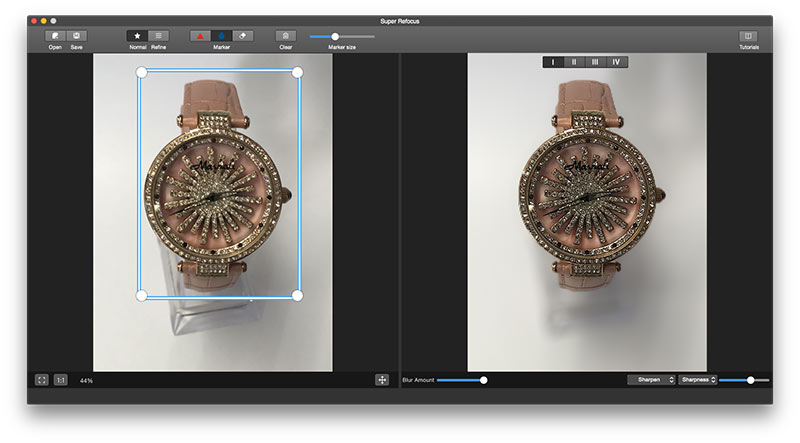 Professional photographers often spend hundreds of dollars on tools and equipment to help achieve blurring effects, or even just to create a cleaner, sharper image.
But you can get the same results at just a fraction of the price.
For a trial of a few basic features, you can download the free version of the software. But after you've tried it, you're definitely going to want to explore all the dramatic possibilities that this tool offers!
And you'll want it, even more, when you realize how inexpensive it is, typically available at a one-time price of just $29.99.
And for a limited time, you can snag this unbeatable refocus software at the unbelievable price of just $9. That's 70% off the regular price.
This is the only tool on the market that is so inexpensive, so intuitive, with such immediate effects. It's the best-kept secret of the photography world.
And this once-in-a-lifetime deal makes it a true life changer.
Download Super Refocus for Mac today to achieve truly unforgettable photography.
**Limited Time Offer**
$29.99 Add to cart