Is it becoming harder & harder to get by with Photoshop basics?
Want to be more than okay with Photoshop
With this course, you'll learn Photoshop's most technical & powerful workflows
If you had to rate yourself at Photoshop, you'd probably say you're decent. Not clueless exactly. But far from an expert. You've watched a couple of videos. You can make a basic RAW file less flat, but you also know that you're only scratching the surface of Photoshop.
You know enough about it to know that you'd like to learn more. And part of you wants to explore everything — finally figure what every tool does. Yet you put it off. You're too busy, you say. You think that you'll eventually learn it all by studying here and there.
But then you're faced with the problem of knowing too little. Your black-and-white conversions aren't quite as you want them. The colors of a beach getaway almost miserably off. It's at this point when your lack of Photoshop know-how starts to feel like it might be hurting you.
Don't worry. That's how I felt about Photoshop for the longest time, too. I knew that I'd eventually have to learn everything I could, but I kept avoiding the pain of doing it. I just got by. And I thought that this could go on indefinitely. But of course it didn't!
I had to bite the bullet and start taking Photoshop as seriously as I was taking my shooting. If I were to get better, I had to see it as my darkroom. In fact, if you shoot RAW, there's no way to avoid it. Photoshop will eventually become more and more of what you do.
That's why I looked for course that could put all the most advanced and helpful lessons into one. Starting from the basics to the specialized knowledge that retouchers usually keep to themselves. And that's exactly what I found with Steve's Weinrebe's Color and Black & White in Photoshop.
In 7+ hours, it unpacks the most advanced Photoshop workflows for bringing out the best of your color and b&w photos. With it, you'll be able to extend your technical reach. And get the skills to do more than just the basics. By the end, you'll learn new and more powerful techniques.
With them, you'll be able to do things like:
Create black-and-white tones that look like vintage gold-toned Albumen prints
Apply color schemes that evoke emotion and story
Use color palettes to tint different portions of a photograph
We're really excited to share this awesome video course with you, but this is a limited-time promotion. So it won't last long! If you're looking to get excited with Photoshop again, you better hurry and buy this download now!
In two words, technical proficiency. If that sounds fun to you, and you don't feel like running away, then you're going to enjoy this. Truth is, it was made specifically for gearheads like you. Photographers who respect technical chops. Somebody who wants to learn everything they can whenever they can.
So what about the lessons in here?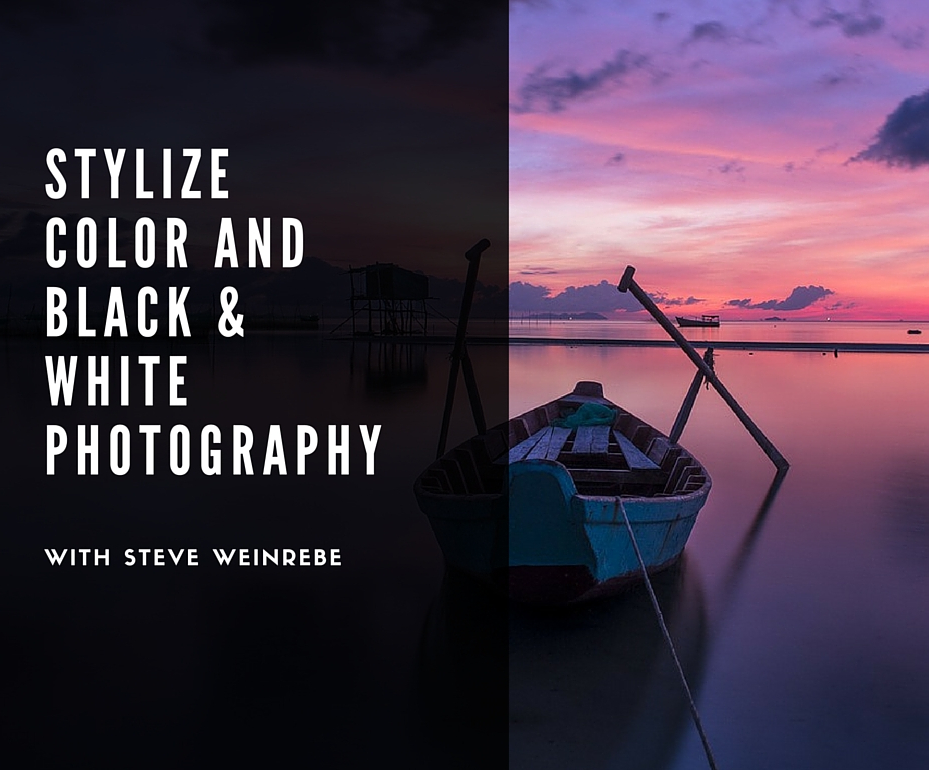 After the intro, the first part is about color – It's a step-by-step breakdown of the multiple techniques Steve uses to make stunning visual statements by manipulating color. Incorporating the ideas of color theory and color themes, it goes over both the conceptual and practical use of color.
The next section is about black-and-white conversions – You'll get lessons on how to add depth, how to split tone, and how to use advanced black-and-white techniques available in Photoshop and in Lightroom. With it, you'll be able to create black-and-white looks and styles from scratch
With clear instruction and hands-on training, you'll never be lost. You'll learn how Steve uses Blending Modes and Blending Options, the Camera Raw filter, Curves as a color adjustment, Layer Masks, Calculations, Gradient Map, Color Lookup (3DLUT) exports, and more hidden yet powerful features.
If you're looking to master Advanced Photoshop techniques, there's no better time!
Want to be fluent in Photoshop's most advanced techniques?
It's time you move beyond the basics. Learn everything you can. Buy this video course today!.